Anyone with a childhood interest in palaeontology will recognise La Brea Tar Pits as the spot in inner-city Los Angeles where natural asphalt has been seeping through the ground for thousands of years, preserving prehistoric animals and plants in the tar.
As NBC's schlocky sci-fi mystery series La Brea kicks off, Eve Harris (Natalie Zea, Justified) is fretfully driving her two teenage kids, Josh (Jack Martin) and Izzy (Zyra Gorecki), to school through heavy traffic on Wilshire Boulevard. They've just reached the tar pits when a massive sinkhole opens up, swallowing vehicles, people and parts of nearby buildings.
Izzy runs for her life and makes it out. Her mom and brother fall through … only to find themselves in a strange, primeval landscape that looks a lot like regional Victoria. Along with a bunch of strangers, Eve and Josh must figure out where they are (Ice Age LA, circa 10,000 BCE), whom they can trust, how to survive attacks from CGI dire wolves and sabre-toothed lions, and how to get home before the time portal closes.
Meanwhile, Izzy reunites with her dad Gavin (Eoin Macken), a former Air Force pilot invalided out after a crash in the Mojave Desert left him experiencing visions of a strange, primeval landscape that looks a lot like regional Victoria. Pretty much everyone thinks Gavin's just a drunk with an acquired brain injury, including Izzy and her aunt, Gavin's sister Jessica (Ione Skye).
Now, Gavin's visions also include his estranged wife and son – which interests Dr Sophia Nathan (Virginie Laverdure, Wakefield; The Gloaming) and Senior Agent Adam Markman (Toby Truslove, Ms Fisher's Modern Murder Mysteries), the Homeland Security agents who've been investigating a similar incident in the Mojave Desert. They quickly recruit Gavin, who's only too eager to help retrieve his family.
Production on La Brea was lured to Melbourne last May with state funding from the Victorian Screen Incentive, plus a $9.66 million boost from the federal Location Incentive Program. Co-produced by Matchbox Pictures (still considered an Australian company despite being owned by NBCUniversal) and filmed at Docklands Studios plus various locations, it's the biggest TV production made here since HBO's The Pacific.
Read: Huge sinkhole drama 'La Brea' comes to Victoria via NBCUniversal
Australians are well represented among the cast and crew, including actors Pacharo Mzembe, Chloe De Los Santos, Stephen Lopez, Diesel La Torraca and Michelle Vergara Moore; directors Cherie Nowlan (Clickbait; Outer Banks) and Greg McLean (Jack Irish; Bloom); cinematographers Mark Wareham (The Drover's Wife; Clickbait) and Damian Wyvill (Nine Perfect Strangers; Amazing Grace); production designers Carrie Kennedy (Jack Irish; Bloom) and Ben Morieson (The Doctor Blake Mysteries; Offspring); and stunt coordinator Zev Eleftheriou (Wentworth, Nine Perfect Strangers).
It's fun to spot grassy paddocks, granite outcrops and eucalypt forests standing in for primeval America, and the University of Melbourne makes an appearance as Gavin seeks to carbon-date Eve's wedding ring, which he's excavated in present-day LA. This is the kind of plot point you just have to roll with if you watch La Brea – and there's a lot to enjoy here if you're ready to check your skeptical brain at the couch.
Its premise reminded me of the successful UK series Primeval – though so far the only prehistoric creatures to run rampant in contemporary Los Angeles are Teratornis, or gigantic proto-condors. (The opening sinkhole sequence and the Teratornis flock are highlights of the locally produced visual effects, which unfortunately also produce some seriously dodgy-looking dire wolves that make Game of Thrones look like an Attenborough documentary.)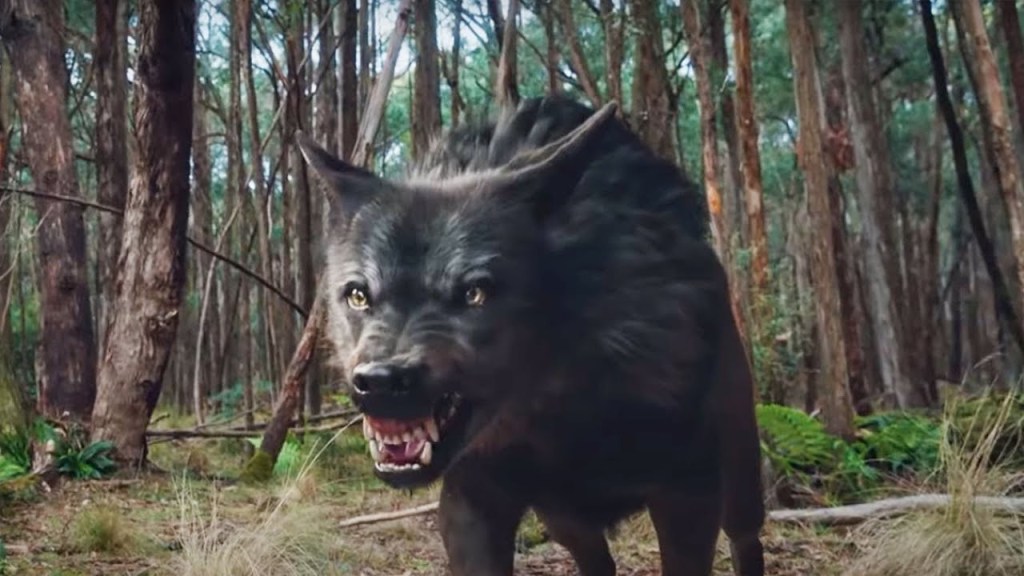 But it's appropriate that La Brea is airing on commercial free-to-air TV rather than on the subscription streaming platforms that viewers have come to associate with 'quality' television, because it's a perfect example of a genre I love dearly: high-concept US sci-fi and fantasy series discovered randomly while scrolling through Australian free-to-air networks' streaming platforms.
Read: Blacklight and street fights in Melbourne
Here are just a few such shows currently streaming on 9NOW: A grumpy cop is forced to partner with an android! An immortal doctor helps the NYPD solve cases! A routine flight lands after five and a half years! A hostage negotiator works with people who refuse to leave a virtual-reality simulation! A vampire private investigator tries not to feed on humans!
This snobbery-repelling genre TV may not always please critics, but La Brea rated its socks off on NBC last September, and has just been renewed for a second season. Its concept is intriguing, and then you're sucked into the rest of the 10-episode season by the mystery surrounding the relationships and motives of other characters trapped in the time-slip sinkhole.
If that sounds like Lost – well, impish audience stand-in character, Australian anthropology postgrad student Scott Israni (Rohan Mirchandaney, The Newsreader; Mystery Road) is here to point that out. Scott's avid weed-vaping habit also suggests precisely the right mindset to appreciate La Brea's thinly drawn, emotional labile characters, and plot holes that sometimes feel larger than the sinkhole itself. The most pressing for me was: how was nobody killed by their fall into the past, or grievously injured by rubble?
I hope that as La Brea relaxes into its storytelling, it accepts its own pulpiness more, and mixes the histrionics of the Harris family with even more preposterous plotlines, plus more humorous touches – like Scott's efforts to make friends, or that one guy (Stephen Lopez) who can't find his glasses.
La Brea
Creator: David Appelbaum
Executive Producers: David Appelbaum, Adam Davidson, Rachel Kaplan, Steven Lilien, Arika Lisanne Mittman, Avi Nir, Alon Shtruzman, Peter Traugott, Ken Woodruff, Bryan Wynbrandt, Thor Freudendahl
Producers: Naomi Cleaver, Livia Hanich, Asher Landay, Zakiyyah Alexander
Writers: David Appelbaum, Andre Edmonds, Arika Lisanne Mittman, Zakiyyah Alexander, Jessica Granger, Steven Lilien, Jose Molina, Aiyana White, Bryan Wynbrandt
Directors: Thor Freudendahl, Adam Davidson, Cherie Nowlan, Greg McLean
La Brea screens on Mondays at 9:10pm on Channel 9; all episodes streaming on 9NOW