The Luminaries, Eleanor Catton's Booker Prize-winning doorstop of a Victorian-novel pastiche, was most notable for its intricate structure: twelve characters, each aligned with a sign of the zodiac and implicated in a murder mystery in a New Zealand gold-rush frontier town. It was as much a metacommentary on the novel form as a satisfying page-turner, and its chapters waxed and waned in size like the moon.
A TV series, however, can't be quite so experimental. So, even though Catton's novel had been hailed as 'cinematic', the material needed to be adapted to the screen in a different form.
After other screenwriters declined to tackle this literary Rube Goldberg machine, Catton herself wrote the six-part adaptation. She reportedly attempted 300 drafts of the pilot episode before deciding to tell a simpler, more classic tale of star-crossed lovers Anna Wetherell (Eve Hewson, Behind Her Eyes) and Emery Staines (Himesh Patel, Yesterday): 'astral twins' born at the same moment, around whom the other characters rotate like planets and moons.
TV Review: Frayed S2 has lost none of its edge
Thus, The Luminaries works as a kind of televisual orrery – structurally, it is itself a mechanical model, like the one in the parlour of Lydia Wells (Eva Green), a glamorous but opportunistic colonial fortune-teller. Later, Anna herself creates another, much more low-tech orrery on a beach, delineated by shells, rocks, sticks and circles in the sand.
We meet Anna in medias res, running through bushland by moonlight, and seemingly bleeding gold dust. She's found unconscious at a remote shack on Māori land, carried into the frontier town of Hokitika by earnest young politician Alistair Lauderback (Benedict Hardie), identified as a vagrant, opium-addicted sex worker, and promptly jailed for murder.
It's a confusing start; but the pleasures of this show lie in watching its clockwork tick as the plot unfurls. Director Claire McCarthy (Ophelia, The Waiting City) brings her keen eye for motif. With her DOP Denson Baker (McCarthy's husband and frequent cinematographer) the camera dwells on greenstone and gold, laudanum and wine, in a way that transforms them into talismans and elixirs. And the ominous albatross that first draws Anna's and Emery's gaze recurs as poignant 'lucky feathers'.
Flashback to Anna on the ship taking her to Dunedin. She's a plucky ingénue, travelling alone in 1865. On deck she meets Emery, an educated milquetoast hoping to make his fortune on the diggings. They instantly sense they are kindred spirits – she impulsively rips off and offers him a button from her sleeve to mend his waistcoat. But they're both so innocent that the opportunists of the colony are about to eat them alive.
So, Lydia robs and deceives the illiterate Anna out of her planned rendezvous with Emery, while Lydia's rakish ex-convict lover Francis Carver (Marton Csokas) makes a devil's mining contract with Emery. With nowhere else to go, Anna is forced to work for Lydia, who runs a gambling den and occult bordello and is conveniently married to an absent prospector, Crosbie Wells (Ewen Leslie).
But when Crosbie crashes back through Lydia's door, his newfound gold spilling across the floor like pixie dust, Lydia and Carver begin to plot how to seize his fortune to make a fresh start for themselves.
Eve Hewson is wonderful to watch as Anna. She reminded me of a young Emily Blunt: graceful and alert, but with a kindness that keeps getting Anna in trouble. First she tries to help Sook Yongsheng (Joson An, New Gold Mountain), a young man from Guangdong with a vendetta against Carver that dates back to the opium wars. Then she connects with the lonely Crosbie Wells.
Finally, Anna accepts a job offer of the oldest kind from Lydia's fellow-showman Dick Mannering (Erik Thomson, Aftertaste), who plans to set up an opera house and pleasure palace in Hokitika for the depressed, comfort-starved miners. There, blunting her unhappiness with opium, she again meets Emery, who has since befriended a young Māori greenstone-hunter, Te Rau Tauwhare (Richard Te Are), and an exploited Chinese digger, Quee Long (Gary Young, Secret City).
Soon some characters are dead, others are missing, and Lydia and Carver turn up in Hokitika like bad pennies. Eva Green knows exactly the kind of story she's in, and she relishes her stagey role as femme fatale – I think Lydia is supposed to be American, but Green's ambiguously cosmopolitan accent works for this self-invented conwoman.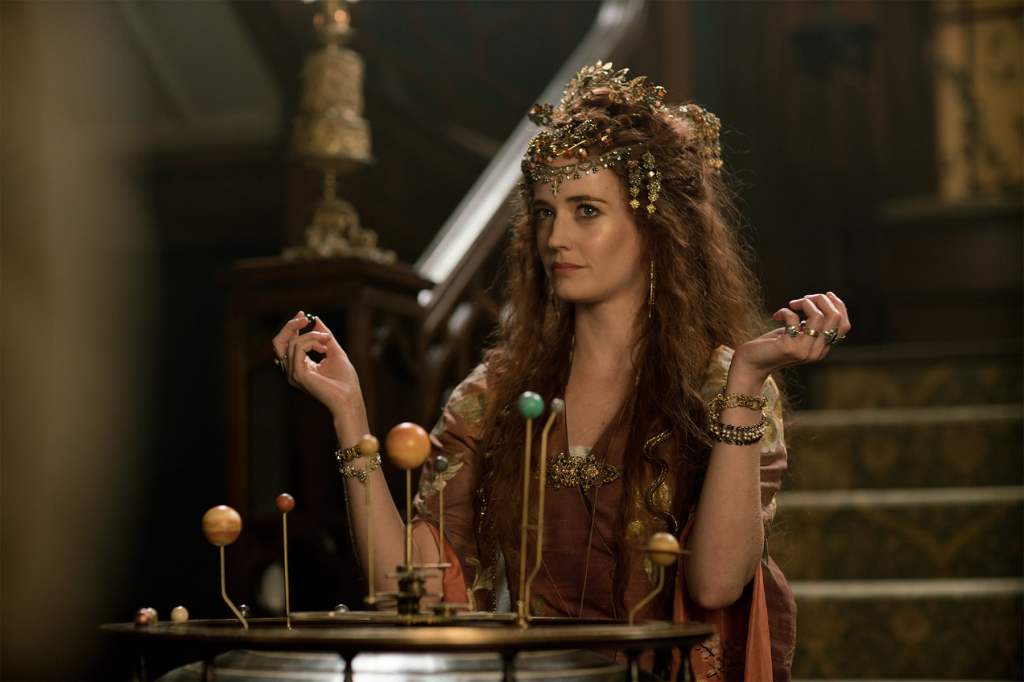 I also enjoyed seeing Ewen Leslie (Operation Buffalo, The Gloaming), who often plays brooding, antiheroic characters, cast against type as the open-hearted Crosbie; Leslie gives Crosbie a charisma that's missing from Himesh Patel's likeable but lightweight Emery.
The Luminaries may test the patience of viewers who aren't on board with its star-crossed themes, but I enjoyed the way McCarthy marries the fresh naturalism of the scenery along New Zealand's west coast and the vibrancy of 19th-century colonial towns with the knowing theatricality of plot and characters, which fall into types rather than originals.
While it premiered on TVNZ in May 2020, it's only just made its voyage here to Paramount+, a timing that sets up an interesting counterpoint with SBS's thematically similar New Gold Mountain, which also stars the charismatic Yoson An. Themes of colonial exploitation are underplayed here: New Zealand operates instead as a space of self-reinvention and loyalty, destiny and revenge. Still, it's a sparkling, cleverly crafted adventure.
4 stars ★★★★
THE LUMINARIES
Creator: Eleanor Catton
Executive Producer: Eleanor Catton, Andrew Woodhead, Tim Bevan, Eric Fellner, Mona Qureshi, Claudia Bluemhuber, Georgina Gordon-Smith, Claire McCarthy, Christian Vesper, Timothy White
Producers: Lisa Chatfield, Luke Robinson, Judith Trye
Writer: Eleanor Catton
Director: Claire McCarthy
The Luminaries is streaming now in Australia exclusively on Paramount+