It's not too often you get a sequel to a documentary. But when you make the highest-grossing Australian documentary of all time (excluding IMAX titles, of course), it's understandable the powers that be will ask for more. And so, we have River.
Jennifer Peedom's follow-up to Mountain (co-directed this time by Joseph Nizeti) is another elegantly assembled nature doc that cries out for the big screen. That earlier film reached its unexpected box office peak (pun definitely intended) thanks in part to a successful festival roll-out as well as live performances of its score, which was composed by Richard Tognetti and performed by the Australian Chamber Orchestra. They return here, shown briefly in a black-and-white prologue before we are descended into an audio and visual feast.
Read: River director Jennifer Peedom: 'Our attempts to control rivers have begun to backfire'
Mountain was well regarded critically upon its international release in 2017, sitting at 87% on Rotten Tomatoes and 82 on Metacritic. There is little reason to expect its follow-up will fare worse given how similar they are in tone –although the arthouse box office being as it is, it's hard to picture it approaching the predecessor's $2 million-plus take. In the five years since Mountain, documentaries have exploded on streaming platforms and it's far too easy to picture its adult target audience waiting to see it on the small screen.
Which would be a shame, because I actually think River is the better of the two. Not for any particularly profound reason or for any significant technical improvement. Rather, the flowing and cascading movement of nature's waterways simply holds a more cinematic quality to it.
It isn't entirely reliant on swooping, sweeping camera shots to make its vistas impressive. Although there is plenty of that, too. One breathtaking, rollercoaster-like drone shot in particular even received applause at the media screening I attended at 9.30 on a Tuesday morning.
Perhaps I was just more readily accustomed to Willem Dafoe's narration, once again written by Robert Macfarlane and Peedom with Nizeti also credited. I came to River at least prepared for the onslaught of flowery verbiage, although yet again it sounds a bit like something even Terrence Malick would have discarded as excessive.
It's all laboured stabs at poetry like, 'rivers give us so much more than water … they have flowed through our lives like they have flowed through places' or observing that in order for a river to be truly alive, it must be free. Even at 75 minutes, it is a bit much.
To be honest, I would have preferred the film to be word-free, soundtracked only as it is elsewhere by the Australian Chamber Orchestra and Richard Tognetti most prominently, but also Radiohead's Johnny Greenwood (The Power of the Dog) and Kalkadunga didgeridoo player and vocalist William Barton.
The swells of strings, woodwinds and singing fill the impressive sound mix with intricately placed sounds of nature nestled within, making this an aural experience as much as a visual one for those keen enough to indulge in this excursion theatrically.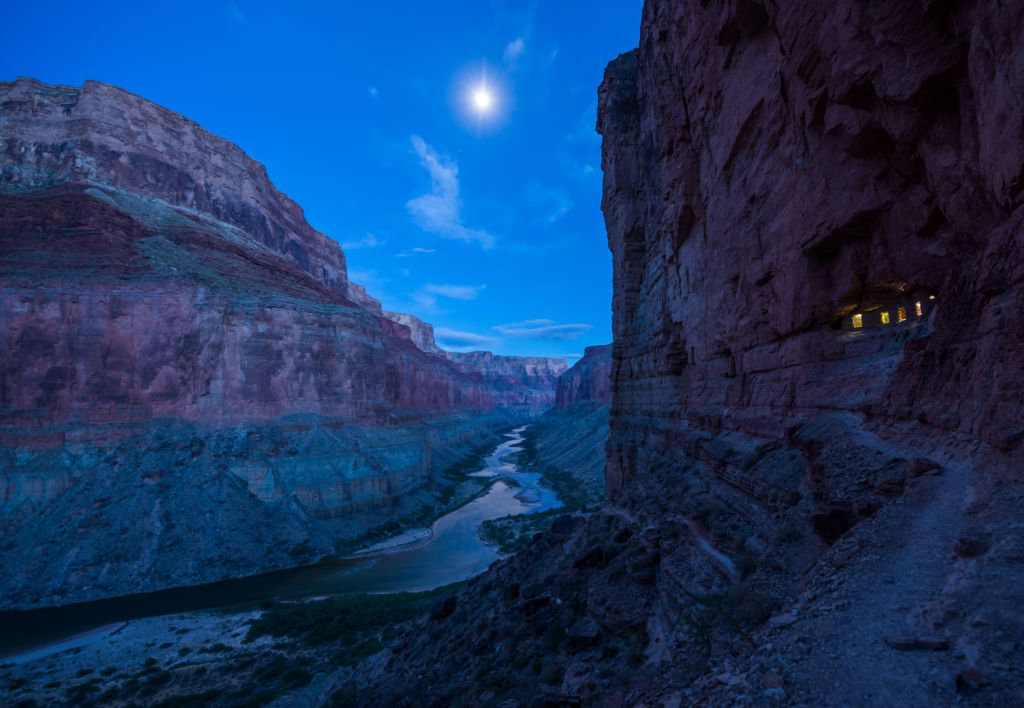 Keen-eyed viewers will see plenty of Australia, most recognisably the (unfortunately bone dry) rivers of the Murray Darling River Basin region in New South Wales. But just like Mountain, this is a global film covering arctic glaciers, Indian river worshippers and everywhere in between.
Peedom's suite of international cinematographers look upwards, too, taking in the grand expanse of the entire water cycle through thunderous clouds (rivers of the sky as they're called) and all too relevantly observe how there is as much water on the planet today as there ever has been, but the climate make-up of the Earth has severely changed where and how it is stored.
That River is being released during the current flood crisis of NSW and Queensland maybe adds some emotional weight, although it's hard to imagine many rushing to see it as a result. 
Read: After the floods: regrowing Northern Rivers film industry with Screenworks
It would be impossible to avoid climate change in a film like this. Unlike most enviro-docs, it avoids any sort of talking head interviews, often letting its images tell the narrative. While less avant-garde and meditative than the works of Ron Fricke (Baraka, Samsara) and Godfrey Reggio (the qatsi trilogy), River nonetheless captures both nature's divine beauty as well the way humans have turned our home's ecological wonders into dead, bare skeletons.
Edited by Simon Njoo – known for his work across documentary (Selina Miles' Martha: A Picture Story) and fiction (Jennifer Kent's The Babadook) – the film builds some really lovely rhythms that deliberately echo the raging torrents of a waterfall or the slower ebbs of a creek.
It's this technical prowess that elevates it above more formulaic National Geographic educational fare. For that reason (and like Peedom's films Mountain and Sherpa before), I would expect AACTA award nominations for the large technical crew.
Like with Mountain, I may have preferred this be an IMAX-sized experience, but as it stands, River moves gracefully and evokes something majestic – as long as you can get past that unnecessary over-cooked narration.
River
Australia, 2022, 75 minutes
Rated: G
Directors: Jennifer Peedom, Joseph Nizeti
Writers: Robert Macfarlane, Jennifer Peedom, Joseph Nizeti
Producers: Anna Godas, David Gross, Jennifer Peedom, Jo-Anne McGowan, John Smithson, Lorelle Adamson, Oli Harbottle, Paul Wiegard
Distributor: Madman Entertainment