The devil is in the detail, they say. Robert Eggers, the dark magician who conjured twisted tales The VVitch and The Lighthouse, is undoubtedly a man consumed by the magisterial minutiae. Revelling in welding historical fact onto the whispering menace of age-old folkloric horror stories, his macabre movies feel lived in their sickly skins.
Abundantly ambitious, Eggers is armed with a considerable budget for the first time for his third feature, Viking epic The Northman. By Odin's beard, it is a monumental achievement.
Opening with the portentous eruption of a mighty volcano, we're left with little doubt as to the scale of the tale about to unfold. Eggers teamed up with Icelandic author and Lamb scribe Sjón to unleash this thunderous Scandinavian legend about Prince Amleth, the man who would one day become Shakespeare's Hamlet.
Whisked across storm-lashed seas to a cliff-huddled encampment by twin ravens, no doubt Odin's obsidian-feathered familiars Hugin and Munin, we first meet him as an amiably rambunctiousness boy played by Oscar Novak. He notably took on the mantle of the young Bruce Wayne in The Batman.
Read: The Batman returns on a staggering scale
Overjoyed at the return of his warfaring father, King Aurvandil War-Raven (an impressively bearded Ethan Hawke), their reunion is derailed by a spot of toxic male bonding. Foregoing a conjugal reunion with Queen Gudrún (Nicole Kidman), Aurvandil instead drags his son into a hellish pit where they promptly prostrate themselves like howling wolves, lapping from psychedelic trip-inducing dog bowls at the feet of a gnarly He-Witch (Ingvar Sigurdsson). Fun!
It's a marvellously menacing rite of passage, captured with stomach-churningly discomforting camerawork by cinematographer Jarin Blaschke. The boy becomes a man as his father predicts his bloody undoing and commands vengeance before the fact. Fate does not wait long.
The Square star Claes Bang, as the raven-haired Fjölnir the soon-to-be Brotherless, stages a coup, slaughtering the king and seizing his wife and throne. Amleth escapes by rowboat, and Big Little Lies star Alexander Skarsgård becomes our avenging warrior, sulkily marauding in distant lands.
He appears to have struck a deal bargain with Skaði, the Norse god of the mountains, because his shoulders seem hewn from boulders. His Amleth is a rumbling hearted man of few words and a furrowed brow, not unlike Arnold Schwarzenegger's inexorable terminator, as swaddled in Conan the Barbarian's wolf hide.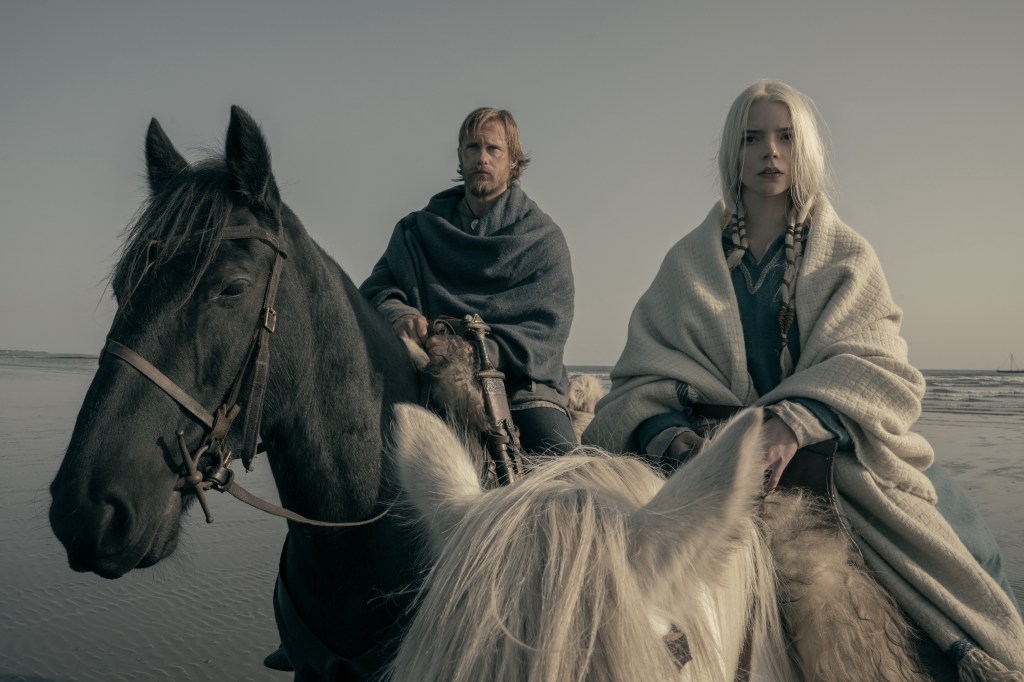 He's also a lost soul who at first appears to have given up on exacting justice while happily destroying many more families in a swathe of merciless pillaging. Which is how he comes to (literally) pick up The VVitch star Anya Taylor-Joy, as stoic Slavic villager Olga, in a thrilling near one-shot scene dripping with gory mayhem.
Directions arrive via a gloriously gothic seeress, announced with the skittering flutter of unseen bird wings, played by Björk, who collaborated with Sjón on her Oscar-nominated music for Dancer in the Dark). Things didn't work out so well for his unctuous uncle, who has already been unseated and now lords it over a blasted sheep farm.
Not that natural justice will be allowed to have its way, of course. This is a Viking melodrama, after all, so Amleth feigns slavery alongside Olga and hops on a refugee boat bearing them inexorably back towards his date with destiny and Fjölnir in fields of fire.
Once home, not everything is as it seems, with Eggers working a gloriously jaw-dropping reveal that leads to an excellent guerrilla warfare sequence as Amleth and Olga terrorise and pick off, one-by-one, Fjölnir's men with the subtle knife of imagined sorcery.
Sure, The Northman features a zombie chieftain, visions of the tree of kings and the ride of a solitary Valkyrie, but these fantastical elements are measured in sparing drops. Eggers instead revels in the hard-won reality of a gruelling, seven-month shoot in the wild winds, icy dark and trudging mud.
Linda Muir's costumes and Craig Lathrop's impeccable production design are bolstered by historical precision, guided by literary scholar Johanna Katrin Fridriksdottir and archaeologist Neil Price.
It's a film that sears itself into the senses via nightmares glimpsed in the hellish half-light. Skarsgård's physical transformation is astounding to behold, but it's Kidman who steals the show. Without giving too much away – you'll know the moment when you see it – Queen Gudrún appears to metamorphose before our very eyes using nothing but ancient shadow play by firelight and a facial acting tour de force.
The mark of a seasoned actor throwing out the rulebook, her turn recalls the temptation of elven queen Galadriel. To borrow Tolkien's turn of phrase: 'I shall not be dark, but beautiful and terrible as the Morning and the Night!' Words that perfectly sum up The Northman.
Kidman's howl into the darkness is the pinnacle of a majestic film that towers on the back of Egger's obsessive world-building. Armed with Blaschke's deft hand and reinforced by Robin Carolan and Sebastian Gainsborough's imperious score, it's a diabolical dance towards the gates of Valhalla.
The Northman
US, 2022, 15, 136 mins
Director: Robert Eggers
Writer: Robert Eggers, Sjón
Producers: Thomas Benski, Garrett Bird, Francesca Cingolani, Robert Eggers, Sam Hanson, Mark Huffam, Lars Knudsen, Arnon Milchan, Yariv Milchan, Michael Schaefer, Alexander Skarsgård
Distributor: Universal
Australian release date: 21 April 2022
ScreenHub recommends … best Viking movies
The Vikings (1958)
The All Father of them all, before there was Spartacus, 20,000 Leagues Under the Sea director Richard Fleischer paired Kirk Douglas and Tony Curtis as blood brothers at each other's necks in this classic Hollywood spectacular that puts the horn-blowing din in Odin. Look not here for historical authenticity, no seer (beyond some real nifty boat-crafting), but it does serve up some seriously tasty slices of ham and the magnificent side dish of Janet Leigh as a captured Welsh princess.
Valhalla Rising (2009)
If unchained Norse warriors exacting bloody revenge while writhing in the mud is your jam, you'll likely lap up the savage beauty of Danish director Nicolas Winding Refn's pre-Drive fable. And what's not to love about a one-eyed and mute Mads Mikkelsen as an enslaved warrior hellbent on vengeance, ripping to shreds all who stand in the way of his newfound freedom? Unleashed in the rugged majesty of 12th-century Scotland, he's soon recruited for a fog-ensnared voyage on a crusade towards holy war in Jerusalem. It's the very definition of epic.
Thor: Ragnarok (2017)
Kenneth Branagh certainly had fun upending Norse mythology by bringing Stan Lee, Larry Lieber and Jack Kirby's trippy comic book take on the god of thunder to crackling life on the big screen for the now-unstoppable Marvel movie machine. But Chris Hemsworth's debut in the role was a little too stuffily Shakespearean. The mercurial jester that is Taika Waititi banishes the boring bits to blast out this wild space rock opera complete with Tessa Thompson's mead-swilling Valkyrie. Our Cate Blanchett is Hela good, nearly besting Tom Hiddleston's trickster god Loki as the queen of death herself.