Ari Chand, University of South Australia
Arkie was created by illustrator Nathan Jurevicius 21 years ago. She has evolved into graphic novels, console and virtual reality games, collectable vinyl toys – and now an animated feature film.
Arkie (Jillian Nguyen) lives on a vibrant peninsula with her dad Blister (Rob Collins).
Blister has the ability to regenerate life, and uses this gift to tend to the organic life of the peninsula. When he is captured by Chihoohoo (Tim Minchin) and taken to the dazzling city of lights ruled by the notorious Dr Maybee (Sam Neill), Arkie is forced to leave the safety of the peninsula to save her father.
In 2020, David Attenborough said 'saving our planet is now a communications challenge.'
Watching Scarygirl, I was struck by the way rich visual metaphors and ecological backdrop in animated films can be part of this communication solution.
An expanding and visual scary-verse
With growing streaming demand for original content, Australia has been going through an animation and VFX industry boom. Scarygirl marks a 3D animated feature film release that incorporates Australian accents, colloquialisms and sensibilities for a global audience.
Animation and visual ways of expressing ideas about the world have long been used to share messages with a new generation.
Filled with fantastical world-building, character and creature design, the Scarygirl universe mimics our concern for the natural world and the need for human-nature connection.
With some darker themes in the story around biodiversity loss, the film introduces a healthy level of cynicism concerning capitalism, technological innovation and progress.
Read: The Sloth Lane: Leslie Jones voices a cheetah in Screen Queensland-funded film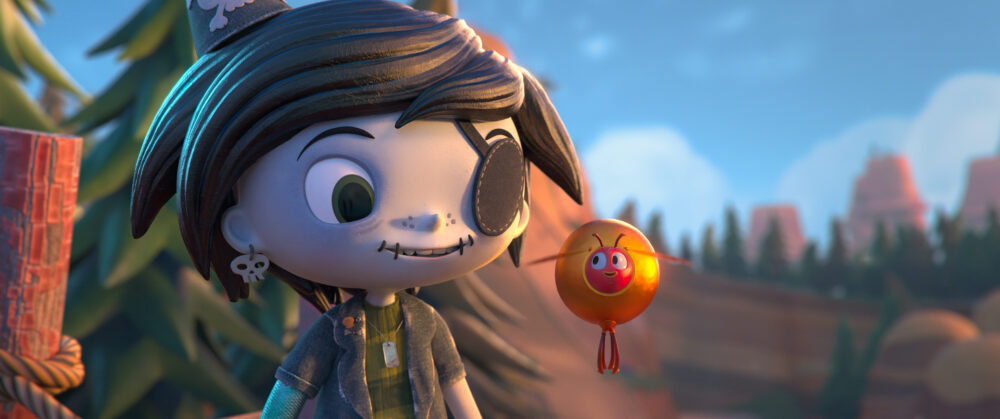 A feast for the eyes, Scarygirl emulates a toy aesthetic and feels like stop-motion. A visually communicated story has an immense power and influence over the way society is formed.
In my research on how illustration practice works within society, Jurevicius told me illustration is
like reinventing folk tales and fairy tales of cultures that aren't necessarily real, or they are real, but they are a reimagining of tales that perpetuate the idea of storytelling.
Personal experience is fundamental device in the way Jurevicius' illustration, and now animation, shares metaphors and mythologies of the natural world and family life through anthropomorphism of the human condition.
In Scarygirl we follow Arkie's journey as she discovers the world is not exactly as it seems. Jurevicius created Scarygirl out of 'a deep love for a new daughter':
'one of the biggest themes for me in this ever-expanding folktale is what it means to be part of a family in all its shapes and forms.'

Nathan Jurevicius
Jurevicius draws on Baltic heritage and traditions of storytelling in his work: we must keep telling stories of our own lives to shape history. Through animation, he articulates his particular experience of the world, capturing a version of reality.
As Arkie starts to explore beyond her peninsula, she comes to realise family can be built from the friends and allies you meet on your journey.
Storytelling is a powerful tool
At the heart of Scarygirl is the complex relationship between a father and daughter: how we resonate with and find a way through to connect with our parents' views of us, find responsibility within ourselves, and develop confidence in our own identity and choices.
The film has an authenticity and earnestness built into the plight of Arkie as she seeks to make the best choices with the information provided.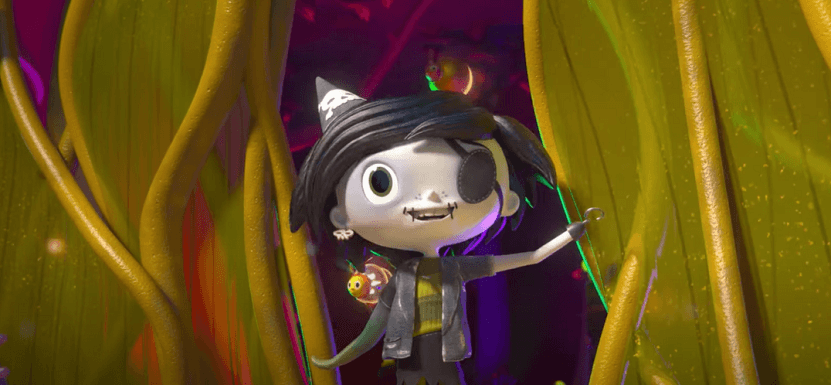 Animation has the ability to circumvent time, space and gravity and physical decay or bodily change. Characters in animation become the masked version of ourselves. In Scarygirl, we explore the human experience through the eyes of an octopus, rabbit and hybrid Chihuahua.
Scarygirl is built within a deep visual universe which relies on physics, a toy-like texture and a strong use of light and colour to communicate the mood.
Animators have to make the fantastical world feel as real as possible so Arkie moves like a human. As we move through the acts of the story, colour indicates place and the stages of the story, like the darkness when she meets the threshold guardian Tweedweller (Deborah Mailman) and the tree of knowledge.
The magic of animation means creators can play with time and space and the narrative structure. There is a wonderful sequence in the middle of the film that utilises a 2D style to shift back in time when Arkie was too young to remember.
Illustration, animation and visual storytelling sit across all parts of our lives. Stories like this one can help us realise our connection to place, culture, the environment around us and the stewardship and responsibility we have to the natural world.
Scarygirl is in Australian cinemas now.

Ari Chand, Lecturer in Illustration and Animation, University of South Australia
This article is republished from The Conversation under a Creative Commons license. Read the original article.