Everyone deserves to be loved, but not everyone is. Binge's new six-part series Love Me follows the romantic travails of three bourgeois Melburnians in different stages of life, and love. It's unapologetically lush and indulgent, like the expensive holiday Glen Mathieson (Hugo Weaving) buys his wife Christine (Sarah Peirse) for their 40th wedding anniversary, and which delivers Glen an awakening of sensual pleasure at a time when he'd thought it was gone forever.
Meanwhile, Glen's daughter Clara (Bojana Novakovic) is a 38-year-old anaesthetist who works at a maternity hospital, lives in a chic CBD loft, and has been navigating the horror show of dating apps. Unlike her friend and colleague Sasha (Celia Pacquola), Clara is ambivalent about having kids; she'd rather be 'too picky' than settle for someone who doesn't get her. So she's first annoyed, then intrigued, by her hunky neighbour Peter (Bob Morley).
Her much younger brother, law student Aaron (William Lodder), is besotted with Ella (Shalom Brune-Franklin), a DJ with whom he has little in common but scorching sexual chemistry. Still, Aaron's ready to throw away his studies for Ella, to the disgust of his level-headed best friend Jesse (Mitzi Ruhlmann).
Binge's first original commission since its May 2020 launch is based on Swedish drama Älsak Mig, and has a determinedly cosmopolitan feel. Emma Freeman (The Newsreader, Glitch) stylishly directs all six episodes in a sleek, magical version of Melbourne that never heard of lockdowns.
As a lifelong Melburnian, I appreciated the establishing shots that capture my city's subtle beauty – Sydney may flaunt, but Melbourne reveals. City skyscrapers float in the distance on a cloud of green parkland, are framed by a sweep of the milk-tea Birrarung, twinkle at night as the camera floats overhead, or emerge from morning mists as Clara walks over Princes Bridge.
And because its creative team have their eyes on an international audience, Love Me offers a refreshing break from the 'quirky' tone of Australian romantic dramas in the John Edwards Televisual Universe. The mood might be indulgent, but the writing is astringent: Alison Bell (The Letdown), Leon Ford (Offspring), Blake Ayshford (Mystery Road) and Adele Vuko (At Home Alone Together) offer plenty of shrewd character-driven moments.
Glen and Christine's anniversary dinner, the pivot of episode one, sets up a perfect, mercilessly observed family dynamic of misdirected love, with a green dress – a Christmas gift from Clara to her mum – as the catalyst. Glen prods his wife to wear the dress to please Clara, failing to realise it only reminds Christine of the able body she's lost after a car crash two years earlier. Depressed and in pain, Christine barely tolerates Glen's carefully planned dinner, and goads her husband and daughter. Enraged at her mother's criticism of her dating life, Clara retorts that Christine is too fat for the dress.
Then, as a crestfallen Glen takes Christine back to bed, Aaron berates his sister for ruining the dinner and stalks off to his room – yep, he still lives at home. When Clara comes his doorway to say goodbye, he doubles down on the petulance, and she barks back, "Get fucked!" It wasn't meant to be funny, but I laughed. How can a show this escapist also feel way too real?
I despised Aaron, a Home Brand Timothée Chalamet character who gets mad at Ella, Jesse and his family for contradicting his naïve ideas that life – and love – ought to revolve around his own emotional needs. Luckily, the show is well aware that Aaron is a little weasel; after he crashes his car while texting Ella, he gets strips torn off him by a fellow patient in the hospital emergency department (a fun cameo by Lulu McClatchy).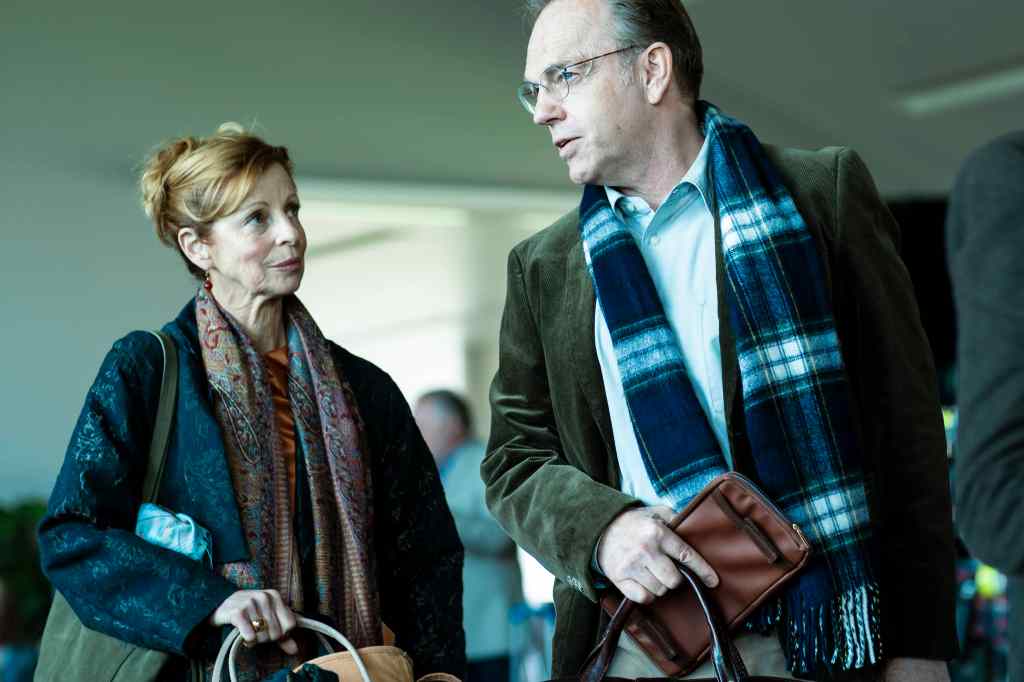 In the four episodes I previewed, I was most moved by Glen's story – superbly portrayed by Weaving. Mild-mannered to the point of self-effacement, Glen is a powder keg of unexpressed feeling. Even at the height of his grief and turmoil, he manages to tell Clara, 'Drive safe.' Against Aaron's whingeing about the 'selfishness' of the luxury holiday, Glen finally loosens up there – thanks to the complimentary hotel massage – and rediscovers his personality when he strikes up a flirtatious holiday friendship with Anita (Heather Mitchell).
It's rare for love between older people to be treated seriously, rather than indulgently or comedically – yet we always feel the same, no matter who looks back in the mirror.
It's rare for love between older people to be treated seriously, rather than indulgently or comedically – yet we always feel the same, no matter who looks back in the mirror. And for fans of Australian cinema there's an intertextually Freudian tang to Glen's and Anita's connection: both actors appeared in Jocelyn Moorhouse's Proof, where, in flashback scenes, Mitchell played the mother of Weaving's adult character.
Read: TV Review – 'Firebite' is fang warfare, Australian style
Meanwhile, Clara and Peter circle each other in a narrative arc that's no less satisfying for being more familiar. I loved Celia Pacquola as Sasha: Pacquola is an underrated dramatic actor – she was great in 2015 miniseries The Beautiful Lie – and Sasha is that best friend who knows where the bodies are buried and challenges Clara, while staying unflinchingly loyal.
The three protagonists reflect different life stages. In youth, like Aaron, we wallow in all-consuming passion – 'You wouldn't know; you've never been in love,' he cruelly, fatuously tells Jesse. As we get older, like Clara, we become pragmatic and cautious to avoid being hurt. And late in life, like Glen, we wonder if passion inevitably cools into companionship. Balanced cleverly between escapism and realism, this show challenges our beliefs about love while indulging them all.
4 stars ★★★★
LOVE ME
Creator: Josephine Bornebusch
Executive Producers: Michael Brooks, Hamish Lewis, Brian Walsh, Alison Hubert-Burns, Lana Greenhalgh, Josephine Bornebusch
Producers: Angie Fielder, Polly Staniford
Writers: Alison Bell, Leon Ford, Blake Ayshford, Adele Vuko
Director: Emma Freeman

Love Me is streaming now on Binge