Since its 2010 beginnings, Downton Abbey has always looked both backwards and forwards. Aristocratic tradition vs. the grasping, vulgar middle classes and nouveaux riches. A respectable job serving a noble family vs. the self-actualising opportunities of other careers. Duty vs. happiness.
It doesn't want to choose – and nor do its many fans. It wants to enter A New Era, but also remain an escapist pageant of the past, with everyone in their 'right' place. Because of its soothing nostalgia, my friends used to call it Downtime Abbey or even Naptime Abbey. And this film maintains the same sentimental power.
Indeed, in my preview screening the cinema was filled with affectionate chuckles, many of them from me.
We open on the nuptials of Tom Branson (Allen Leech) and Lucy Smith (Tuppence Middleton), whose romance began in the 2019 Downton Abbey film. That the Crawley family's onetime Irish republican chauffeur should marry a Crawley cousin's illegitimate daughter and enjoy the family's property and protection shows just how much water has flowed under Downton's bridge.
Over six seasons, the TV series moved from 1912 into the 1920s. The 2019 film was set in 1927; now it's 1929, in what we can call 'The Miss Fisher Time'. It's a golden but elegiac moment – both because we know the Great Depression is coming, and because this cast can't stick around forever.
I liked it more than the 2019 film, which had extremely low dramatic stakes and a pandering, pantomime air. But it does feel like a farewell tour – especially from creator Julian Fellowes, who's now busy with HBO's The Gilded Age. Fellowes borrows from his own earlier, better story Gosford Park, as well as stealing a whole subplot from Singin' in the Rain.
Read: The Northman is a monumental achievement
In the most intriguing plotline, the now very frail matriarch Violet (Maggie Smith) drops a bombshell. She has inherited a Côte d'Azur villa from an old marquis acquaintance, and has decided to endow it to her great-granddaughter Sybbie, child of Tom's first marriage to Lady Sybil Crawley.
Intensely curious about what Violet archly calls 'my mysterious past', half the cast promptly decamps to France to inspect their new possession – including the endlessly pedantic retired butler Mr Carson (Jim Carter), who takes to French hospitality about as poorly as you'd expect.
It's a nice honeymoon for Tom and Lucy, a nice holiday for Lucy's mother Maud (Imelda Staunton), and a potential story assignment for society journalist Lady Edith (Laura Carmichael) and her cheerfully supportive husband Bertie, the Marquess of Hexham (Harry Hadden-Paton).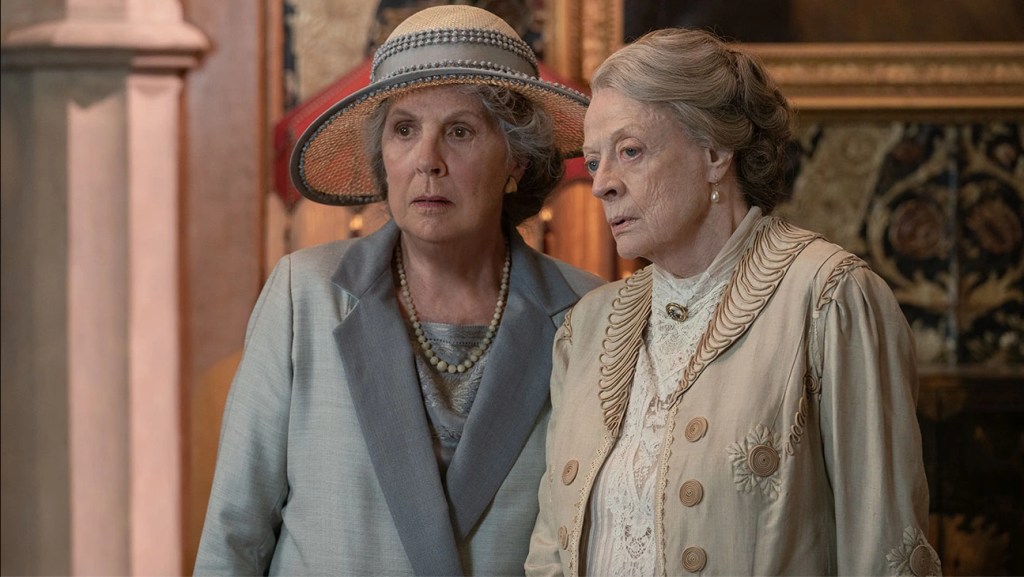 But Lord Grantham (Hugh Bonneville) is freaking out about what the villa gift might mean about his parentage and title. Meanwhile, his wife (Elizabeth McGovern) is hiding a secret of her own …
Back at the Abbey, doughty heroine Lady Mary (Michelle Dockery) accepts a roof-fixingly large sum to rent out her family home as a film set to Jack Barber (Hugh Dancy), a film producer–director with awkward puffy hair. It's an enjoyably self-aware nod to the real use of Highclere Castle to film Downton.
(In another fun metatext, the film Barber wants to shoot is a period romance about a professional gambler, set in the 1870s – around the same era as The Gilded Age.)
Barber is soon mooning after Lady Mary, as all men in the Downtonverse must. And she's tempted! Seems a certain chill has set in to her marriage to daredevil racecar driver Henry Talbot (Matthew Goode), who remains conspicuously absent throughout.
Meanwhile, the soapy antics extend below stairs. Lady Mary's maid Anna (Joanne Froggatt) and assistant cook Daisy (Sophie McShera) are thrilled to meet the film's glamorous stars, Guy Dexter (Dominic West) and Myrna Dalgleish (Laura Haddock). Even Molesley (Kevin Doyle), a former servant who's now the local schoolteacher, can't resist blundering into the frame.
Read: The Lost City runs on charisma and fun
Myrna's rudeness disappoints – as does her Eliza Doolittle accent, which will certainly prove awkward for her if movies are ever to incorporate sound! But Guy proves thoroughly charming … particularly to lonely gay butler Thomas Barrow (Rob James-Collier), who has left behind his wicked years as a scheming footman. But Thomas's sexuality has got him in trouble before, so he's cautious about misreading Guy's friendliness.
The pleasures of A New Era are the same pleasures being captured in its film-within-a-film: beautiful interiors, romantic intrigue, endless rituals of dinners, parties and balls … Most of all, the gorgeous outfits by Anna Robbins, who has costumed both the feature films. Her use of the characters' signature colours is wonderful: Edith's peach and tangerine; Mary's black and burgundy; and especially how Violet's dark aubergine has faded to a whisper of lilac.
Director Simon Curtis doesn't distinguish himself; he's just here to steer a franchise that's too big to really change course – much like the Titanic, whose sinking kicked off the show.
Most fan-favourite characters are given happy futures, including valet John Bates (Brendan Coyle), housekeeper Mrs Hughes (Phyllis Logan), Lady Grantham's maid Miss Baxter (Raquel Cassidy) and cook Mrs Patmore (Lesley Nicol). Maggie Smith's line deliveries are still a highlight, but Violet has thawed considerably since her early Lady Bracknell days, to the point where she now confides in her former frenemy, the embarrassingly middle-class do-gooder Isobel (Penelope Wilton).
The storytelling remains seductive, but the characters are noticeably older. They seem sleeker and more complacent, too, reminding me just how long the actors have now played them. Now they seem content to 'crest in the nest'. Some scenes are just two characters reminiscing comfortably, like that Itchy and Scratchy 'Porch Pals' cartoon from The Simpsons.
Perhaps the passage of time is on my mind following the recent death of Robert Morse, who played Bert Cooper in Mad Men, that other intensely 2010s period drama that was also celebrated for weaving aesthetics and interpersonal dramas into social change.
But maybe we've had enough upheaval in the past three years that this elegant fantasy past has become even more narcotic. We're thrust into a new era whether we like it or not; but like Downton Abbey, we too can reject the idea that this means leaving our sentimental favourites behind.
Downton Abbey: A New Era
UK/US, 2022
PG, 2 hrs 5 mins
Director: Simon Curtis
Writer: Julian Fellowes
Producers: Gareth Neame, Liz Trubridge, Julian Fellowes
Distributor: Universal
Downton Abbey: A New Era is in cinemas now