Some viewers might find adventure rom-com The Lost City smarmy and off-putting, while others will sink into its warm bath of tropes with pleasure and relief. But the film is about that same tension.
It's been widely hailed as a retread of Romancing the Stone (itself a riff on The African Queen and Raiders of the Lost Ark), but I think a better comparison is the recent Jumanji reboot, which sets a group of stock characters in search of an exotic McGuffin, but which explicitly frames its cartoonish action as video gameplay, and its characters as players whose familiarity with the game clashes with the incongruity of their underlying 'real selves'.
Similarly, The Lost City begins with a delightful sequence lampooning romantic adventure storytelling, which turns out to be the projected imagination of jaded romance author Loretta Sage (Sandra Bullock), who's stuck on the ending of her latest novel, The Lost City of D.
If that cheap joke doesn't raise a smirk, this film probably isn't for you – but I saw it in a cinema filled with women who'd been enjoying free cocktails in the foyer, which is the right and proper viewing experience. The Lost City is a story about the vicarious pleasures of romance fiction, and about the folly of either dismissing them as stupid or of taking them too seriously.
The film amiably indulges corny tropes – forced proximity! Tending wounds! A hardened heart learns to love again! There's only one hammock! – while also incorporating its audience's resistance to them. And it tests, and resolves, the story's conflicts between brains and body, reality and fantasy, and contempt and respect, using the personas its stars have both honed over long, successful careers.
So, if you feel romance fiction is beneath you, here's Bullock as Loretta, a self-professed 'sapiosexual' whose escapist novels star a brilliant female archaeologist and her hunky sidekick, Dash – whom the Fabio-esque hunk Alan (Channing Tatum) portrays on her book covers. Still mourning her archaeologist husband, Loretta dismisses her books as trash and despises her rapturously horny female fans, who wish they could feel the fictitious Dash beneath them.
Her latest book tour stop, at a romance convention, is going as awkwardly as expected, despite the best efforts of her publicist Beth (Da'Vine Joy Randolph) and social media manager Allison (Patti Harrison), who push Loretta onstage in a sequined fuchsia jumpsuit that's memorable enough to get its own plotline. Loretta storms out, and Alan follows her to declare his longstanding crush … only to witness hired goons bundling her into a black SUV.
Her kidnapper is Abigail Fairfax (Daniel Radcliffe) – 'it's a gender-neutral name!' – a scion of a billionaire family who's still seething that the company was passed to his brother. Unlike most of Loretta's fans, Abigail has read her novel The Lost City of D with a nerd's eye. He's convinced that the city is real, that it hides a priceless jewelled crown buried in a grieving queen's tomb, and that with her archaeological knowledge, Loretta will help him find it.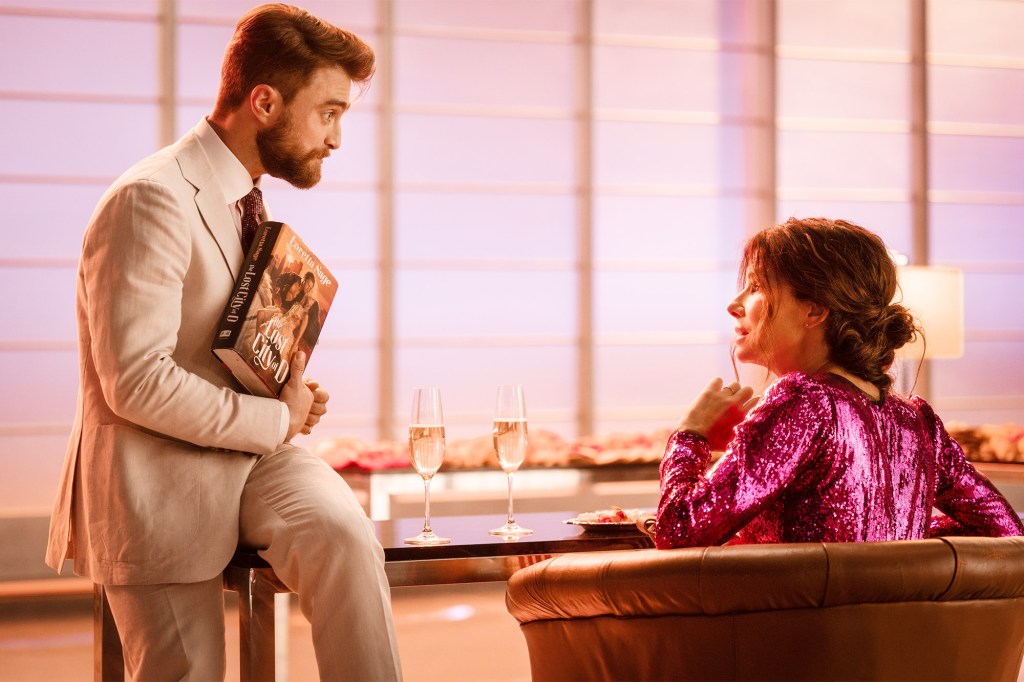 Abigail has poured his family's resources into a private excavation on a South American island, and when Loretta sights the objects he's found, she's thrilled to realise he might be right – the relic might be real, and she could find it herself.
Alan, meanwhile, is determined to rescue Loretta to earn her respect, so he seeks help from an old yoga buddy: a mercenary named Jack Trainer (enjoyably played by Brad Pitt). In one of the film's funniest sequences, Trainer effortlessly infiltrates Fairfax's dig site, while gentle, pampered Alan blunders behind him. It takes a lot of physical grace to look this clumsy.
Magic Mike showed that Tatum understands his own to-be-looked-at-ness; here, he undercuts the violent, in-control body of the macho action star by making Alan a sensitive ingénu who packs a neck pillow, breaks out in eczema, and only inadvertently wins a fight. Bullock, too, is a wonderful slapstick comedian who's great at outraged dignity.
Their charisma powers The Lost City through a pretty thin, uneven plot. A limp B-plot following Beth's separate journey to the island feels like a waste of Randolph's comedic talents, although Oscar Nuñez is fun as the roguish pilot who helps her on her way.
But for me, the obviousness of the genre machinery isn't really a flaw – it's part of the fun. Sibling directors (and co-writers) Adam and Aaron Nee relish their lowbrow jokes – in particular, a scene where Loretta has to pick leeches off a flustered Alan's shapely butt had my cinema audience screaming with laughter.
Radcliffe, who played a similar villain role in Now You See Me 2, struggles to be truly threatening – but metatextually, Abigail stands in for the humourless genre super-fan, who takes himself so seriously he's lost sight of pleasure and play. 'All that time and money spent on a cheap metaphor!' he fumes at one point, pre-empting what some critics might say about this film.
The Lost City isn't as successful as the Jumanji movies, which have a stronger sense of their own constructed fantasy status. This film has just enough realism to make me uneasy about the gory deaths of various henchmen, but not enough to explore the intriguing postcolonial figure of Abigail's goon Rafi (Dominican actor Héctor Aníbal), whose bought allegiance wars with his loyalty to his homeland.
But it's at its best when it gives Loretta – and by extension, its audience – permission to have fun. Loretta and her dead husband shared a Latin motto that translates as 'sweeter after difficulty' … but The Lost City insists that sweetness doesn't need to be that hard. Unless it's, you know, in that other way …
Read more:
The Lost City
United States, 2022.
M, 1 hr 52 mins.
Directors: Adam Nee, Aaron Nee.
Writers: Oren Uziel, Dana Fox, Adam Nee, Aaron Nee.
Producers: Liza Chasin, Sandra Bullock, Seth Gordon.
Executive Producers: Jonathan Hook, Dana Fox, Julia Gunn, Margaret Chernin.
Distributor: Paramount.
The Lost City is in cinemas now.