Aboriginal and Torres Strait Islander readers are advised that this story contains images of a person who has died. A modified version of his name and images have been used with his family's consent.
David Dalaithngu AM was a titan of the Australian screen industry, a traditional man raised on Country whose exquisite dancing, electric performances and remarkable charisma made him an international star.
He died yesterday (29 November) aged 68, having been diagnosed with lung cancer in 2017.
Dalaithngu was born in Arnhem Land, a member of the Mandhalpuyngu clan of the Yolŋgu people. His vivid screen performances shone a new light on Australia's First Peoples, and are credited with helping bring an end to the practice of white actors 'blacking up' to play Aboriginal characters in the Australian screen industry.
Already recognised by his own people as an accomplished, lithe and striking dancer, Dalaithngu was cast by British filmmaker Nicolas Roeg in the 1971 film Walkabout when he was just 16, the first of many subsequent compelling screen roles.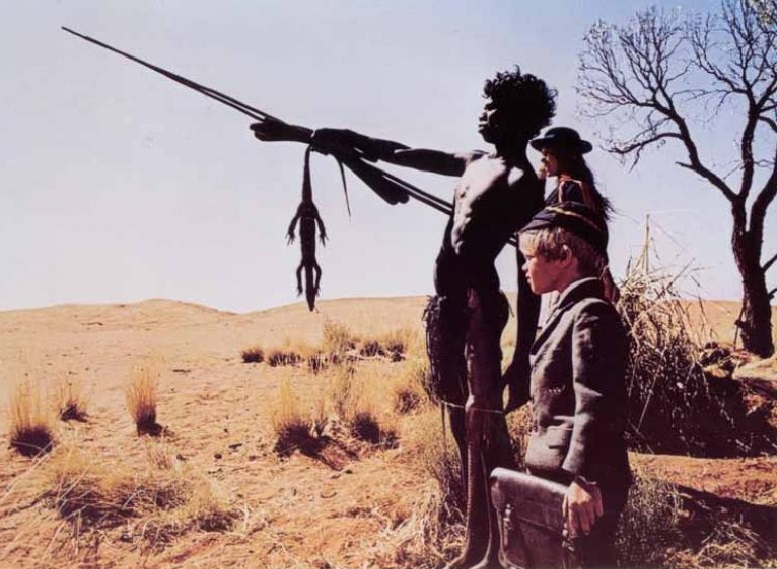 Dalaithngu also starred in Storm Boy (1976), The Last Wave (1977), Crocodile Dundee (1986) and The Tracker (2002) for which he received the AFI/AACTA Award for Best Actor in a Leading Role.
More recent screen credits included the Yolŋgu language film Ten Canoes (2006) which he narrated, and Charlie's Country (2013), for which he received the Cannes Film Festival Un Certain Regard award for Best Actor and a second AACTA/AFI Award for Best Actor in a Leading Role.
A selection of his film appearances, interviews and related work is available via the National Film and Sound Archive.
Dalaithngu's final film performance was in director Molly Reynolds' My Name is Gulpilil, released in cinemas earlier this year; a film which 'communicated his deep, profound and ineradicable connection to Country'.
Speaking with the Canberra Times about the film's release, Reynolds described Dalaithngu's remarkable on-camera presence. 'He just looks at the lens and comes alive,' she said earlier this year.
Dalaithngu spoke at length about his life and career in the 2019 biography Gulpilil, in which journalist Derek Reilly wrote:

I tell him I want to find out what it was like being a little boy in Arnhem Land in the nineteen-fifties, his piece of the earth called Marwuyu Gulparil that is still an hour-and-a-half by four-wheel drive and boat from already remote Ramingining.
I want to know about his mother. His father. His mob. About vacationing with Dennis Hopper at his New Mexico ranch after they became fast pals on Mad Dog Morgan, learning the mechanics of acting boozed courtesy of Walkabout's John Meillon, his dinner with Bruce Lee in Rome, partying with Jimi Hendrix and Bob Marley, about satisfying his hunger by killing one of the Queen's ducks at Buckingham Palace.
It's a very good story and came from a decent source. Is it true?
'Yeah, yeah,' he smiles in a manner that neither confirms nor denies the charge.
Dalaithngu's sometimes turbulent life included a well documented struggle with alcohol, while in 2011 he was jailed for five months after assaulting his wife. The pair had reconciled by the time of the court case, the ABC reported at the time.
Dalaithngu's personal problems helped inform the narrative of Rolf de Heer's Charlie's Country and by the time the film was released, he had stopped drinking.
Among his many honours, Dalaithngu was appointed a Member of the Order of Australia (AM) in 1987; received an Australian Centenary Medal in 2001 for services to the arts; the Australia Council's Red Ochre Award for lifetime achievement in 2013, and the Premier's Award for Lifetime Achievement in the 2019 Ruby Awards (South Australia's annual arts and culture awards).
MOURNING A LEGEND
Reflecting on Dalaithngu's passing, Anthony Albanese MP, the Leader of the Opposition, said: 'We have lost a titan. From the moment David Dalaithngu graced the screen aged just 15, he was a remarkable and powerful presence. Actor, dancer, painter and proud Yolngu man, he walked tall in two worlds with grace, truth and humour. Now he walks in another place.'
Federal Minister for the Arts Paul Fletcher MP also paid tribute, describing Dalaithngu as 'a once-in-a-generation artist who shaped the history of Australian film and Aboriginal representation on screen. He was an actor, dancer, singer and painter – and one of the greatest artists Australia has ever seen.'
South Australian Premier Steven Marshall called him as an 'iconic, once-in-a-generation artist who shaped the history of Australian film and Aboriginal representation on screen … a man who loved his land and his culture, and … took it to the world'.
British actor Jenny Agutter, who appeared alongside Dalaithngu in his first film, Walkabout, said, 'He was a very special person, a great artist and communicator. I am sorry to know I won't see him again. His spirit will always remain with me.'
In a statement supplied to ScreenHub, Stephen Page and Bangarra Dance Theatre said they were 'devastated to hear of the passing of iconic Aboriginal actor, singer, dancer and esteemed Yolngu Elder D. Dalaithngu.
'As a trailblazer of theatre and film, he transformed the way that Indigenous people were represented on screen and how our stories were told. He devoted his whole life to sharing the stories of Indigenous Australia with the world and his legacy will continue to inspire Indigenous artists for decades.
'We mourn the loss of a great artist and send our deepest condolences to his family and Community,' their statement concluded.
Australia Council CEO Adrian Collette AM said: 'We are deeply saddened by the passing of such an important artist and legend of Australian film. David Dalaithngu was a remarkable ambassador for First Nations representation in the film and screen industry. We were privileged to have witnessed the work of this one-of-a-kind artist and his legacy will endure. We pay our respects to his friends, family and Yolngu community.'
Franchesca Cubillo, Australia Council Head of First Nations arts and culture added: 'David Dalaithngu was a trailblazer and an inspiration for other First Nations actors and filmmakers. He helped to share First Nations culture and stories, and left an indelible mark on Australia and the world.'
Dalaithngu lived in Murray Bridge, in south-eastern South Australia, and was cared for in his final years by Mary Hood.
Steeped in traditional culture, Dalaithngu walked in two worlds. He will be buried with ceremony on his Country by his family, who have advised that his image (and a modified version of his name) may be used in accordance with his wishes.
Dalaithngu's passing is a loss for all Australians.