The Wyrmwood gang of Kiah and Tristan Roache-Turner do an awful lot on their franchise, assisted by Blake Northfield in the producing department, Brad Hurt in editing and Tim Nagle as cinematographer.
Fortunately the cost of zombie makeup is relatively cheap, as the indy-undead route of ultra-squirm and sweaty smash-em-ups is hard work. They started with Wormwood in 2014, and outlasted the problems of a crowded genre which mixes risible ambition with the brilliant work of Train to Busan and The Walking Dead.
Read: Wyrmwood – the first version reviewed
So kudos for Wormwood Apocalypse, which chewed up a coveted slot at Sitges, aka The International Fantastic Film Festival of Catalonia. It ran at the Sydney Film Festival last year, which wondered:
Can anyone or anything stop the march of the Aussie undead? Prepare to find out in the bigger, faster and even more action-packed continuation of the horror story where Mad Max 2 goes on a dream date with Dawn of the Dead. The magic here is a heapin' helpin' of big, brash, fresh new touches that keep this tale pumping and thumping all the way through.

SFF
Backed by Studio Canal, it went out on 102 screens, and made $35,000.
The truth of the whole sector is now ghastly – total box office is probably hanging around 25% of pre-Covid times. Even worse, exhibitors are stuck with that old-fashioned habit of releasing films for older audiences after the yoof go back to their studies. Older audiences are even more cautious about infection.
The production of Blacklight came to Melbourne late in 2020, to shoot at the Convention Centre because the official studios were booked out as the Americans fled Covid chaos.The top-up Location Incentive Scheme allowed federal minister Paul Fletcher to announce $5.8m to create 500 jobs yada yada. With Irish heart actor Liam Neeson pushing 70 and a plot from the MAGA conspiracy playbook, it looks pretty dull and most critics agree.
It is distributed by Rialto, a highly experienced but modest outfit who scored 199 screens to make $327,000 in its local debut. It was at number six on the box office ladder, one rung below Belfast on its second weekend. This one has heart and soul in the person of Kenneth Branagh, who wrote and directed his own story on those mean black-and-white streets. Belfast has made $1.65m here, which is heartening. 
But life is full of kicks after the kisses. The other heart and soul film on our screens is Sydney compendium picture Here Out West which opened last weekend on 17 screens, and lost nine in its second weekend, even though the competition for cinema space can't have been great. Now on all of nine screens it added another $6.8k, to make a total of $36,000. The producers are consoling themselves with the knowledge that it will get a release on the ABC.
In the long run, they can hope for a continued trickle of viewers on iView.
Death on the Nile took top slot, despite lukewarm reviews, with $1.65m over the weekend from 303 screens.
Read: Death on the Nile review
The younger audience that embraced Jackass Forever drifted away as the real life encounters of a new school year took over. It lost 41% along with 41 screens, to yield $1.46m, taking the total to $4.5m. Not bad, and cumulatively doing better than Death on the Nile.
Marry Me opened on 357 screens, which is a standard launch at the moment. It nailed $1.21m. Star Jennifer Lopez is 52 years old. Owen Wilson is 53. They were both born decades before the invention of the makeup which make these people look even vaguely alive. Rom-coms are a celebration of youth and beauty, right? Of innocence preserved, over the moment when adulthood arrives, and in a good way. Fortunately for everyone's dignity, these characters are on the weary side of love and the idea is actually kind of okay.
Best of all, the indy producers kept the budget to around $30m before Universal Pictures coughed up for the distribution so the inner game of money is paying off nicely.
Spider-Man at number four is about to cross the $80m barrier.
Read: Nightmare Alley review
Other than these changes, the whole block of films continues to move along around week seven like a slug race in Sandpaper World. Sing 2 added $309,000 to reach $19.75m; House of Gucci $277,000 to $9.08m; Moonfall is prematurely senescent with $256,000 in week two, for $1.19m; Scream 5 $208,000 and $6.34m; Ghostbusters $144,000 to $11.20m; Clifford… dog is $105,000 to $5,25m; all as the Addams Family does $62,000 to reach $2.97m.
All proof that the fun has gone out of holiday life, as each of these pictures halves their audience in a single weekend.
Dune is slightly more interesting. After 11 weeks it is down to 45 screens and $84,000 to hit $15.4 million. But it only lost 35% because it has already endured its major losses.
Drive My Car, with excellent reviews and lots of Oscar hopes, started last weekend, on 33 screens to take $69,000, which adds up to $112,000 with previews and festivals. I thought it was wonderful and absolutely worth three hours of your life. Which you will not notice.
Read: Drive My Car is streets ahead
The Oscar contenders
Let's look at how the Oscar Best Picture contenders actually ran at the box office.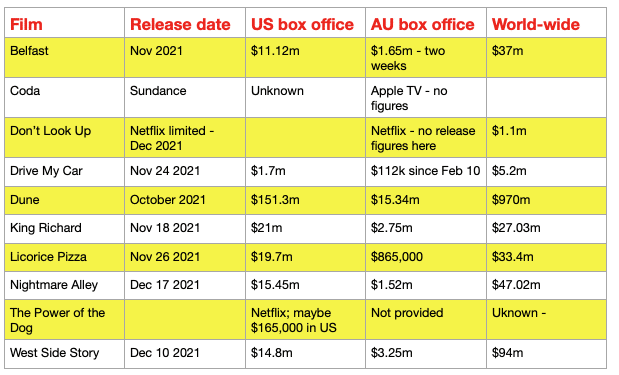 This is a fascinating collection of numbers. The figures are tiny as only Dune does tentpole numbers. Except for Licorice Pizza, the Australian numbers do better than the 1:15 ratio which is the population comparison. For three we have no numbers at all because they are really destined for the streaming market. Coda, for instance, was snapped up by Apple at Sundance, reportedly for $28m against a budget of $14m.
[Correction: I gave Blaclklight 293 screens; it was actually 199 and I have adjusted the number. Apologies.]