When the pandemic crashed full-steam-ahead into our lives two years ago, it threw many, many challenges our collective way. For the film industry specifically, a gaping hole opened up in the release schedule, as cinemas shuttered indefinitely. By a cruel twist of fate, the cursed voyage of Kenneth Branagh's Death on the Nile was scuppered by delays, missing its Christmas 2020 berth and several more.
His second turn helming an Agatha Christie whodunnit, after 2017s starry reboot of Murder on the Orient Express (also adapted by writer Michael Green) was also one of those films that faced a brave new world when Disney took over 21st Century Fox. During its time floating in purgatory, things got uglier, with disturbing (and vehemently denied) allegations levelled at leading man Armie Hammer.
One third of the central love/hate triangle, he plays supercilious cad Simon Doyle, who ditches fiancée Jacqueline de Bellefort (Sex Education's Emma Mackey) in favour of Wonder Woman lead Gal Gadot's boastfully rich property magnate Linnet Ridgeway. His ubiquity in the film made any possibility of photoshopping him out – a la Kevin Spacey in All the Money in the World – prohibitively expensive.
Which is a bit of a shame for numerous reasons, including that neither he nor Gadot are particularly strong screen presences, and they share no discernible chemistry. While Mackey is a sparkier presence, the regressive role of furiously spurned woman groans a little in this day and age. Whereas Rian Johnson's Knives Out leant into tropes while simultaneously upending them, Branagh plays Hercule Poirot, and Christie generally, a good deal dustier.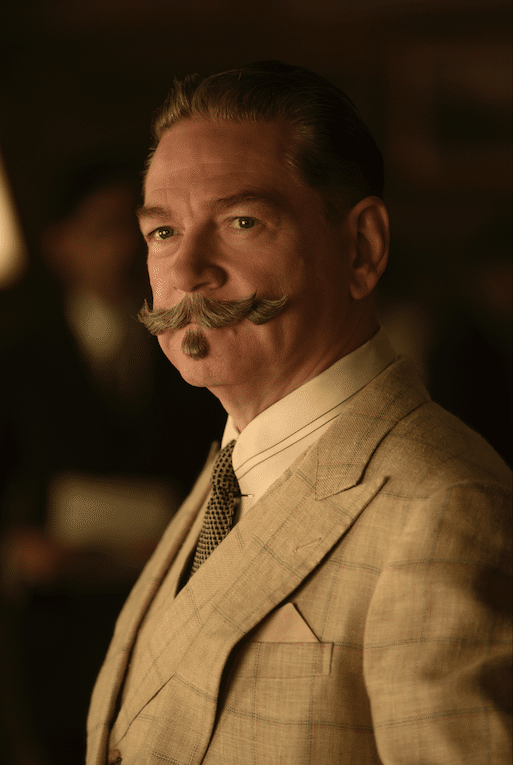 He clearly enjoys inhabiting the role of the famous Belgian detective, but hasn't been able to step out of the towering shadow of David Suchet's superior turn. And while it is intriguing to see a better shot than Belfast black and white flashback to a younger, farmer Poirot serving his country during the horrors of the Great War, I'm not sure any of us really needed the origin story of his moustache.
Of course, these things sing on the strength of the ensemble, but for all the film's two-hour runtime, no one really gets to shine. The tried and tested pairing of Dawn French and Jennifer Saunders – as a toned-down take on supposedly socialist millionaire Marie Van Schuyler and her trusty companion – is always welcome, but they're rather squandered here. Mostly their presence suggests a far more fun spoof that could be.
Read: TV Review: The Tourist is an effective outback thriller with dry humour
The now notorious online outbursts of Marvel star Letitia Wright and comedian Russell Brand could also prove awkward for the film's chances, but both put in reasonable enough, if unremarkable, performances. Wright plays Rosalie Otterbourne, an old school friend of Linnet's, to Brand's Charles Windlesham, a spurned suitor of the newly married heiress. Ali Fazal, as Linnet's cousin and business manager, and Game of Thrones alumna Rose Leslie as her maid, barely get a look in.
It's left to Anette Benning as Euphemia, the controlling matriarch of Tom Bateman's returning sidekick Bouc, and Sophie Okenedo as Rosalie's headstrong club singer of an Aunt Salome to light up the mostly nondescript passenger manifest. These towering performers do most of the heavy lifting, but it's not quite enough to keep the good ship Karnak afloat.
There's an inordinate wait for the first death to occur in Branagh's tension-deficit film, which may well be a touch shorter than the Peter Ustinov-led 1978 original directed by John Guillermin, but doesn't feel it. A more gruesome second death is oddly underplayed, with the whole feeling bloated.
Read: Film Review: Shane – nice story, heavy spin
That's partly down to the deathly pairing of Gadot and Hammer, who simply aren't up to sparkling repartee. Director of photography Haris Zambarloukos' work is also butchered, with way too much CGI intervention making it look for all the world like they never left Longcross Studios in Surrey. Which may in fact be the case, though the film lists location work in Cairo, Luxor and Aswan on IMDb.
Astonishingly dreary to look at, production designer Jim Clay's coolly uninspired décor for the steamer interiors and the damp squib of Paco Delgado and JobanJit Singh's drab costume design also drag it down.
It's probably also owing to the plot's over-familiarity. Why insist on rehashing Christies that have been done to death? At least the actual reveal here is much better than the 'everybody did it' cop out in Murder on the Orient Express. While Nile isn't terrible, it's resoundingly blah, when a starry, stab-happy showboat should be to die for.
DEATH ON THE NILE
UK, 2022, M, 127 mins
Director: Kenneth Branagh
Writer: Michael Green
Producers: Kenneth Branagh, Mark Gordon, Judy Hofflund, Matthew Jenkins, Simon Kinberg, James Prichard, Mathew Prichard, Ridley Scott, Kevin J. Walsh
Distributor: Disney
Australian release date: 10 February 2022
ScreenHub recommends … best whodunnits
Knives Out (2019)
Branagh's stale re-heat really does pale in comparison to the fabulously wicked Daniel Craig-led murder mystery that sees the star step neatly into Poirot mode from the Bond franchise into a now Netflix-owned series promising several sequels. All the rich folks squabbling over inheritance tropes are present and correct, complete with the creaky old house, but it's No Time to Die co-star Ana de Armas that really makes it sparkle.
Clue (1985)
The classic of the comic-leaning killer to be deducted genre, director Jonathan Lynn's spoof, co-written with John Landis, is way more fun than a boardgame adaptation has any right to be. Half the joy's in us all knowing the rules – in the library with a lead pipe and whatnot – and a glorious cast going all out, including Tim Curry's ridiculously OTT butler. The fact the original theatrical run featured no fewer than three whodunnit reveals was an absolute riot.
Witness for the Prosecution (1957)
We could hardly shut out the great matriarch or murder mysteries herself, and while the competition is stiff for actually great bodies on board Christie adaptations, this is the clear big screen standout. Directed with aplomb by Billy Wilder, no less, and starring Tyrone Power and Marlene Dietrich alongside Charles Laughton and Elsa Lanchester, it's also a rare treat in that it's neither a Poirot nor Miss Marple whodunnit.