Netflix
Leo (2023) – (21 Nov)
Adam Sandler voices a lizard named Leo in this coming-of-age musical comedy about the last year of elementary school as seen through the eyes of a class pet.
Squid Game: The Challenge (22 Nov)
456 players. $4.56 million. One winner. The global phenomenon comes to life with games inspired by the original series and all new challenges.
Apple TV+
Hannah Waddingham: Home For Christmas (22 Nov)
Emmy-winning Hannah Waddingham rings in the holidays as she welcomes special guests for a musical extravaganza at the London Coliseum. The special was recorded live in front of an audience, and audiences around the world will be able to join Waddingham in celebrating her favourite time of year as she performs festive classics accompanied by a spectacular big band.
The Velveteen Rabbit (2023) – (22 Nov)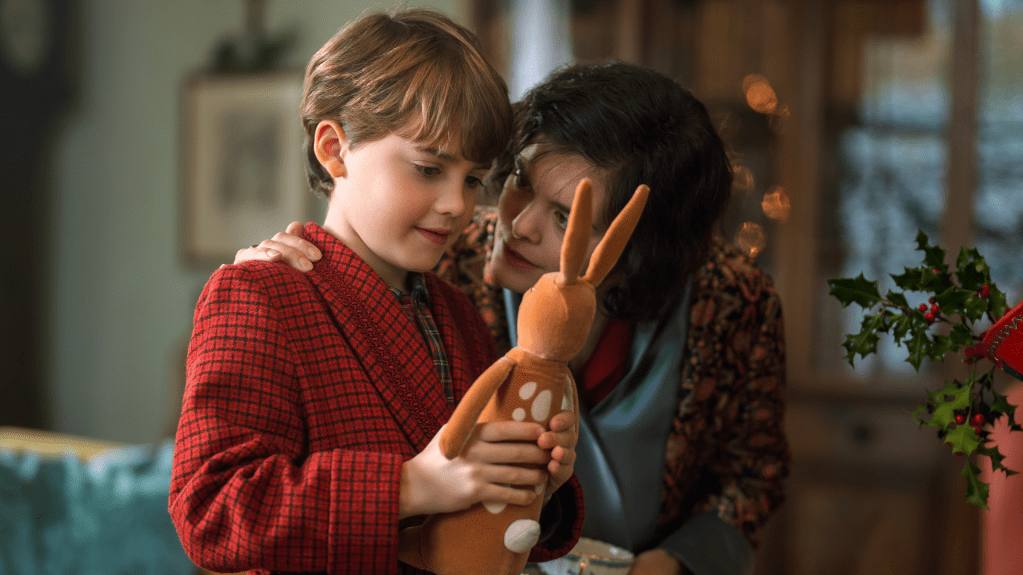 The Velveteen Rabbit. Image: Apple TV+.
Based on the treasured, classic children's book by Margery Williams, The Velveteen Rabbit celebrates the magic of unconditional love. When seven-year-old William receives a new favourite toy for Christmas, he discovers a lifelong friend and unlocks a world of magic.
Disney+
Doctor Who: Specials (16 Nov)
The three specials, titled The Star Beast (26 Nov), Wild Blue Yonder (3 Dec) and The Giggle (10 Dec) reunite the Fourteenth Doctor (David Tennant) and Donna Temple-Noble (Catherine Tate) as they come face-to-face with their most terrifying villain yet.
Faraway Downs (26 Nov)
A series remake of Baz Luhrmann's Australia. English aristocrat, Lady Sarah Ashley (Nicole Kidman) who travels halfway across the world to confront her wayward husband and sell an unusual asset: a million-acre cattle ranch in the Australian Outback called Faraway Downs.
ABC iview
Yakka: Australia At Work (21 Nov)
From working the land, to digging up minerals, from manufacturing to the services industry, this series explores how work has shaped Australia from the Second World War to the present.
The Way We Wore (21 Nov)
Hosted by Celeste Barber, this new series uncovers the cultural & historical significance of Australian fashion.
All Creatures Great and Small – Season 3 (25 Nov)
It's Spring 1939. As a potential Second World War looms, all of our Skeldale family have to consider their purpose in Darrowby and beyond.
SBS On Demand
Fargo – Season 5 (22 Nov)
Fargo's fifth instalment is set in Minnesota and North Dakota, 2019. After an unexpected series of events lands Dorothy 'Dot' Lyon in hot water with the authorities, this seemingly typical Midwestern housewife is suddenly plunged back into a life she thought she had left behind.
Raven – Seasons 1–3 (23 Nov)
An investigative police officer is called to work on a smuggling case in the village in the north of Poland where he grew up. While he's on the trail of the smugglers a young boy disappears in the village.
Prime Video
Comedy Island: Japan – Season 1 (22 Nov)
Popular comedians arrive on a mysterious, and cursed, island, and must prove their improvisation skills while facing unexpected challenges. 
BritBox
Irvine Welsh's Crime – Season 2 (23 Nov)
In the second season of Crime, Ray Lennox is ready to return to the fray at Edinburgh Serious Crimes, keen to prove he is fully recovered from his breakdown induced by bringing Mr. Confectioner to justice.
Payback – Season Finale (23 Nov)
Lexie Noble is entangled in a police operation to bring down a notorious crime lord – but what will happen in this season finale?
The Viceroy's House (2017) – (24 Nov)
The 1st Earl Mountbatten of Burma must oversee the transition of British India to independence – but it doesn't go smoothly. Starring Hugh Bonneville, Gillian Anderson and Manish Dayal.
Stan
Jones Family Christmas (2023) – (23 Nov)
Heather Mitchell, Ella Scott Lynch, Max McKenna, Neil Melville, and Nicholas Denton, this Stan Original Film is billed as a warm-hearted multi-generational comedy told through the lens of an Australian family whose Christmas is impacted by bushfires.
Paramount+
Good Burger 2 (2023) – (23 Nov)
This film sequel follows Dexter Reed (Kenan Thompson) and original cashier Ed (Kel Mitchell), as they reunite in the present day at fast-food restaurant Good Burger with a hilarious new group of employees.