This Sunday, 20 March, marks World Frog Day, a holiday you probably didn't know existed. There's a good reason for its appearance in the biodiversity calendar: 26 species of Australian frog are at great risk of extinction, and an international day in the limelight for these creatures will significantly increase awareness of this.
The Southern Bell Frog is in particular decline across much of its range and in some regions, it has disappeared entirely. The Foundation for Australia's Most Endangered Species (FAME) is raising funds to help it bounce back.
So, what does this have to do with cinema? Well, there have been many appearances of our amphibian friends on the big screen – including a little-known 70s horror flick entitled, appropriately, Frogs. Below, we round up our favourite five film frogs.
Five: THE TOAD, O' Brother Where Art Thou
Okay, yes, frogs are not toads – we know. Please 'frogive' us. But this scene is too beautiful not to include. When two of the main characters in the Coen Brothers' O' Brother, Where Art Thou can't find their third friend, they assume he has been turned into a toad. So convinced are they of this that they place said toad into a box for safekeeping. Sweet!
Four: THE FROG THAT GETS EATEN, Cléo from 5-7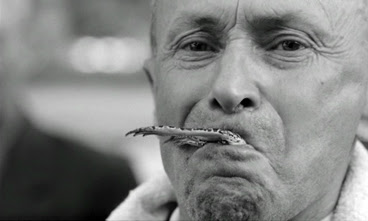 Oh, no. Froggy friends beware – this scene is all at once gross and triggering if you're not prepared to watch a man fully swallow some live frogs in the name of street 'entertainment'.
The rest of the film, a seminal piece of work by French director Agnès Varda, is great – and absolutely not about frogs at all. So if you're squeamish, feel free to skip this bit.
Okay, moving on!
Three: SCIENCE FROG ENSEMBLE, E.T. The Extra-Terrestrial
It might not be the first thing you think of when remembering this Spielberg classic, but there is a fabulous scene in E.T. The Extra-Terrestrial in which Elliot's classmates liberate the frogs they've been ordered to dissect. Ah, metaphors! E.T. himself almost looks like a frog, but he doesn't get included on this list due to a strict technicality.
Two: KERMIT, A Muppet Christmas Carol
What list of iconic frogs would be complete without the world's most recognisable green guy, Kermit? The seemingly immortal frog muppet entertains in any form, but his most iconic turn is easily as Bob Cratchit in 1992's The Muppet Christmas Carol. This film is also easily the best adaptation of the Charles Dickens novella.
One: AOGAERU, Spirited Away
Is there anything better than a talking frog? No. But a talking frog in a Ghibli film? That's a recipe for hoppin' perfection. Aogaeru the frog is a greedy little bathhouse employee in Hayao Miyazaki's blockbusting animated film Spirited Away. Known mostly for being annoying, he gets his comeuppance when he is eaten by the demon No-Face. But [spoiler] he's okay afterwards! Yay!