Talking on the phone from lockdown in Melbourne, Tony Ayres says the six-part anthology drama series Fires, premiering on the ABC next week, is the largest and most challenging project he's worked on so far.
This comes as something of a surprise, given that Ayres is one of our most important, experienced and internationally well-connected television producers. He was co-creator and showrunner on Netflix's recent Melbourne-made hit Clickbait, showrunner on International Emmy and BAFTA-nominated series The Slap (and EP on its US remake), as well as co-creating and executive producing Glitch and Nowhere Boys, and having key producing roles on a long list of ambitious-looking productions, from The Straits to Barracuda and The Devil's Playground. (This is not to mention the feature films Ayres directed earlier in his career The Home Song Stories, Walking on Water and Cut Snake.)
So what was so difficult about Fires, an anthology series inspired by real-life stories from the disastrous Australian bushfire season of 2019/2020? And be warned, for some readers this subject may be too traumatic too soon to revisit.
Read: Review – 'Fires' reignites the humanity behind the devastating Black Summer bushfires
'Every project has its own unique challenges,' says Ayres, 'but I think that the biggest issue on Fires for me and co-creator writer and showrunner Belinda Chayko, was that we felt a huge weight of responsibility. How to tell this story of national trauma in a way which was helpful and useful, and in a way that could contribute to the healing process? We were all very conscious of that. There was a sense of responsibility on Fires more than on any other project I've worked on.'
The Victorian-made series is produced by Ayres' own newish production company, Tony Ayres Productions (TAP – formed in 2018), which is backed by NBCUniversal International Studios and Matchbox Pictures, for the ABC. The Producer on Fires is Elisa Argenzio, and Executive Producers are Liz Watts and Andrea Denholm. Episodes are directed by Michael Rymer, Ana Kokkinos and Kim Mordaunt, and an impressive cast includes Eliza Scanlen, Hunter Page-Lochard, Richard Roxburgh, Miranda Otto, Anna Torv, Sam Worthington, Daniel Henshall, Sullivan Stapleton and a host of others.
'It's a really big project in terms of scale, the biggest I've ever done,' says Ayres, who concedes that shooting anything at all is difficult in a pandemic. 'Because it's an anthology series we were creating six different worlds in six different locations with six different casts. Fortunately, we managed to finish just before we hit the worst part of this last set of lockdowns.'
'Because it's an anthology series we were creating six different worlds in six different locations with six different casts.'

Tony Ayres
Speaking personally, having watched the first episode that follows two young volunteer firefighters (Scanlen and Page Lochard) caught in a bushfire, I can vouch for the effectiveness of this heart-in-mouth drama; it takes the audience right into the confusion and fear of the experience in a way news reports never did.
'Watching the news highlights doesn't make you privy to what fireys actually do, how they train, how they spend their time, what they're like with each other, and the whole process of fighting the fire,' explains Ayres. 'There's something both ordinary about it, which is kind of illuminating, because it's an ordinary process, putting water on fire, but there are all these things that we don't think about: How do you get the water to the fire? What happens to fire trucks when they run out of water? The vulnerability of those hoses during the fire, and all the mechanical things that aren't on the news highlights. That first episode brings that to life, and then in other episodes we visit different kinds of experiences that that showed the breadth and the extent of the kind of global catastrophe and how it affected people who weren't fireys, how it affected everyday people were just trying to live and survive.'
---
ScreenHub: What was the genesis of this project?
Tony Ayres: I was on Christmas holidays between blocks of working on Clickbait. It was the summer of the fires 2019/2020, and we were just watching what was happening in the world. It just struck me that all that I could do as an artist to contribute to this was to try to tell some of these stories. I talked to Belinda [Chayko] about it, and she completely got on board. And then the ABC got on board really early. They felt it was an important story to tell. And so it all came together extraordinarily fast from concept to screen.
Were there particular story issues in pulling together an anthology series like this and making all the episodes match up?
I think there are curation issues around trying to put this kind of series together, which is that you don't want every episode to be the same. So it's looking at what is the breadth of experience that you're going to tell.
In Episode One, we have the fireys fighting the fire. in Episode Two, we deal with people who come back to their property after a fire. In Episode Three, we deal with people trying to decide whether to abandon their place; whether to stay or whether to go. In Episode Four, we deal with people in an evacuation centre. And then in Episode Five, we actually deal with people fighting a fire again. You have to design the experience for the audience. It's almost like making a tasting menu so that the episodes complement each other so that the totality of the series creates a satisfying experience.
We want everyone to watch each episode, so you have to sprinkle in narrative threads throughout it, like the two early characters played by Eliza Scanlen and Hunter Paige-Lochard. They do what a lot of volunteer fireys did that season, which was travelling from place to place to fight the fires, so they become constant characters across the series.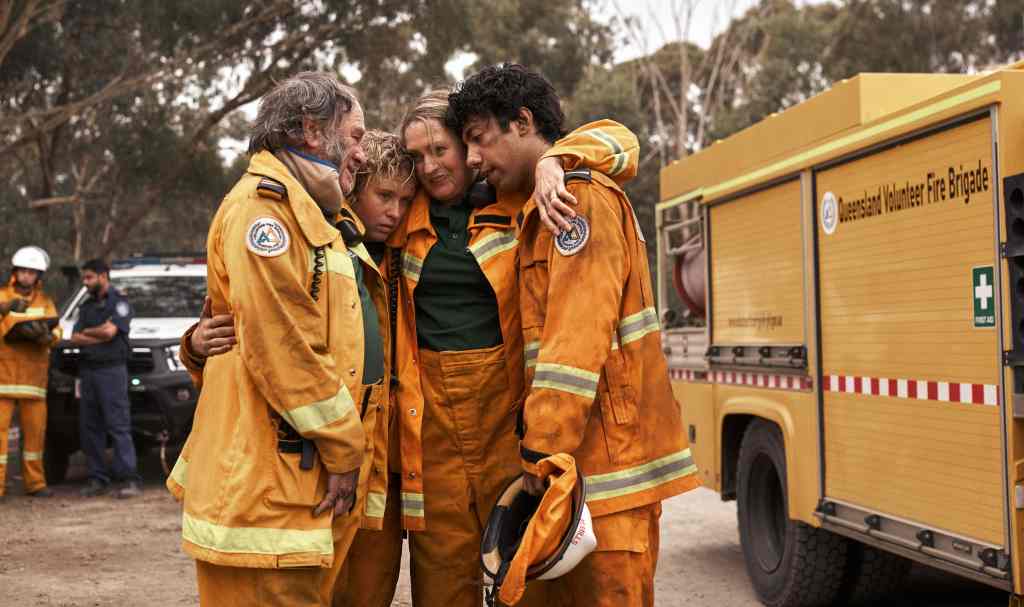 Heart and Mind: something that moves you and something that makes you think
You've been in the industry a long time now and you've evolved from being a director and writer to being a showrunner, creator and producer. What drives you these days? Has that changed?
For me, it's about finding the stories that I feel emotionally attached to, but also that I feel have something to say, some kind of substance. I think all along I've been driven by the combination of heart and mind; something that moves you, and something that makes you think. If you can keep those two things at once, then that's the sweet spot. That's always the target. You don't always hit that target, but that's what you're aiming for.
all along I've been driven by the combination of heart and mind; something that moves you, and something that makes you think. If you can keep those two things at once, then that's the sweet spot.

Tony Ayres
What part of the process do you love the most?
I really like being in the writer's room. I really liked the writing. I don't get to do it that often because I'm time-poor, but I do like writing. And I really like supporting talented showrunners. My job on Fires was to be creative support for Belinda Chayko. And on Glitch I did it with Lou Fox, and I've done it with Elise McCready on Stateless. It's a very satisfying job watching these people and trying to help them. I also like showrunning myself on the occasions when I get to do it. It's an immersive experience.
Is it hard to maintain focus, when you've got a number of different projects at different stages of development?
Yes! It really is hard. I try to structure my time so that I'm just doing one thing at a time, even if it's only for a day or a couple of days so I can focus. I've gotten used to picking things up and dropping them again, and picking things up and dropping. You do get used to it, but it's not necessarily the ideal way to work.
Nurturing new talent is part of the job
As a screen journalist, so many people I've interviewed have mentioned you as a mentor and someone who gave them a big break. Can you talk about that process of nurturing new talent?
Well, it's something that I really enjoy doing. I think that it's also part of your job, really as an executive producer. A part of my job is to find talented people and help them realise their vision. That is incredibly rewarding, especially, because the people I seem to work with are also really nice people, and they're friends as well, so there's a friendship element to it, which is also very rewarding.
In the early stages, how do you identify which people are going to be worth mentoring?
Well, it's when you read their material. Does it provoke a response in you? I'm always looking to find people to work with who have original voices, who actually, to be quite honest, have something to say! Our business is content creation, so what you have to say has to be the most important thing. And if you've got something to say I want to work with you. Or I might read something and feel like it's well-crafted but maybe I've seen it before already, so it's not a piece I can respond to.
Are you worried about the fact that new writers aren't getting the same level of experience in the rooms as they used to do when TV series went longer?
Yes, I think it's a real issue with the way in which our industry is kind of becoming narrowcast in terms of output. I think we're getting shorter and shorter runs, we're getting bigger and bigger budgets, which is great for the experienced people, but it's hard to catch a break these days.
I'm developing some work in the children's television area, like I did with Nowhere Boys. And that was an incredible opportunity, not only to work for an extraordinarily grateful audience – the children's TV audience is remarkable to work for – but also to give younger or less experienced writers and directors an opportunity to get a broadcast credit. So those are two really good reasons to work in that area.
On Clickbait and Christian White
You must be very gratified to see Clickbait doing so well. How did you come to be connected with co-creator and writer Christian White?
It's been crazy. It went to number one in the world on Netflix TV shows within the first three days or so and stayed there for a while. I met Christian when he won this writing competition that the Writers Guild held that involved Matchbox pictures. I'd read his script and really loved it. Because I'd just worked on The Slap I suggested we apply the format, of The Slap to the script. And, as it turns out that wasn't Clickbait. But with the show we decided to try a different kind of crime, but still using that format.
We've been working together ever since and we've written a couple of other things together and hopefully will continue to do so. I mean, he's very much a writer in demand at the moment!
Diverse representation and making work that feels true
One of the things I really love about Clickbait is that effortless diversity in the cast, and in all of your shows, really. Where do you think we're at with diverse representation in Australian screen productions right now? Are we in a good place yet?
I can only speak from my little part of it. When I put the show together, I just try to make it reflect the world as I understand it. The world that I see has a breadth of representation. For me, it's very rare that someone's cultural background is the foreground of the story. It's just part of who they are. And, and also, because I work in drama, I don't really write identities, I write characters, you know, and they're very different things.
I have a particular approach to representation, which works for me. I just try to make fully rounded human beings who come from a range of different worlds, and I think that's kind of interesting. Hopefully, I will continue to make work like that where it's appropriate.
I think it's kind of a hard one to legislate because you have to just be true to the work. I'm a dramatist, so my North Star in all of this is to just try to find the thing that is truest to the work. There might be some work, which is more diverse, there might be some work which is less diverse. And you just have to speak to what the work is telling you needs to be expressed in its purest and best form. So that's what guides me.
Less Australian content makes us all poorer and less healthy
Speaking as a producer, what do you think is the biggest issue facing independent Australian production companies at the moment?
Some doors are closing in terms of [Australian content on TV] quotas no longer being required. I think that means we're making less content, and making less content is bad for the industry. I think it's really that simple. The broader and more wide-ranging our ecosystem is, the healthier it is.
Everything is connected, soif part of it doesn't exist, like if we don't have great popular long-running shows like Offspring and Packed to the Rafters… those shows are crucial for not only connecting Australian audiences to Australian stories, but also for giving people a go. You just have to look at the extraordinary talent that has come from those shows. So not having as many of them, I think that is an issue.
Has your everyday life and way of working changed much since you set up Tony Ayres Productions in 2018?
My life is pretty much the same. I'm always time poor. I work on a range of projects. The reason that I set up this separate company [from Matchbox] was to try to focus more on international work. And so I'm kind of aiming to do different kinds of projects now. But apart from that, really the day to day is pretty much the same. I'm chained to the computer. I don't walk around enough. I try not to drink too much at the end of the day.
Oh, yeah. And we're living in a pandemic!
Fires starts on ABC TV and iView on Sunday 26 September at 8:40 pm