Cezary Skubiszewski is a Polish-born Australian film and TV composer whose work has received international acclaim, winning numerous awards, including three Australian Academy Cinema Television Awards and IFMCA (International Film Music Critics) Award for best film music.
His film and TV scores include Two Hands (1999), Death Defying Acts (2007), Red Dog (2011), Bootmen (2000), The Sapphires (2012), Black & White (2012) and Picnic At Hanging Rock (2018).
Here, he discusses his work, and advice for aspiring film composers.
Hi Cezary, can you tell us a bit about what you do?
Most of my work has been writing music for feature films and for television series. And also, before that, for advertising. I occasionaly still do live performances as well.
Maybe this sounds like an obvious question but … What does a film composer do?
I'm in a lucky situation. Through music, I can bring another emotional layer to the narrative of a film, even when it's not noticeable for a big percentage of the audience.
I compose music for feature films, television series and some documentary films. Each varies considerably in terms of what's needed musically but the one thing they have in common is that, sooner or later, there's quite a lot of stress involved.
When I was starting out, the editing was done on celluloid and the music was recorded on tape. Once the film was finished it was finished. But now, with digital technology, you can still be doing last touches an hour before the premiere.
I've been very lucky that people have offered me jobs continuously for three decades, but of course you still have to come up with the music. It's very important to communicate with the director and producers to find out what they really want, and how they see the role of the music in their film or TV series. They've already been working on it for quite some time, because it can take a few years to develop the project and another few to get the budget, and so on.
It has to be a collaboration. By the time a film's in post-production it has all been shot and there are only a few people left, including the director, the producer, sound designer and composer – a small group to finish up the film.
That said, I've done a couple of films that I had to write music for before the it was shot. That was fantastic.
Read: Screen Team: Animatronics director Paul Trefry
How did you get into this line of work?
It wasn't planned – I just wanted to play music. When I discovered that people liked my ideas, I started composing more and more. I have a classical education background but have always been interested in contemporary music, including classical contemporary, jazz and rock 'n' roll.
I started writing music for advertising – and that led eventually to some quite substantial international ads. In Australia, my most famous was probably the be the VB Symphony ad, where the Melbourne Symphony Orchestra played on bottles of beer.
At the time, I was also arranging string arrangements for some popular music acts, and writing music for ballet … the list goes on.
I remember I was travelling with my wife in India. When we got back to our hotel, a fax was waiting for me, and it was an offer to do a job for a children's television series called Sky Trackers. I was really excited because that was something I hadn't done. But it's one thing to be excited, another to sit down in front of the screen with the pictures.
I had a bit of a crisis – and in a way, that hasn't changed over all these years. Very often, I doubt myself at the beginning but, you know, something magic happens. I've always managed to come up with ideas.
When I give masterclasses, I always say you've got a choice. You can sit in a fashionable cafe and complain that everything is wrong in the world and then feel frustrated because you're undiscovered. Or you can go every morning to your little studio and put in a few hours work. Do that and I can assure you that by the end of the day there will be something, even if it's not great. And then suddenly, in one moment, a great idea will arrive. They're probably the most beautiful moments in my professional life.
What advice do you have for people trying to get into film composing?
If you haven't already, you should contact a film school in your town – for example, here in Melbourne, we have the VCA. Students have to make graduation films, and of course the budgets are very low, but it's a great opportunity to maybe meet somebody who will ask you to write music for their film.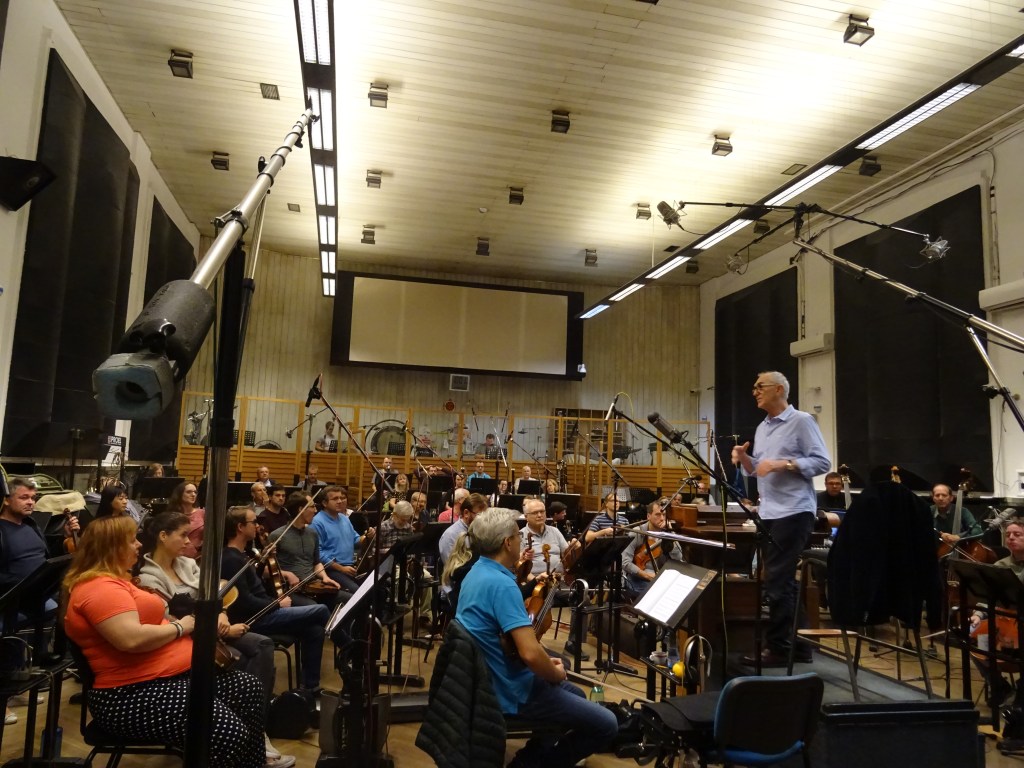 Young composers frequently send me music that's very compulsive, and often very good, but it sounds like what's already out there. They think music for films has to have a particular style. But really, the only way to break into this field is to have something that's your own. Don't be afraid of your ideas, because it's art. Never send music to people if you don't like it, thinking 'well, maybe they'll like it'. You have to like it first. Artists need to really push themselves – you have to give a bit of your soul, your heart.
Is there a particularly memorable highlight from your career?
There have been lots, but one beautiful and emotional moment was for me when I was at the premiere of the film Death Defying Acts at the Toronto Film Festival in Canada, with the director Gillian Armstrong and the star of the film, Catherine Zeta-Jones.
Catherine and Gillian were up on the stage, with about 1,000 people in the audience, and somebody shouted out that the film had great music. Catherine said that the composer was in the audience and asked me to stand. When I did, everyone stood and gave me an amazing ovation. There's this this type of American and Canadian way where they can really show their appreciation for what you do. Even if they forget you the next day, or even the next moment. For me, that was amazingly uplifting.
Find out more about Cezary Skubiszewski.