Television buffs and Australian screen creatives will be thrilled to hear that Series Mania Melbourne is coming back for the fourth time, showcasing eleven new series from Australia and around the world.
ACMI and Film Victoria, in partnership with Series Mania France have announced the return of Series Mania Melbourne from 14 – 17 October 2021. Both the public program and Screen Industry Day will be fully online and free.
The 4-day event, dedicated to shining the spotlight on television and the creative people who make it, is offering Australian audiences access to screenings and talks, as well as premiering some of the best new drama, comedy, and web series, from Australia and around the globe. Countries represented include South Korea, France, New Zealand, Canada, Turkey, Norway and Iran.
Originating and held annually in France, Series Mania Melbourne is the Australian edition of the world-renowned premiere festival of premium television, which Variety has said is like Cannes for TV.
Melbourne is the only city to host the festival outside of Europe, and all those involved in bringing it here are suitably proud.
OPENING NIGHT: NEW EPISODES OF AUSTRALIA'S TOTAL CONTROL
The festival will open with the first two episodes of the highly anticipated second season of Australian political drama Total Control, starring multi award-winning actors Deborah Mailman and Rachel Griffiths. The acclaimed Blackfella Films production, which screens on the ABC later this year, picks up where Senator Alex Irving's (Mailman) crusade left off, as she vies to hold everyone to account.
ACMI Director and CEO Katrina Sedgwick OAM said: 'We are delighted to be partnering with Film Victoria to present this year's Series Mania Melbourne, a festival dedicated to TV and the latest binge-worthy series.'
'With a rich and diverse program providing exclusive first access to some of the most anticipated and finest screen content from across the globe, it is wonderful to be opening this year's festival with the premiere of highly anticipated second series of Australian political drama Total Control.'
THE 11 SERIES ON SHOW THIS YEAR
The full public screenings program includes 11 series from Australia and around the world. In addition to the World Premiere of new episodes of Total Control, they are:
Preppers (Australia, World Premiere), a brand-new comedy series from writers/creators Nakkiah Lui and Gabriel Dowrick, which centres around a young Australian Aboriginal woman named Charlie (Nakkiah), who finds herself at the centre of a mismatched community of doomsday preppers. Preppers also stars Meyne Wyatt, Ursula Yovich and Jack Charles.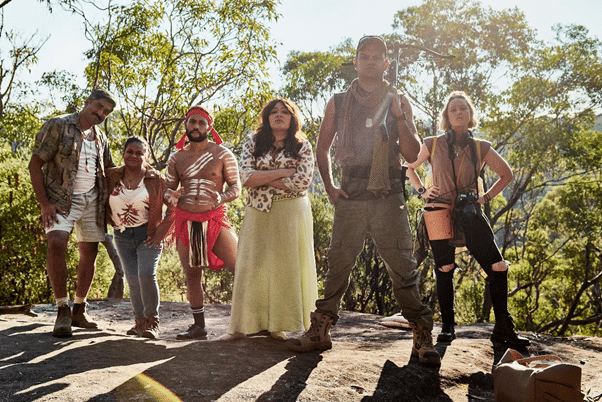 Hellbound (South Korea) – direct from its world premiere at the Toronto International Film Festival, this is the first live-action series from director Yeon Sang-ho and marks the highly anticipated follow-up to his Cannes favourite Train to Busan (2016) and its sequel Peninsula (2020).
L'Opera (France), winner of the Best Actress Award at Series Mania France for star Ariane Labed's (The Lobster, Trigonometry) performance in an immersive journey through Paris' prestigious ballet company, told through the eyes of two dancers.
The Panthers (NZ), a limited series based on the true story of the Polynesian Panthers. An exquisite period drama that energises, illuminates, and riles up the rabble-rouser within.
Hamlet (Turkey), an adaptation of Shakespeare's classic tale of betrayal and revenge, that shifts to modern-day Turkey.
Furia (Norway), a new Nordic-Noir crime series that explores the darkness lurking under the surface of an idyllic town in the fjords of western Norway.
Dark Soul (Canada), a limited series which follows a family mourning the loss of their son Jérémy in a high school shooting incident, as a quietly efficient coroner begins her inquest.
Short form series screening in the program include:
Happiness (Iran), a captivating tale of a teenage girl's journey, as she embarks on a road trip across Iran with two friends and a stranger, in a van full of contraband wine.
Family Portrait (South Korea), featuring a colour palette and staging that would make Wes Anderson proud, in a hilariously fast-paced short-form series about a family navigating the complexities of their lives.
Something Undone (Canada), a minimalistic chamber thriller, following a foley artist who while settling into her estranged mother's estate, is consumed by a dark family secret.
FREE SCREEN INDUSTRY DAY: 14 October
In addition to the free public program, Series Mania Melbourne also features a dedicated industry program through its Film Victoria supported Screen Industry Day on 14 October, which will be available via an online conference platform.
Supported by Netflix Australia, this will be a full day of craft-focused panels, keynotes, and masterclasses with the world's leading television creators talking about the art and business of making great television drama.
Highlights include conversations with talented and prolific TV creators Tony Ayres (Clickbait), Craig Mazin (Chernobyl), Sierra Teller Ornellas (Rutherford Falls), Lucy Prebble (Succession) and Joanna Werner (The Newsreader).
US showrunner, writer, director and producer Prentice Penny (Insecure, Brooklyn Nine Nine, Scrubs) will be speaking from the edit suite of issa Rae's Emmy and Golden Globe Award-nominated Insecure, just weeks before the final season drops on Binge. Penny will be in conversation with actor Miranda Tapsell, who will also talk with Navajo and American showrunner Sierra Teller Ornellas (Rutherford Falls, Brooklyn Nine-Nine, Splitting Up Together and Superstore).
Other anticipated highlights include Series Mania's Creative Director Francois-Pier Pelinard Lambert delivering his snapshot of fiction trends and formats; while Tony Ayres, Debbie Lee, Sally Riley and Belinda Chayko will tackle one of the most pressing question facing Australia's television industry: Is our development process good enough?
Series Mania Melbourne takes place online 14 – 17 October 2021. Tickets to all events, including the 2021 Screen Industry Day and public screenings, are free and available now. To register for free, visit acmi.net.au.