When I read the spiel on this film, I have to admit that I was filled with a dose of trepidation – a story of coping with grief set against a backdrop of dairy farming. How wrong could I have been?
This is an incredibly tender and gently humorous film about finding strength in oneself through others.
Bellbird is the full-length debut by writer/director Hamish Bennett, starring ageing dairy farmer Marshall Napier as Ross, and his adult son Bruce (Cohen Holloway) – both who could be described as simple, silent, stoic males.
Set in a remote New Zealand dairy farming community, the unexpected death of wife and mother Beth (Annie Whittle) forces a recalibration of their well-entrenched daily rhythm, one that doesn't offer a lot of space to pause and mourn.
It is that gentle daily pace that creates the framework for this film, as the characters are forced to find a new equilibrium. 'Time heals' goes the cliché, and while this film often teeters on the brink of falling into quaint indie clichés, it has a redeeming genuine strength.
The economical dialogue across the film does not come off as awkward; rather, it is a soft lesson in empathy for all of us.
Ross falls into filling the void in his life by pushing Bruce to complete chores at the expense of his own time to mourn; it is also an expression of affection, silently screaming, 'I need you'.
Bruce offers: 'Mum used to do the talking for both of us. If we miss her together, it feels a little easier than doing it by ourselves.'
There is a parallel narrative going on in many ways: one of loss, and one of acceptance. It is the slow realisation that, while Bruce might be a fourth-generation dairy farmer, he is not dairy farming 'stock', with his phobia for blood and slime, and is more suited to tinkering with other people's junk to make an extra dollar.
The concept of duty for many has a 19th century ring to it, but this film shows that duty is not just about pride and tradition: it is also forced by economics. One moving scene is Ross going through the inventory of buildings on the farm to a broker for potential sale – his father built the house, his grandfather built the shed.
It takes a further step into that domain with the rambunctious character of Marley (newcomer Kahukura Retimana) with his aspirations of becoming a dairy farmer to find his own place in the world.
Ross reluctantly takes him on as part of his duty to help out a neighbour. In many ways, Marley is a better farmer than Bruce, but when a cow falls into trouble during calfing, the lean on one so young offers another gentle lesson in how we cope.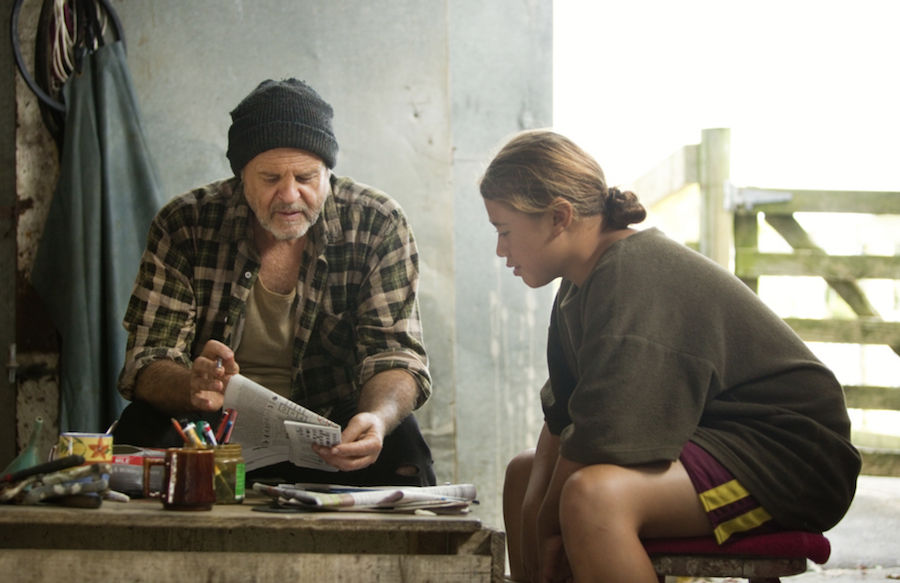 Bellbird (2019), Transmission Films.
The film is rounded out by Rachel House (who features in many Taika Waititi films) in her portrayal of Bruce's boss at the local rubbish dump, Connie, and local vet Clem (Stephen Tamarapa).
Perhaps this film feels so authentic because Bennett grew up where this film is set, enlisting locals to help with his first feature. Cinematographer Grant McKinnon's camerawork is also in sync with the landscape, again using simple framing to allow emotions to find their rhythm and run deep.
This is an unhurried film. It does not aim at the grandiose, but rather is a journey in finding empathy, balance and respect. It comes at a time when we most need those things to be nurtured within our contemporary world. It is also a reminder to stop, to mourn when we need to.
Despite the slow pace of this film, it is a relatively quick 96 minutes that holds you.
Before its outing for Perth Festival, Bellbird was screened at the Macao Film Festival and its world premiere was in competition at the 2019 Sydney Film Festival.
4 stars out of 5 ★★★★
Bellbird
Director: Hamish Bennett
Starring Marshall Napier, Cohen Holloway, Rachel House
New Zealand, 2019, 96 minutes
Transmission Films
The film was presented as part of Perth Festival programming.
The writer travelled to Perth as a guest of the Festival.