'Baz Luhrmann's Elvis' sounds like a punchline. You don't even need to see the film to know what you're going to get: a dizzying whirlwind of glitz, glamour, rapid edits, and needle-drop musical numbers. But is that a bad thing?
Much like the aging, demented Colonel Tom Parker (Tom Hanks) telling his story while wandering in a flapping hospital gown through a deserted casino, it turns out there's such a thing as too much information.
Elvis tracks the life of the titular King of Rock'n Roll (Austin Butler) from start to finish, though not always exactly in that order. It's a case of 'print the legend', though the more dubious elements are only glanced at (Elvis does shoot a couple of TV sets).
From his origins as poor white trash in Memphis to the biggest musical act in the world, it's all here in a raw onslaught of facts and moments. Forget about insight; this barely leaves audiences time to think.
Elvis singing on TV to an actual hound dog? A roll call of his on-staff buddies the Memphis Mafia? The civil rights origins of the grand finale to the '68 Comeback Special? Getting his quiff shaved off to join the army? His childhood fondness for teen superhero Captain Marvel Jr.? Buying his early outfits on 'the home of the blues' Beale Street (considering the film's fondness for costuming, it's slightly surprising the famous gold lame Nudie suit didn't get a mention)? A fast-forward montage covering the Hollywood years because even Luhrmann realised he couldn't fit everything in? It's all here and much, more more.
Read: Catherine Martin on creating Elvis with Baz Luhrmann: 'You need a bit of conflict and tension'
(Notably not mentioned: the age difference between Elvis and Priscilla, especially when they first met – 24 years old and 14, since you ask. Also nothing on the time Elvis met President Nixon, in 1970, which leaves Elvis & Nixon as the definitive film on that subject)
What's lacking is any real perspective on any of this. Luhrmann might want to be talking about Elvis the legend, but he doesn't have much of anything to actually say about the nature of that legend.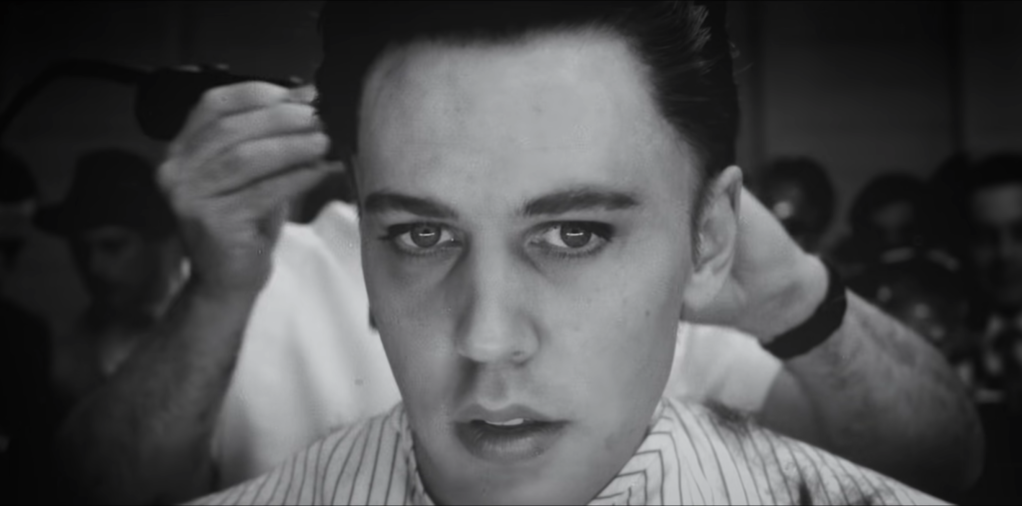 An accidentally sexy stage show aside, Elvis doesn't seem all that sure exactly why Elvis Aaron Presley became a legend – the wider cultural context of the early 50s barely gets a look in beyond the racism of the time – so it throws in everything to make sure it doesn't leave anything important out.
Occasionally something close to a story or a point of view rises up out of the morass of details. A naïve but ambitious Elvis is wooed by the Colonel; Elvis's gyrating pelvis is too sexy for America; Elvis wants to take his career back from the Colonel (and succeeds); Elvis wants to tour the world and escape the Colonel (and fails).
Any one of these could make a decent movie. Cramming all of them in – plus a childhood origin that sees him literally running from a blues-belting whorehouse to a revival preachers tent like he was on a scavenger hunt for musical influences – leaves this feeling more bloated than the King in his final days. Which are largely skipped over here despite his decline and fall being an essential part of 'the legend'.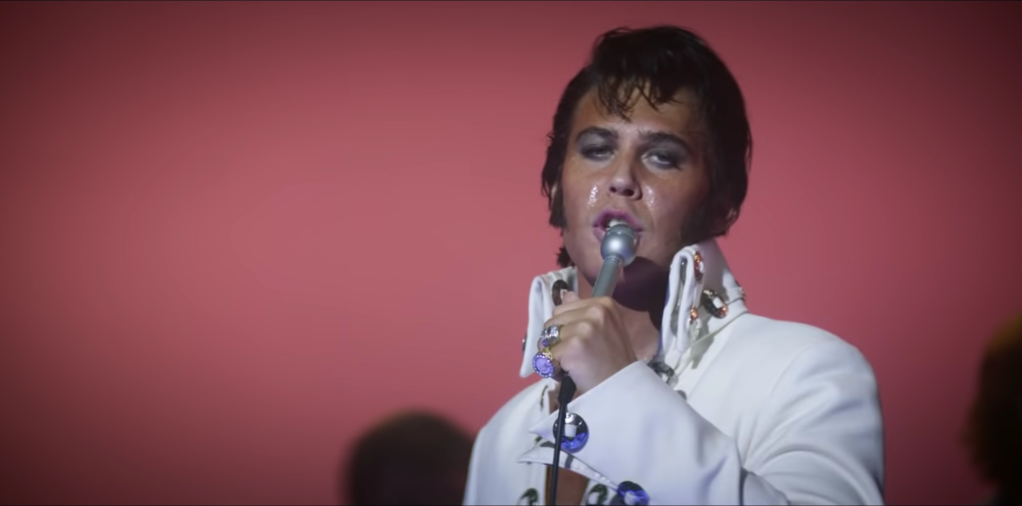 It's a sin
This film's biggest sin is that it struggles to lay a hand on Elvis as a musician. We see plenty of his influences and rightly so, though it's a little telling that in a movie about Elvis the most memorable musical performance comes from Little Richard (Alton Mason).
The King's early on-stage impact is presented largely – and to be fair, accurately – on a sexual level; Elvis is more interested in nailing down Elvis' initial impact on audiences, and mostly it succeeds. It's hard to fault the way it largely sidelines his early, now overly familiar hits in order to lay down just how shocking his arrival was.
But that was a lifetime ago. The trouble with Elvis is that once it gets beyond the wiggling hips it never seems to grasp exactly why we should still care. There's a brief scene late in the film where a newly energised Elvis puts together his Vegas act, juggling his on-stage orchestra to create a new, big band sound; it's one of the few moments where he's shown to be musically more than a pair of hips and a collection of influences, and it's one of the best moments in the film.
A massive central performance could have overcome these flaws. Butler does his best and then some with a character whose internal life barely gets a look in for long stretches, but even he gets overwhelmed at times by the roller-coaster life he's asked to live. Though considering this is pretty much what happened to the real Elvis, it's hardly a failing.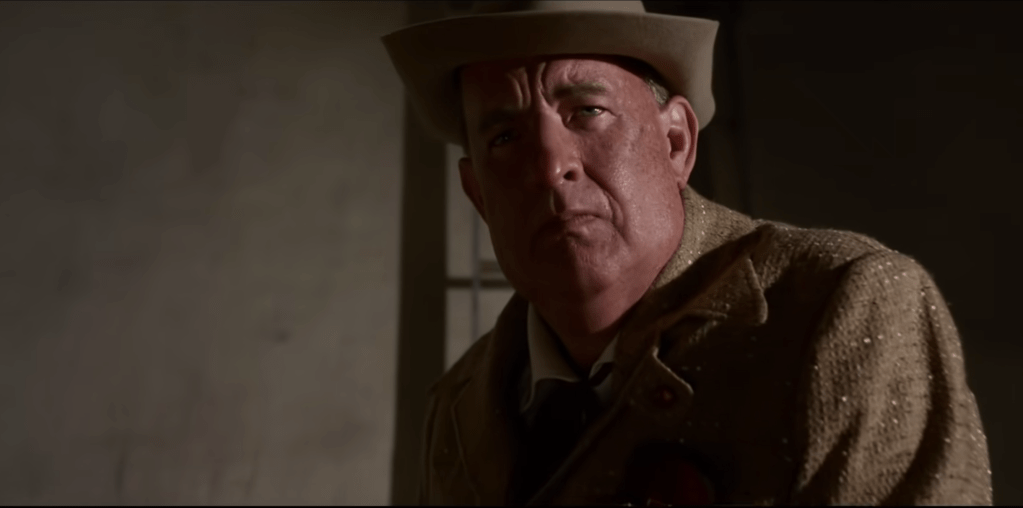 Hanks, on the other hand, is stuck playing a character who's basically a cypher – literally, as even in real life the Colonel's past was more than a little murky. He's a sinister carny hustler, a cartoony demon who loves money, installs Elvis' dim dad Vernon (Richard Roxburgh) as business manager, and treats Elvis as a sideshow act.
The fact that he was also a canny marketer who went a long way towards inventing the level of celebrity merchandise we now take for granted is not considered grounds for clemency.
Despite the film's distain for the Colonel, at times Elvis, with its sanitised, largely surface-level take on the King, feels like the kind of project Parker would have happily agreed to if the price was right. Even from beyond the grave, Elvis' gyrating hips can't shake him off.
Elvis
Australia / USA, 2022.
Director: Baz Luhrmann.
Writers: Baz Luhrmann, Sam Bromell, Craig Pearce, Jeremy Doner.
Starring: Tom Hanks, Austin Butler, Richard Roxburgh, Kodi Smit-McPhee, David Wenham.
Producers: Baz Luhrmann, Gail Berman, Catherine Martin, Patrick McCormick
Schuyler Weiss.
A Bazmark Films and The Jackal Group production for Warner Brothers
Distributor: Universal Pictures.
Rated M, 159 minutes.
In cinemas 23 June.