Tracing the remarkable life of Elvis Aaron Presley (Austin Butler) from his impoverished upbringing in Tupelo, Mississippi, through his glittering coronation as the King of Rock and Roll – stewarded by the opportunistic Colonel Tom Parker (Tom Hanks) through to his tragic death on a bathroom floor, aged only 42, was always going to be a huge endeavour.
But if there's anyone who can wrangle a modern-day mythology spanning four hair-tossing and groin-popping decades, then titan of the Australian film industry Catherine Martin is your woman.
With four Oscars to her name (two for Moulin Rouge! in 2002 and another pair for The Great Gatsby in 2014) she is the artistic powerhouse behind the look and feel of husband and professional partner Baz Luhrmann's wildly OTT films, as both costume and production designer (the latter with Karen Murphy). And yet, even she was overwhelmed by the grand sweep of Elvis.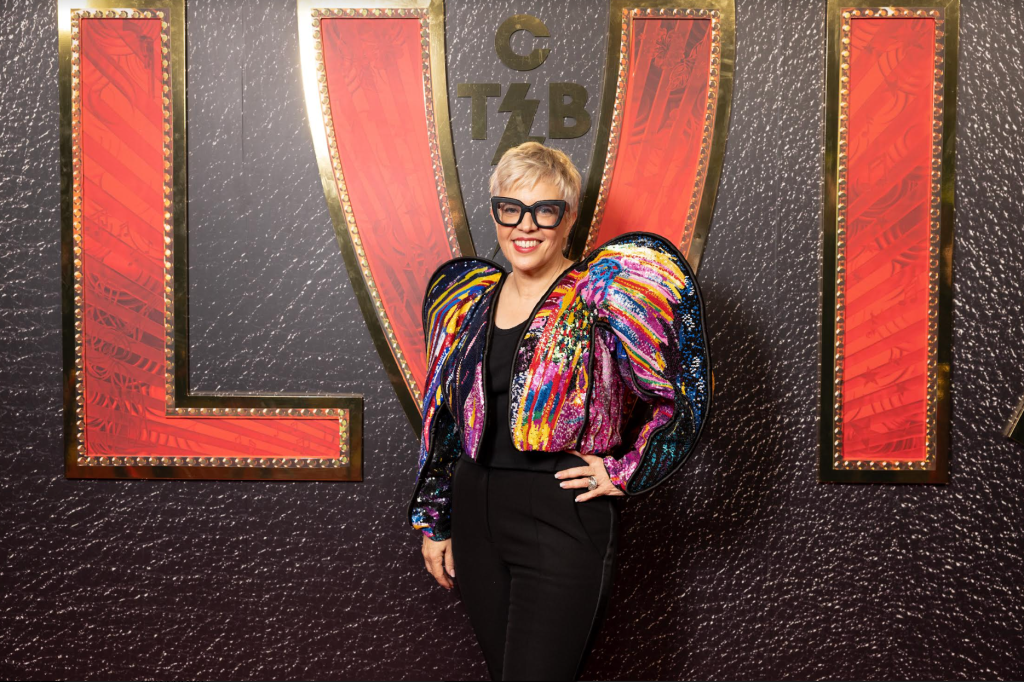 'It was a crazy beast,' she says. 'And I kind of underestimated the scale. But I think that it's like having a baby. You don't think about it too much, because if you did, you wouldn't want to do it. You go, "Oh, that's just too horrible".'
To give some sort of idea as to what it took to breathe life into this razzle-dazzle tribute to Presley's game-changing career and the personal cost for the star and those around him, including wife Priscilla (Olivia DeJonge), an entire sound stage at the Village Roadshow Studios on the Gold Coast was given over to Shane Thomas' hair and makeup team.
'He did the most brilliant job, and that always helped to put you in the period,' Martin says of the production line required to get everyone in the right time and place both behind the scenes and in the film's sweeping chronology. "The sheer number of people and costume changes even looking at the '50s alone, with all the crowd scenes and the subtle changes, was an absolutely mammoth task.'
Martin, who is also a producer on the film and designed the glimmering title sequence, and her valiant, 21-strong costume team crafted some 9,000 complete looks for the film's extras alone, to convey the passage of time and the music halls and football stadiums full of screaming fans.
'The prep is like crazy, because you've got to dress all the wigs and get them ready, so the poor extras will start at like four o'clock in the morning to get two or 300 people through the chairs with full period hair and makeup then get them dressed and, most importantly, get them fed,' Martins says. 'Because these are human beings who contribute their performance, and they work very long hours and work very, very hard.'
Butler had in excess of 90 costume changes as the King, with some of the Memphis Mafia racking up 20-plus. 'There were so many screen days covering so many years that people needed to change their clothes all the time,' Martin says. 'Whether it's the country and western look at the [Louisiana] Hayride, or the Beale Street club [including a brilliant performance by Cyrano star Kelvin Harrison Jr as blues singer and Elvis inspiration B.B. King], the audience needs to understand that time's passing."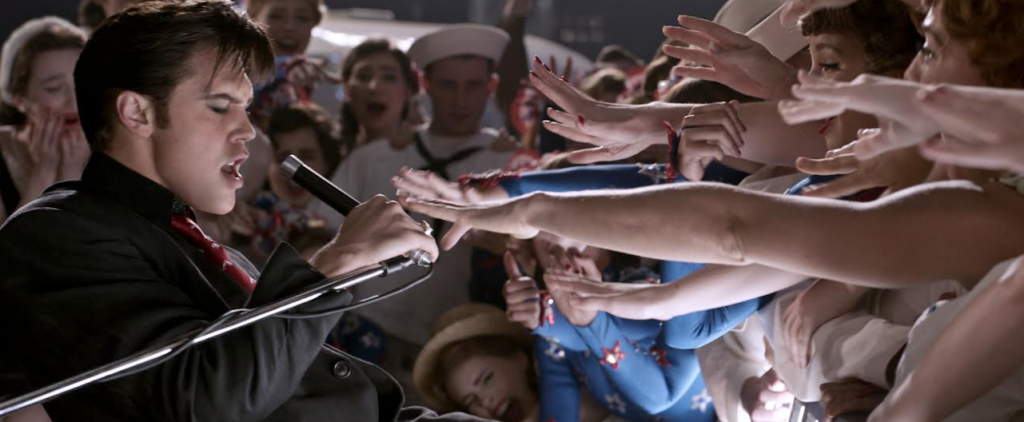 Luhrmann was adamant that Martin and their star Butler be allowed creative license in recreating Elvis' looks. 'Baz really dug into the historical clothes being storytelling tools, so apart from sequences like the '68 [Christmas TV] special, where we're pretty documentarily true, all the choices had to take into consideration Austin's interpretation,' Martin reveals. 'When you just slavishly copied, it kind of looked like a bad Halloween costume.
Read: Film Review: Cyrano still shines brightly
'It's not that we changed them outrageously, it was quite subtle, but it needed to take into account his physicality, whether it was the height of a collar, the position of a pocket, the length of a jacket, those things were very important,' she adds.
One example of a subtle tweak includes the recreation of the opening night of Elvis' show at the International Hotel in Vegas. 'Historically, he wore a two-piece outfit with a tunic and pants that were a bit karate-esque,' Martin says.
'We had long discussions about it and Baz felt that audiences would not understand that costume, because it wasn't what we associated with the height of Elvis' power in the 70s. So we looked to a jumpsuit that came shortly after this. Baz wanted it to be as pure and heroic as possible, so we chose the white jumpsuit.'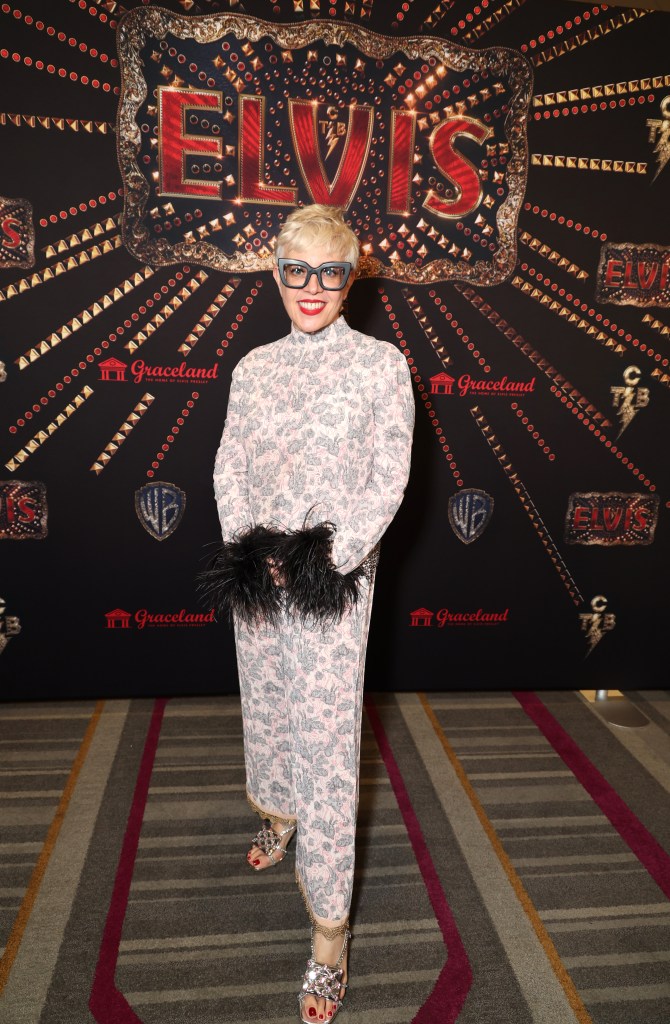 As Elvis' mental and physical health declined, Martin used costuming to signal that unravelling. 'So we'd go from purity to more colour and crazier embroidery, underlying that spiral.'
A fictionalised scene depicting the final confrontation with Parker allowed them free rein to craft a look inspired by an actual suit Elvis was wearing in those years. 'So it was synthesising reality and supporting the story,' Martin says. 'The basic rule was, if a scene really happened, and it was pretty much reproduced as it was in real life, it was our version of the costumes of the time. And then if it was a fictionalised scene, we were allowed the licence to reinterpret history, but very closely tied to what Elvis actually wore.'
Butler was integral to the conversation. 'He was creating such an incredible onscreen persona, and it's a constant collaboration,' Martin says. 'That's what makes the work interesting. There has to be back-and-forth, and Baz enjoys that conversation. He has a view, but the interesting thing is when your opinion and the actor's performance intersect and something new is created.'
Butler spent many, many hours in dressing room fittings. 'We truly tortured him. It's about character and how he feels in the clothes, if he thinks they work and can he move in them? What does it look like sitting down? All those questions are really important, and they're part of the great process of filmmaking, collaborating with an actor to help serve the story.'
The film touches lightly on the young Elvis' love of comic books, and particularly Captain Marvel Jr [confusingly not the Marvel character], which struck a chord with Martin. 'The great thing about working with Baz is that he never rests on his laurels; your focus is always on the future,' she says.
'Even though there's a really strong through-line in his work, like you can tell that Baz has made the movie, he's always pushing the form forward. Travelling like Captain Marvel Jr towards the rock of eternity.'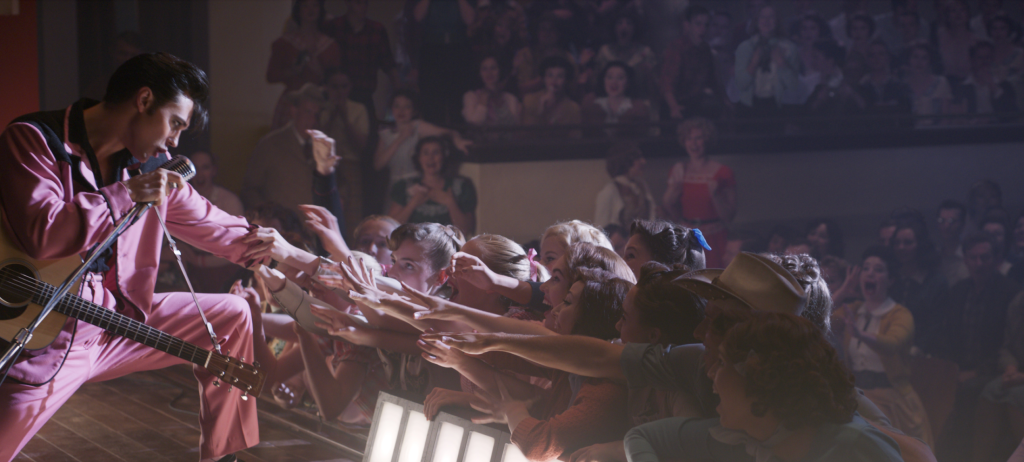 Relishing their journey together over two incredible decades since breakout hit Strictly Ballroom, Martin is also realistic about the challenges of navigating a creative partnership with her husband. 'I think with anyone who's in a long-term relationship, professionally or personally, it's just a lot of work. It has a foundation based in conversation and similar values, and a similar interest in a storytelling style. Those are the constants that keep the artistic connection going.'
'But, you know, without a bit of conflict and tension, you never get anywhere or find a different idea. So, it's not simple, but it's really productive. I greatly admire his auteur-ship and leadership, and I'm really lucky to work with him, because one of the things that his incredible focus on costumes, sets and props brings to my process are resources.
'And I don't just mean money. I mean the focus and care and respect of the team overall. I'm very supported in the process. Because he cares, everyone cares.'
Elvis is released in Australian cinemas on 23 June 2022.