'There's a whole close-knit international community of people who make ethical porn,' explains director and artist Isabel Peppard. More at home in the worlds of goth/horror art and filmmaking, she considers herself something of an interested outsider, but respects the creativity and ethics of this community. 'Ethical porn, often known as feminist porn, focuses on female pleasure, rather than just using women as objects. It's a different production model. Like with ethically sourced food, if you watch ethical porn, you know your porn stars have been treated well.'
Peppard is best known for her internationally award-winning stop-motion animation Butterflies (2012). That 12-minute film is a gorgeously handcrafted gothic fairytale about an artist who takes a job in a factory and slowly loses her ability to draw. Her muses – embodied by lovable silicone winged creatures, complete with bellybuttons, nipples and luminous eyes – literally shrivel up over time, sending the artist into a hellish underworld where dancers have lost their feet, and zombie musicians strum stringless guitars. It's a fable about selling your soul and the importance of protecting creative expression in a capitalist world. Many viewers (including me) found it profoundly moving.
Now Peppard has made her first feature film, co-directed with Josie Hess and produced by Karina Astrup (Despite the Gods). It's a world away from Butterflies, but similar themes and preoccupations emerge if you look closely enough. Morgana, which premieres at the 2019 Melbourne International Film Festival, is a documentary portrait of alternative porn star 'Morgana Muses', a depressed housewife and mother who left her marriage at the age of 47 and reinvented herself as the star and producer of her own erotic films.
Finding the Muse
Peppard (pictured below) first came upon the project in 2014 when Josie Hess asked her to film Morgana's 50th birthday celebrations, which included included the 'Phoenix' art installation of the star tied up in red ropes (pictured) undergoing a kind of death and rebirth. Hess already worked closely with Morgana as director and co-producer of her erotic films under the Permission4Pleasure label, and their work had a following on the international alternative porn circuit. Peppard was immediately fascinated by the unexpected movie star.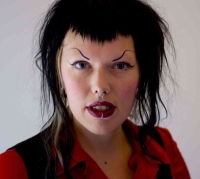 'It was supposed to be a calling card short film,' she remembers, 'but on the first day of shooting I found out that just two years earlier, Morgana had been this repressed rural housewife, and I wanted to know more about how she'd made this giant leap. She's a very dramatic character who had to overcome all this gender stereotyping and had found a way to express herself and connect to a creative community who valued her.'
The two directors decided the subject deserved a full length feature, but in subsequent years things became more complicated, and arguably even more interesting. 'At first we thought we'd be making a kind of cut and dried triumphal story,' says Peppard, 'but then this other thread about her mental health struggles emerged and she had to be reborn as something more realistic. Like all of us, there are many cycles of death and rebirth that we live through, and I really identified with that.'
Peppard says she thinks we are making very slow progress in terms of overcoming taboos around aging and sexuality. 'It's beyond female ageing. It's about what kind of bodies are allowed to have a sexuality without being a kind of figure of fun or a fetish. We live in a very patriarchal society where bodies have been commodified, so if you don't fit into this very small box of what is deemed to be sexually attractive, you are expected not to be visible.'
Finding the Money
Accepted into MIFF as a work in progress in May, and polished up just in time for the screening in August, Morgana is a completely independently funded film. A crowd-funding campaign raised about $46,000 of the tiny total budget of approximately $100,000. There was some money from Queer Screen and 'We all put in about twenty grand of our own money and really bled for this project,' says Peppard. She adds that although they applied for agency funding, they were up against more experienced documentary teams 'and perhaps our subject matter was too much for the assessors.'
The crowdfunding was intense and difficult: three months of constant begging, promoting and calling in favours, and although it generated great awareness for the project, Peppard sounds exhausted at the memory. 'It was especially challenging for us because we had a main character who wasn't really famous already. Josie had previously crowdfunded a Neil Gaiman animation [The Grave of Saint Oran] and it was a lot easier to raise money because of his name.'
The money they raised was especially targeted at hiring 'a really kick arse editor to help us shape our story,' says Peppard. Editor Julie-Ann De Ruvo (Please Like Me, Romper Stomper TV series, The Letdown) was a key part of 'finding the structure', which Peppard says was the most challenging part of this creative process. 'We had this ongoing structural issue and she helped us break it down and build it up again. The first half of the film is about Morgana accepting her body, and the second half is about her accepting her mind.'
Finding the Time
The importance of creative expression, and the problems of financial viability are at the crux of most artistic lives. They're evident in that little artist character in Butterflies, the real life Morgana Muses, and for Peppard the filmmaker herself. I spoke to her back in 2013 about that struggle to make a living and she says it continues and she'll probably never own a house, but she's happy with the choices she's made. As a sculptor and technician her skills enable her to work two days a week with the rest of her time reserved for passion projects. Her day jobs have included working as an effects artist for the sci-fi television series Farscape, sculpting and set decorating for Adam Elliot's 2009 feature animation Mary and Max, as well as silicone tinting, painting and inserting hairs by hand for Australian artist Patricia Piccinini – she of the hyper real mutant sculptures and notorious 'Skywhale' balloon. But she's learnt to find the right balance. 'I structure my life so I can always primarily pursue my own work. I know now how precious time is, and how important it is to prioritise my own writing and directing.
Peppard is still best known for her animation work. Her first film Gloomy Valentine will be released as part of producer Megan Riakos' Dark Whispers Vol 1 anthology of short films by female directors releasing at Cinefest Oz at the end of August. Yet Peppard says she's long been trying to break into live action drama and documentary. 'I think it's always hard to break out of the boxes that people put you in, but hopefully I'm getting to showcase different kinds of storytelling and show I can do that, although I'll probably always love that handmade element. I do love creating miniature elements, different worlds, and the creatures within them.'
Asked for her advice to other creatives, Peppard says that consistency and discipline are important, even if it's just a small amount of time each day. 'if you have to do it, you'll do it. If it's integral to who you are and your feelings of wellness and identity in the world, then you'll find a way.'
Morgana premieres at the Melbourne International Film Festival on Fri 16th August. The screening will be followed by a Q&A with directors Isabel Peppard, Josie Hess, comedian Judith Lucy, actress Morgana Muses and politician Fiona Patten. The discussion will be moderated by academic Deb Verhoeven. Details here.