Screen Australia  has published a comprehensive CEO's Year in Review, which both combines the data from small and big screens and drills down to individual titles. 
It is a great read, and also reflects the steady day by day work of the Motion Picture Distributors Association and OzTAM. None of this really gets into the proprietary level of data, but is the price we pay for a competitive society.
The release about the year's results contains this chart, which sees the numbers from a global perspective.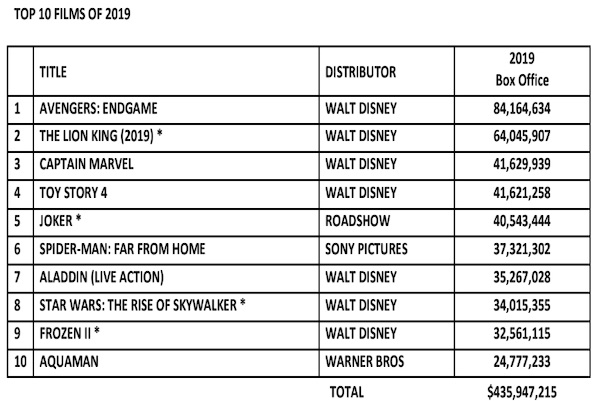 Image MPDAA
All but three of these come from Disney. They are all American tentpoles, four (or five if you include Joker) are superhero movies, two are giant animation sequels, two are live-action re-makes, all but one of them is a family film.
The total annual box office is holding up pretty well. The $1.228 billion total is slightly down on last year while 2016 was the record breaker with $1.26 billion. In other words, there is no reason for cinema owners to panic, and the figures bounce up and down.
But those top ten US movies represent just under a third of the total. There were 735 films released and the range for this decade runs from 758 down to 421in 203 so the competition by titles has just about doubled. The number of screens has risen from 2057 to 2310 and the number of theatres is up from 486 to 524.
This tells us about the squeeze by exhibitors. Those top ten films get the lion's share of screens, the number of films is much higher and the available screens is not climbing as fast. The incentive is there to cram a cinema with blockbusters.
We get the leftovers. In fact the rest of the world gets the leftovers. In 2019, there were 59 Australian films, 205 from the USA, which is relatively constant, 224 from India and 28 from China. There are no public figures for French/European and UK films. 
I think we can draw an imaginary line under the 2017 figures and say there was a permanent leap in the number of Australian films released to round about that 59 number which will not drop again… (But I may be too optimistic).
Certainly the returns have bounced around. The low of $24.1 million for Australian films in 2016 has not been repeated. The next highest is 2019 at $40.24 million, while the highest was $57.35 million last year. 
However, that box office share of $40.24 million is not a small amount of money. The average price of tickets at the moment is slightly higher than the average at $14.50.
That enables us to discover that around 3m tickets were sold to Australian titles in 2019. The total number of tickets sold was around 85 million. 
Despite the difficulties of nomenclature, we have a rough list of the genres of all the films screened in Australia. Here is the list with an average return for each type of film. We don't have a way of working out individual budgets to quote those figures as a percentage of budget.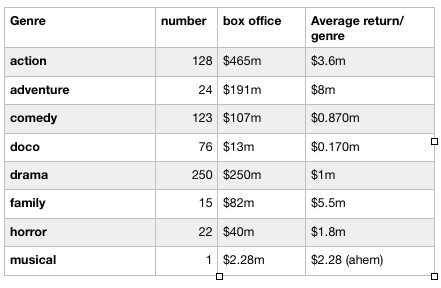 Modified version of MPDAA
When Screen Australia drills down to find the top films, TV shows and online works, this is what came out:
In film, Ride Like a Girl led with $11.58 million, followed by Top End Wedding a long way back at $5.28 million, Storm Boy at $4.98 million, Palm Beach at $4.5 million (despite the critical disdain) and Hotel Mumbai at $3.3 million. Number ten is Nightingale, which made $0.54 million and did well at the AACTAs. We should also mention Danger Close on $2.97 million.
Should we be happy with those numbers? Not if we want to go global. 
In television, Screen Australia used the most honest figure which collects the national numbers and adds the online component over the next 28 days.
Utopia came on top with 1.2 million on average, followed by the trusty mechanicals of Home and Away with 1.0312 million, Then Total Control at 1.021 million, Seachange at 0.997 million, The Cry at 0.936 million, Bad Mothers at 0.934 million, Five Bedrooms at 0.865 million, the modern version of Miss Fisher at 0.805 million, and Les Norton at 0.775 million.
Television and film are very different takes on Australian taste. If we work out what those figures meant if those audiences had gone to the cinema to see these projects, the first three would have taken over $15 million and many of them would have done much better than the average genre returns. This is a complicated topic, so I am just saying…
Screen Australia added a useful summation of the international competition: 
Australian film's share of the 2019 local box office was 3.3%. By comparison, in New Zealand it was 2% in 2017. The average share in Ireland across 2010 to 2018 was 3%. Canada does not use the share metric, but in 2015 The Globe and Mail suggested Canadian films rarely reach a 2% share, despite a domestic population of over 37 million.
The 28 foreign blockbuster films released in Australia in 2019 were responsible for 60% of all cinema takings locally. [according to CEO Mason]  'On the big screen, the market remains incredibly tough for indie films from all countries, so to have both Ride Like A Girl and Top End Wedding break-out was a great result. I was also particularly pleased to see three feature documentaries take over $1 million, and all subsequently licenced for broadcast. Special mention also to the team from Hotel Mumbai, which took over AUD$29.3 million internationally, representing an extraordinary commercial result for a mid-budget film.'
We haven't tracked through the relationship between success and budgets. What this means in a tightening fiscal environment remains to be seen, but the choices will be hard.