'People are telling me they feel real rage when they see this film, and one reviewer said they wanted to throw something at the screen,' says director Tosca Looby on the phone to Screenhub. She's talking about Strong Female Lead, the feature documentary that's causing waves even before its first broadcast on SBS this Sunday night.
Snappily put together with a black sense of humour and a rousing remembrance of that viral speech, it's unashamedly feminist, informative, entertaining and hitting at just the right political moment when women are on fire.
Nominated for an AACTA Award for best documentary, and for the Sydney Film Festival's Documentary Australia Prize, Strong Female Lead is directed by Looby and produced by Karina Holden, both of whom are part of the Northern Pictures team. Constructed entirely from archival footage taken during Julia Gillard's three years and three days in office, the film is a riveting but damning portrait of the misogyny and persecution of our first female PM, not just by the media and her fellow politicians, but by a vocal public.
'I think it's good that people feel rage,' says Looby. 'That's exactly what was intended. And then they should do something with that rage. If they're a young woman and they've ever thought about going into politics, then they should do it!'
Although Julia Gillard was not directly involved in the project, Looby contacted her very early in the process. 'Her advisors said to me, "Look, our fear is that you make a film like this, and you put women off from going into politics. And that works against everything that Gillard is trying to do. So it needs to be a film that doesn't do that." I said I felt exactly the same way, that we want this film to say we understand what happens when women go into politics in Australia. We're aware of it. We are now primed to call it.'
Having reached this understanding, Gillard's office then gave Looby access to people to talk to as background to help with the sifting process of the hundreds and hundreds of hours of archival information available.
Read: New documentary investments from Screen Australia defy hits
'She was in the in the news every single day of that period,' says Looby. 'We were forever thinking, "Okay, well that's great what we've got, but I wonder what else happened that day or in the days around it. You never feel that you've satisfied the exercise of searching. And sure enough, this film could have been much longer. We had to throw out a lot of very shocking material that just didn't fit in.'
Working closely with editor Rachel Grierson-Johns and archivist Laura Grace, Looby says this is the most ambitious project she's ever worked on. She also notes the ABC archivists said it was the biggest haul for a single project they'd ever done. It was pulled together in an impressively short time, from the winning pitch at AIDC in March 2020 to a joint initiative between the Documentary Australia Foundation (DAF) and SBS. The partnership created a new strand of eight stand-alone docos about serious Australian issues under the banner of 'Australia Uncovered', and Strong Female Lead is the first to air.
Documentary Australia assisted the producers to secure philanthropic funding and guided them in the creation of an impact strategy which Looby appreciates while also noting the stress of taking on fundraising activities towards the end, for a project with a broadcaster already attached. 'We were lucky there were some very generous women who wanted this film to be made.'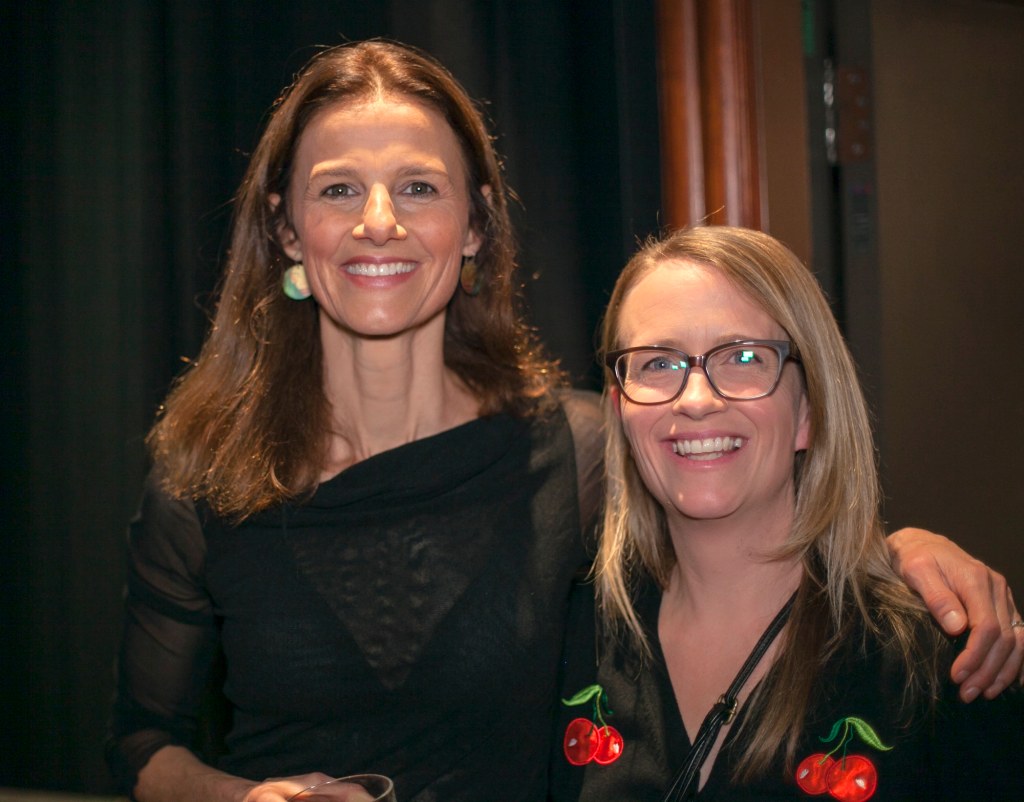 Looby says she has always been politically aware, from being a kindergartener sitting astride her father's shoulders in the crowd at Whitlam's dismissal, and later becoming a journalist and producer. As the Head of Factual Series at Northern Pictures, Looby's previous work includes last year's national conversation-starter about domestic abuse, See What You Made Me Do with Jess Hill, and she was series producer on Magical Land of Oz.
---
ScreenHub: As a series producer with Northern Pictures, what are your feelings about one-off documentaries?
Tosca Looby: You know, as a filmmaker, it's such a privilege to make a one-off. It's where those really unique projects sit. And I so wish we could do more of it. It's so hard. We don't get to do them enough and they're such important pieces in Australian storytelling. Over my career of making factual programming, I feel like it's just gotten harder and harder to do them.
Can you tell us about the timeline from the first idea to getting Strong Female Lead on air?
I started having the ideal with the editor Rachel Grierson-Johns when she was working at Northern pictures on Love on the Spectrum and I was working on See What You Made Me Do, and we kept kind of passing each other in the hallway and swapping ideas about doing a film about women and leadership.
And then [the archival documentary about media treatment of Indigenous footballer Adam Goodes] The Final Quarter came out. We'd been talking about doing an archival film but I had thought I was just not going to be able to convince a broadcaster to support something like that without being able to prove I had all the archive. Then there was that film, and Adam Goode's football career was three years and Julia Gillard's Prime Ministership was three years. So suddenly, I thought, 'we've got our template'. Then when COVID hit, the project I was working on, See What You Made Me Do, had to shut down because we couldn't keep filming. And so Rachel, the editor, and I said this was something we could do remotely. And it has happened quite quickly.
Directing a film like this means your editor is kind of a co-director, right?
That is exactly what it is and why archive films are so completely different. So, instead of as a director saying, 'I've got this vision, I'm going to go and create a whole lot of bespoke footage and I will then bring you the editor and advise you as to how to construct it,' in this case, we had an archivist and we had to initially direct her as to what we wanted. And then that landed with the editor, and it's hundreds and hundreds and hundreds of hours! I didn't know where to start, but Rachel just said, let's start with the Carbon Tax, so that's what we did.
It was such a collaborative exercise. And that's exactly why you're like co-directors, because we're just whittling it down the whole time. So we both had Avid and we were able to swap stuff between us the whole time. And because we were all in lockdown, the archivist and the edit assist, we'd all pass around a hard drive every Friday as we keep getting all this new footage coming in. It was surprisingly efficient, both technologically as well as editorially.
What would your advice be to another filmmaker who wanted to construct an archival documentary?
I think the first thing is don't try and do it in too short a span of time. It's the most complicated thing I've put together. Get yourself a really good editor, and a really good archivist because they're kind of the tent poles of the whole thing. Laura Grace, our archivist is the associate producer on another project I'm working on now, and I've worked with her for years. She is just one of those people who will dig and dig and dig, and is incredibly thorough and also extremely charming when dealing with archive departments within broadcasters.
Being an SBS project, did you have access to a lot of SBS news footage?
No. Interestingly, SBS don't own a lot of their own footage and a lot of it is licensed from someone else. If it had been an ABC production, it would have been much easier. We became good mates with the ABC archives department.
Were you worried when you heard about Annabel Crabb's ABC series about women in politics, Ms Represented, that it might have dampened the appetite for this material?
Well, we came first, just saying, okay [laughs]. But yeah, of course, when I found out about her series as we were in production, and knew that our airdate was still a way off, I knew she was going to pip me at the post. I wondered if it might steal all the oxygen. But actually, I really loved Ms Represented and as soon as I watched it, I felt like it was a companion piece. Yes, it's the same subject, but treated in a completely different way. And I don't think enough has been said on this subject, and I think we are part of a building moment of anger around the way Australia has treated its female politicians. Women are just saying: 'Nuh, I'm not going to put up with it anymore'.
Read: Politics from the female perspective: an interview with Annabel Crabb
Do you think things are changing ten years on?
Yes. Someone asked me this morning if I was shocked by what I found had happened to Gillard, and there are two sides to it. I was shocked at what people did to her. And then I was shocked at how she responded, you know, that she'd sit there in front of the shock jock who's asking her about her partner's sexuality and just try and be polite. You know, I'm not sure that would happen now.
It's gratifying to see the public life and active feminism she has gone on to do after her time in politics. What is her relationship with the film you've made?
I think it's a really tricky one. One of her advisors said to imagine the worst breakup you've ever had and then imagine someone making a documentary about it!
What lesson would you want girls and women to take from Julia Gillard's experience in politics?
If they want to support a change to the quotas and to the life of our parliament, then support other women who are doing that. It's easy for people to argue things like, well, you want more women in politics. Do you do want more Pauline Hansons? I would argue that it's not that every woman who goes into politics is going to be a great woman. But we are a society made up of 51% women and men are making decisions on behalf of women in politics. And they are determining the culture in our parliament. And we are well beyond time that that should be happening. I do believe that we're in a moment in history where that is going to change and women are going to bring other good women with them into parliament.
Strong Female Lead premieres 8:30pm Sunday 12 September on SBS and SBS On Demand. The documentary is part of an 8-part documentary series Australia Uncovered, airing Sunday nights on SBS. Join the conversation: #StrongFemaleLead.
Documentary Australia is initiating the follow up conversation to Strong Female Lead in a free online event the day after broadcast, bringing together women leaders, including the film's writer/director Tosca Looby, to discuss the issues raised in the documentary and how we can all be part of the social and cultural change that needs to happen. You can register to the Documentary Australia lunchtime event (Monday, 13 September, 12.30-1.30pm via Zoom) HERE.