How many streaming services can your budget allow? That's a question many will be asking this week when Paramount Plus launches on Wednesday 11 August in Australia and New Zealand.
According to Roy Morgan an estimated 17.3 million Australians (more than 80 per cent of us) watched at least one subscription TV service last year. Netflix is by far the most popular, followed by Foxtel and Stan.
As David Tiley wrote recently, 'Netflix has 29% of the market, Amazon Prime has 19%, Stan and Disney+ are neck and neck around 16%, Binge is down at 10%, Foxtel Now is at 7% and 'other' is at 4%. Market share is not about how many services a punter supports, but about what proportion of the viewers are watching a service at any particular time. So each service can fight for a lot more, but those numbers will always come at the expense of the competitors.'
This fight will get more frantic when Paramount Plus enters the fray with a big bag of goodies courtesy of the giant ViacomCBS family.
WHAT IS PARAMOUNT PLUS?
Here's the dummy version: Paramount Plus is a streaming video-on-demand (SVOD) service like Netflix, Stan and Binge. It comes from Network 10 and ViacomCBS, and will replace the existing streaming service 10 All Access, revamping with 'over 20,000 hours of episodes and movies'. This includes kids shows, comedy, MTV and series television, as well as some original commissioned Australian content.
Read: Who's winning the streaming war?
WHO OWNS IT?
The US giant ViacomCBS bought Channel Ten in 2017. In 2019 the Viacom-CBS merger saw the big movie business Paramount joining forces with television icon CBS and Paramount+ was launched there in a fairly low key way.
This is partly a rebranding of the poorly performing Ten All Access, which currently screens CBS shows like The Good Fight and NCIS, as well as Australian content like Bachelor Australia and Five Bedrooms, but it's a massive beefing up of that service and will add to high profile shows from Showtime, Nickelodeon, MTV, Comedy Central, Showtime and Paramount movies, which are all divisions of Viacom CBS.
HOW MUCH DOES PARAMOUNT PLUS COST?
The new Paramount Plus streaming service will cost AUD$8.99 a month, with a seven-day free trial. (In the US, Paramount Plus offers two plans: one cheaper one with limited commercials (USD$5.99) and one premium commercial-free tier (USD$9.99), but no sign of that here.)
HOW DOES THAT COMPARE?
Paramount Plus will be cheaper than the most basic monthly subscriptions for Netflix ($10.99), Stan ($10), Disney+ ($11.99) and Foxtel Now ($25), but more expensive than Amazon Prime, which costs $6.99 a month.
WHAT WILL THE BIG DRAWS BE ON PARAMOUNT PLUS?
The big Paramount movie launching straight to streaming in Australia this week is the sci-fi action-adventure Infinite, starring Mark Wahlberg as a schizophrenia sufferer who has memories he can't explain until he discovers he's one of the 'Infinites', an elite group who are able to access memories from past lives.
As Screenhub reviewer Anthony Morris said, 'It's pretty silly but it will draw people in. It's entertaining in a stupid way.' (Hell, we're in lockdown. Sounds good.)
Other films from Paramount Pictures like The Godfather, Transformers, and Shrek will still be found on other streaming services given the non-exclusive nature of many movie deals, but Paramount+ will have first access to Paramount's new movies, including the much-anticipated sequel to horror thriller A Quiet Place.
Read: TV Review: The Luminaries on Paramount+ is a knowing tale of love and fortune
Other big drawcards, later in the year, will be the reboot of the charming serial killer series Dexter, available exclusively on Paramount+ as well as new exclusive series. These include:
Two Weeks to Live
Leonardo, Anne Boleyn
The Bite
Everyone Is Doing Great
Monsterland
Flatbush Misdemeanours
Cinema Toast
Nancy Drew
Evil
In The Dark
For kids, with the Nickelodeon connection, there are franchise additions like Kamp Koral: SpongeBob's Under Years and Rugrats.
In comedy:
Tooning Out The News
Rhys Darby: Big In Japan
Ziwe
New episodes of The Late Late Show With James Corden and The Late Show With Stephen Colbert
Every episode of South Park
Every episode of The Big Bang Theory.
Blockbuster and classic films include:
A Quiet Place
Harry Potter
Mission: Impossible
Indiana Jones
Star Trek
Anchorman
Batman, Lord of the Rings
Austin Powers in Goldmember
Austin Powers: The Spy Who Shagged Me
The Hangover
For sports and football fans, in October Paramount+ will hold 'all the exhilarating clashes from the A-League and W-League, plus live extensive coverage of all the Matildas, Socceroos and FFA Cup matches.'
WHAT ABOUT AUSTRALIAN CONTENT?
With its roots in Channel Ten, the Australian incarnation of the Paramount+ streamer will be expected to demonstrate support for local content, whether or not that is mandated.
So far, the much anticipated second series of Michael Lucas's house-sharing ensemble comedy-drama Five Bedrooms will launch immediately on Paramount+ on Wednesday 11 August. Lucas is of course one of the writers who made Ten's Offspring great, and he's also the creator of the excellent ABC drama The Newsreader, coming up next week. Spreading yourself across channels is the way to go.
Read: Ambiguity, archives, and the 80s: an interview with Michael Lucas
A 'found family' scenario, Five Bedrooms stars the ever-popular TV queen, Kat Stewart, as well as Stephen Peacocke, Doris Younane, Roy Joseph, Katie Robertson and Hugh Sheridan. It received major production investment from 10 ViacomCBS in association with Screen Australia and was developed and produced with the assistance of Film Victoria.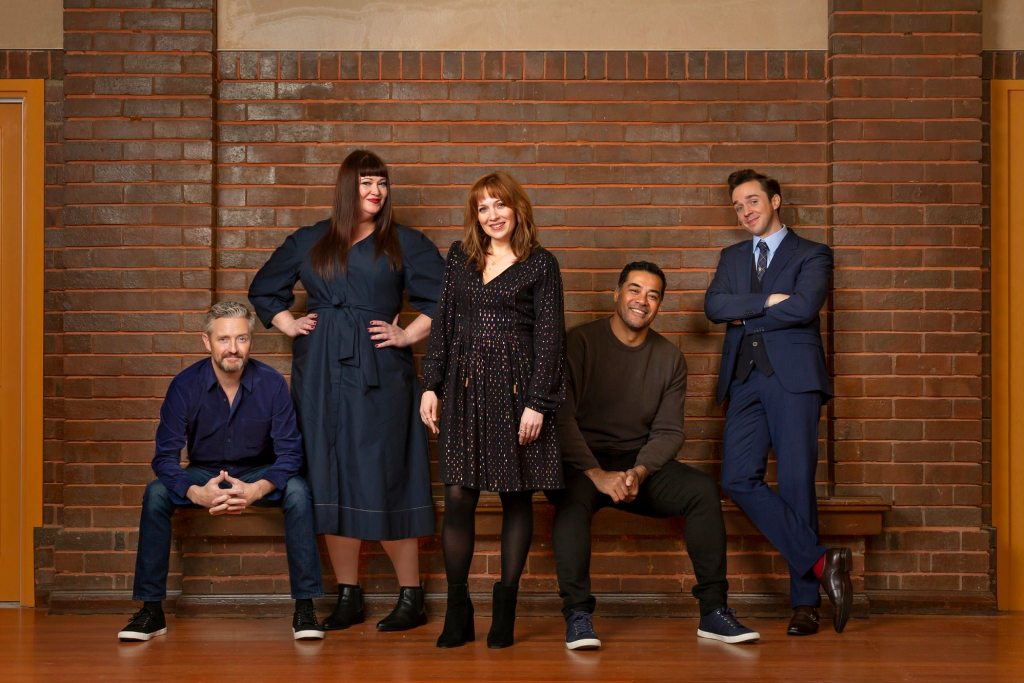 Other Australian originals coming later include Paramount Plus's first original Australian commission, the eight-part comedy-drama series Spreadsheet, from Northern Pictures. Created by UK-born, Sydney based writer-director Kala Ellis, this stars the UK's Katherine Parkinson as 'a divorced, hectic mother-of-two who is looking for sex without commitment. With the help of best friend Alex, she develops "Spreadsheet": a database of sex options, customised to ensure variety and order amidst the chaos of her life. Unexpectedly she finds slew of needy men, which even a well-managed excel tracker can't control.'
Read: Foxtel in for the kill over local content quotas
Another Paramount+ originals is Last King of the Cross, based on the best-selling autobiography of John Ibrahim and produced by Helium. It's described as 'an operatic story of two brothers, one worshipped by his father and the other scorned. As they quest for power on the street, the brothers lose each other.'
Writer-director Macario de Souza's feature film 6 Festivals is also a Paramount Plus original. It's a coming-of-age story about 'three 16-year-old best friends who embark on a six-month bucket list journey to music festivals after one of their number is diagnosed with a terminal illness' Produced by Invisible Republic and Hype Republic, it received major production investment from Screen Australia in association with Paramount Plus and was, interestingly, financed with support from Sony Music, with Boom Smash. It will feature a large number of Australian musical acts. Screen Canberra and Screen Queensland were also involved.
Back in May, ViacomCBS's head of Australian content, Bev McGarvey, told the Sydney Morning Herald that she expected Paramount+ would be a 'powerful player', saying:
'We have our own content … third-party content and local content. So that's what makes us special. We're not expecting for one minute that people will unsubscribe from Netflix. But we know Australians love their streaming services and have the appetite for a few.
'Paramount+ has pledged investment in Australian content. Local drama Last King of the Cross, comedy series Spreadsheet and a coming-of-age feature film called 6 Festivals will soon commence production.
'We want to be able to use Paramount+ to tell strong Australian stories… And strong Australian stories that play better on SVOD [subscription video-on-demand] than they do on our linear service [Network Ten].'
FINALLY, WILL WE GIVE PARAMOUNT+ A GO?
Of course, we will. We give everything a go, especially if the first week is free!
Paramount+ launches Wednesday 11 August.