Silence shouts out loud in Melbourne-based filmmaker Aaron Wilson's emotionally complex dramatic features. His astounding, almost dialogue-free debut Canopy (2013) threw us deep into the steamy jungles of Singapore in 1942, as the island nation fell to the Japanese invasion force during WWII.
An oppressively immersive tour de force, it depicted the struggle to survive of downed Australian fighter pilot Jim (Khan Chittenden) and Singaporean resistance fighter Seng (Mo Tzu-Yi). Forging an uneasy alliance to escape undetected, little may have passed their lips, but Wilson ensured that we understood their physical language. Memorably captured on location in the Sungei Buloh reserve by cinematographer Stefan Duscio (The Dry), the 'silent' film also roared with the sound of animal life in the undergrowth, as captured by sound designer Rodney Lowe.
The first chapter of an intended triptych exploring the long shadow of war through the fractured prism of post-traumatic stress disorder (PTSD), sequel Little Tornadoes jumps forward to Australia in the 1970s. Much has changed, but the spectre of war remains, this time in Vietnam. In some ways, that international tumult seems very far from Tocumwal, the sleepy Southern Riverina town perched just on the NSW side of the Victorian border. This is where Wilson grew up, and he knows a great deal about how masculinity is defined, and internal pain silenced, round these parts.
Shot almost back-to-back with Canopy, Little Tornadoes gestated for over a decade before debuting at the 2021 Melbourne International Film Festival and finally receiving a theatrical release this year.
Pine Gap star Mark Leonard Winter plays Leo, a taciturn young father and factory worker emotionally wounded by a traumatic event in his childhood. Shortly after the film opens, his wife leaves him and their two young kids (Minnie and Freddy Liszukiewicz) for Melbourne. Only her red dress on the clothesline and her matching lipstick in the bedroom remain.
Read: The Drover's Wife review: a terrific Outback Western
As Germaine Greer opines, glimpsed on a black and white television screen in a living room cluttered with the rubble of a depressed man: 'I think what men mistake for happiness is, in fact, resignation and patience … and now women are beginning to feel that patience is not the answer.'
The times they are a-changin', but not so much for Leo's surly father. Glitch star Robert Menzies plays the man we witnessed in a fight for his life in Canopy, who is now a shell of himself. A shattered man unable to be there for Leo and his grandkids, his stunted distance raises the impact of intergenerational trauma.
But not all men are as emotionally unavailable. Leo finds some solace in a friendship with few words in the lunchroom with recent Italian immigrant co-worker Tony (Fabio Motta), who suggests that his sister Maria could help around the house.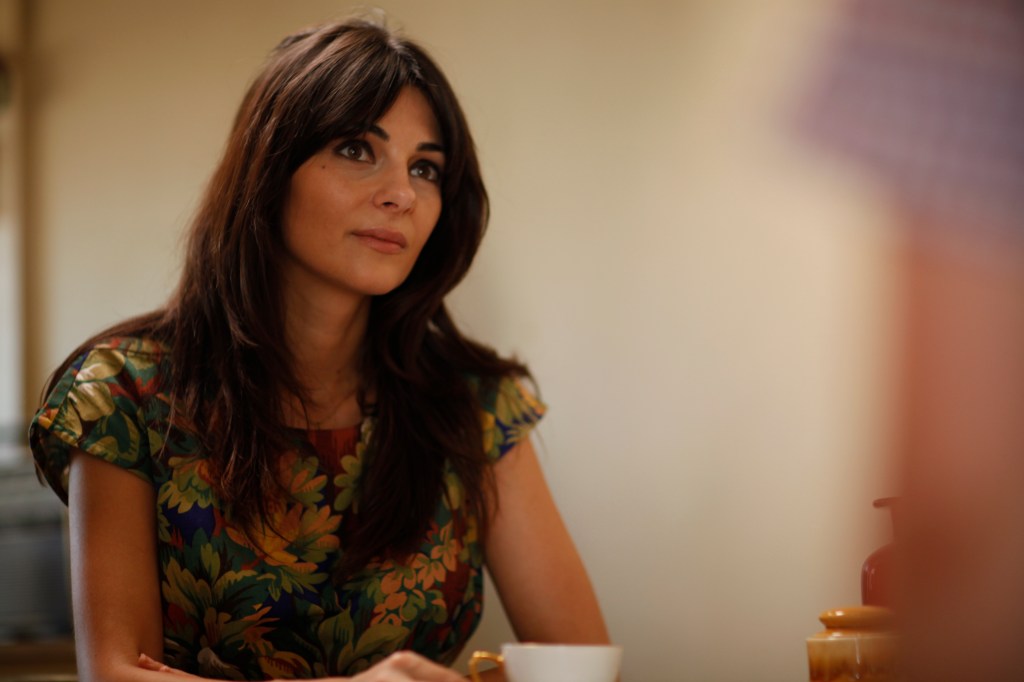 Luminous SBS cooking show star, author and actor Silvia Colloca shines in this role. Greer may baulk at Maria's gently nurturing ways, but the role's greatly expanded by an interior monologue spun from Wilson's writing collaboration with author Christos Tsiolkas.
Anyone familiar with the latter's haunting novels Loaded and Dead Europe will recognise his grip on a clash of cultures. In a movie with little dialogue, her honest poetry sings, offering insights into the injured souls of men. An opening observation invoking the legacy of her ancestors is especially captivating. Maria was told that this was a new world, but the spirits she hears remind her so much of those she knew in her village on the outskirts of Sicilian city Syracuse. 'I knew in my bones these were ancient ghosts'.
Read: The Northman review: a monumental achievement
It's another example of the larger tapestry sewn into this quiet film. The gaping wound of the Frontier Wars bleeds into Jim's PTSD and its effect on his son. A searing pain from the past cuts deep into the present as we witness Joe struggling to hold it together. He deliberately burns himself first on a hot griddle pan in the kitchen sink and then, later, on factory machinery in an effort to feel something, anything.
As ink stain-like fragments of Canopy footage bleed literally into sequences featuring Menzies, also allowing glimpses of Chittenden, we see the murky aftermath stirred up.
Winter carries Leo's burdens as if pinned down by a physical weight. Colloca's Maria bears her own scars, but is able to process them better. Can they find peace together, or has too much been said and done?
Returning cinematographer Duscio paints extra layers into the film, framing the intimate with the majesty of the bush. Even the milky smears of dirt and dust on a car windscreen, a field of flowing wheat beyond, are sublime. Lowe once more makes the quiet reverberate with the cry of birds and the chirrup of insects.
A thoughtful film that rewards patience, Little Tornadoes says a lot between the lines. It pays to listen.
Little Tornadoes
Australian, 2021, MA15+, 90 mins
Director: Aaron Wilson
Writers: Aaron Wilson, Christos Tsiolkas
Producers: Ian Anderson, Katrina Fleming, Duncan Horne, Margot McDonald, Shaun Miller, Susie Montague-Delaney, Mabelyn Ow, Christian Pazzaglia, James Penner, Susan Schmidt, Aaron Wilson
Distributor: Fan Force
Australian release date: 12 May 2022
ScreenHub recommends … best films about the effects of PTSD
Leave No Trace (2018)
American filmmaker Debra Granik deftly navigated the intergenerational impact of trauma that can become lodged like shrapnel in her breathtaking adaptation of the Peter Rock novel My Abandonment. Ben Foster delivers an aching portrayal of a war veteran illegally camping out in the woods around Portland with his teenage daughter. Kiwi actor Thomasin McKenzie's big breakthrough – her tender depiction of a young woman trying to hold them together while aching for independence is remarkable.
The Deer Hunter (1978)
The horror of war also haunts Michael Cimino's five Oscar-winning classic movie starring Robert De Niro, Christopher Walken and John Savage as a trio of steelworkers drafted for the Vietnam war. Their happy-go-lucky natures, elaborated on in an extended wedding sequence, are shattered when they're soon captured and tortured. The film's final act focuses on picking up the remnants, but just how easy is that?
The Perks of Being a Wallflower (2012)
Not all trauma stems from battle. Stephen Chbosky's delicate adaptation of his best-selling epistolary novel stars Logan Lerman as a high school freshman whose mental health is significantly impacted by suppressed memories of a terrible incident from his childhood. Also starring Emma Watson and Ezra Miller as his newfound friends, it's a glowing coming-of-age story that embraces vulnerability and hope in equal measure.