The poster for Hating Peter Tatchell asks the question: 'saint or sinner?' Like many of the best bio-docs about society's radicals, the answer isn't as simple as black or white. In fact, in this entertaining and informative documentary, director and co-producer Christopher Amos finds many of his film's strongest moments in times of conflict, interrogating its subject's methods at advancing the (then-coined) gay agenda.
Peter Tatchell has, after all, spent many stints in the cultural sinbin through the 1980s and 1990s as a vocal queer agitator to the homophobic British establishment under Thatcher and beyond. It wasn't until his much-publicised citizen's arrest of Zimbabwe president Robert Mugabe in 2001 that broader public sentiment changed in his favour.
Despite not being a name that many Australians would likely know, it is fair to say they should. This being an Australian production from Queensland-based WildBear Entertainment thankfully means Tatchell's Aussie roots are well and truly established as a vital part of his story. The film premiered at the 2021 Melbourne International Film Festival and is a MIFF Premiere Fund film.
Here we learn that Tatchell's childhood years in Melbourne's outer suburbs were spent in a violently abusive household, his outward (some say arrogant) personality frequently resulting in wrath from a strict Pentecostal father. Gay slurs followed at school, but he showed an aptitude for politics and social justice. Amos' film covers all this up top, most importantly in how Tatchell turned his muckraking abilities into a role in school governance.
These early passages are interesting if a little flat, relying on simple talking head imagery of Peter in front of a plain black backdrop. Not terribly exciting. But once he spots the Black Panthers on television, Tatchell's story as well as the film's momentum begin to change. His activism against the Vietnam War and a desire to avoid conscription saw the teenage Tatchell move to London where he discovered a gay scene divorced from the stereotypical images he had seen of queer people on TV sitcoms.
Read: Film Review: Nitram is hard to pin down
It's here that the clash of his burgeoning sexuality and the nascent queer liberation movement changed his life—and, it could fairly be said, the world's. His list of achievements moving forward is a veritable what's what of iconic queer moments of history that are detailed here in wonderful archival footage and first-hand recollections. Among them are organising London's first Pride march, an ill-fated run as a Labour candidate in a noteworthy 1981 by-election, a political stunt where homosexual men handed themselves into police as sex criminals, and regular appearances on AIDS-themed daytime talk shows. He amassed a rambunctious reputation that soon morphed into that of a professional menace to British society. With a knack for getting gay and lesbian issues to prime-news news through attention-grabbing stunts, Tatchell was celebrated by some, and harangued by others.
Queer history, and more specifically that around the impact from AIDS, has been told time and time again in LGBTIQ-themed documentaries. Hating Peter Tatchell doesn't do much to differentiate itself in that regard. But the specific lens on Tatchell, and especially its Australian angle, make this a worthwhile addition to a growing global roster of documentaries telling a mosaic of queer history.
he specific lens on Tatchell, and especially its Australian angle, make this a worthwhile addition to a growing global roster of documentaries telling a mosaic of queer history.
The film is well-edited by Bergen O'Brien, while the score by Andrew Barnabas and Paul Arnold is often well-implemented including a cute winking piano rendition of Erasure's 1988 single 'A Little Respect'. I did, however, at times wish the filmmaking was as excitedly punkish as Tatchell himself. I think of David France's Oscar-nominated How to Survive a Plague, or the recent Wojnarowicz about the titular trailblazing artist. An unexpected late-film diversion into thriller territory does spotlight Amos' dexterity behind the camera, though, as he follows Tatchell to Moscow in pursuit of a covert protest mission. This more immediate passage suggests the director's follow-up feature could go in a different direction entirely to this debut, which is an exciting prospect for a young, up-and-coming Australian filmmaker.
At 69 years of age, Tatchell remains a charismatic subject in the film's interviews, conducted here by Sir Ian McKellen. His 53 years of civil disobedience are a treasure trove of historic anecdotes worth learning about if his history is new to you. The two build a charming rapport and, in a neat twist, McKellen himself often swings from interviewer to interviewee as he interjects with his own stories from the period. This switch in the typical documentary interview set-up has its benefits. Stephen Fry appears too, his notable scallywag persona a perfect fit to dissect Tatchell's witty fits of protest and fury.
Furthermore, in one of the most surprising appearances I can recall in a documentary, even the former Archbishop of Canterbury, George Carey, appears: once to scold him—they've had several notable public run-ins—while in another instance, radically equating Tatchell to none other than Jesus Christ. If that doesn't make you prick up your ears then I don't know what will. Carey also has a prominent position in one of Hating Peter Tatchell's strongest sections, which navigates the controversial stance of publicly outing members of the church. Here, Tatchell's provocations are put under the microscope and the film does well to delicately balance all of the opinions. Who's right or wrong is left up to the viewer.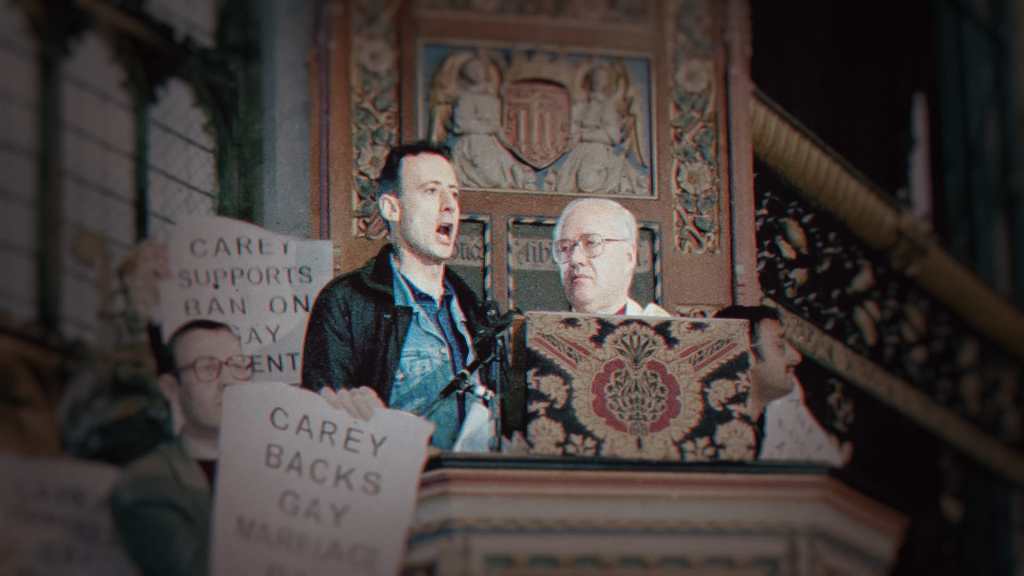 It's good that Hating Peter Tatchell was made, and that it's so readily available on Netflix worldwide. Australia's answer to Larry Kramer deserves a documentary honouring his life's work. Even better that he's been labelled everything from a homosexual terrorist to a pioneer. The film begins with the quote, 'when people in power won't show compassion, sometimes you have to up the ante.' After watching this documentary, it's clear he lived up to it.
Three and a half stars ★★★☆
HATING PETER TATCHELL
Australia, 2021, 92 mins
Director: Christopher Amos
Producers: Veronica Fury, Christopher Amos, Lee Matthews
Rating: MA15
Now streaming on Netflix