One of the Marvel Cinematic Universe's biggest strengths has been its ability to course-correct. Chris Hemsworth's Thor looked like dead weight after the under-performing The Dark World – now he's the only character to get a fourth solo film, with Love and Thunder one of the more anticipated releases of 2022.
Across the line characters are tweaked from appearance to appearance, their guest appearances in other films used to iron out the kinks before the next starring role. For Doctor Stephen Strange (Benedict Cumberbatch), who's first film was a little more hit and miss than it should have been, it's been a chance to show there's more to him than just a bunch of tricks borrowed from Inception.
Multiverse of Madness leans heavily on two aspects of his character established in other people's films. Which is another strength of the MCU, from a marketing point at least. If you want to keep up, you've got to watch everything (including, in this case, the TV series WandaVision).
In the last two Avengers films he was the guy who came up with the scheme to defeat Thanos – though it meant half the universe was dead for five years – while Spider-Man: No Way Home established he's the guy you go to when you want to check in with the Multiverse.
What exactly is the Multiverse? Marvel is glad you asked.
For a while now the Marvel universe has been letting us know that the current Marvel universe is not the only Marvel universe. Parallel universes, some similar, some very different, are also out there, ripe with IP just waiting to be exploited.
Spider-Man: No Way Home was massively popular and all it did was bring back a bunch of other versions of Spidey (plus their bad guys). Imagine what Marvel could do with all those other Marvel franchises they regained control of when they bought 20th Century Fox! Oh wait, the internet's already done that imagining for you.
The driver of all this is one America Chavez (Xochitl Gomez) who we first meet on the run from a giant octo-monster that wants to drain her powers. As those powers involve the ability to physically jump between multiverses – something nobody else can do – it's no surprise they're in demand. But for Dr Strange, whose moping around at the wedding of lost love Christine Palmer (Rachel McAdams) is interrupted by Chavez and the monster trashing New York, these powers are dangerous in the extreme. Colliding universes are not a good thing; jumping between them only opens the door to greater threats.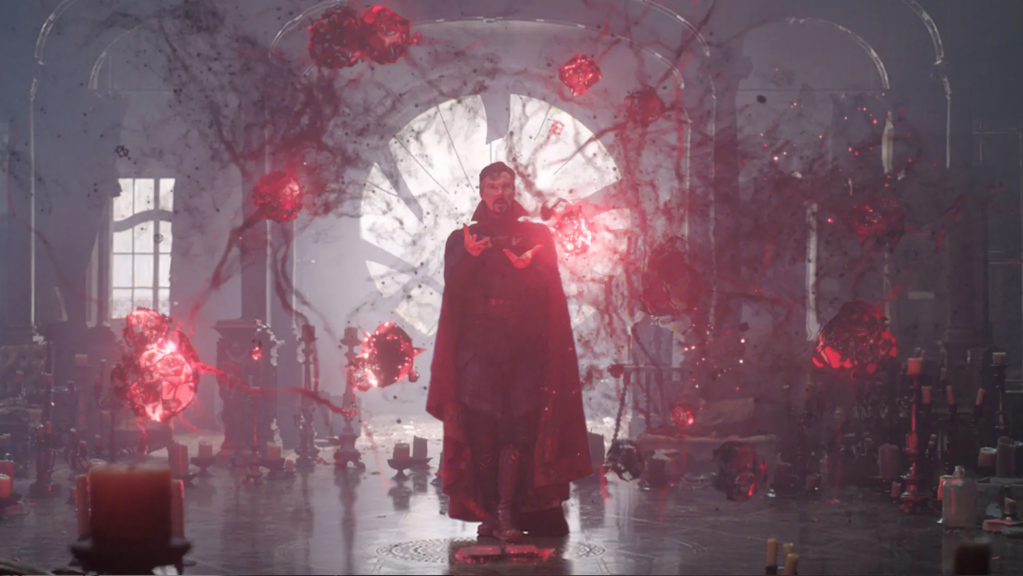 Just about everything that happens after that counts as a spoiler, but it's safe to say that Strange hits up witch Wanda (Elizabeth Olsen) for help, while Sorcerer Supreme Wong (Benedict Wong) agrees with Strange that the safest place for Chavez is the magic stronghold Kamar-Taj. Unfortunately, pretty much the exact opposite proves to be the case, and from there it's a roller coaster ride across the multiverse.
Director Sam Raimi throws in a number of very Sam Raimi-flourishes (especially from his Evil Dead period) to spice things up. Dutch angles, creepy reflections, demonic creatures and a Bruce Campbell cameo are all great reminders of just how fun a good Raimi film can be. Likewise, Marvel buffs will thrill at a number of guest appearances and re-appearances, some more surprising than others (we get to meet a parallel version of Chiwetel Ejiofor's Mordo for one).
What you probably won't do is come away having seen a movie that hangs together as a compelling story. Multiverse films don't have to be all over the place emotionally (as the now-screening Everything Everywhere All At Once proves) but this lacks the connecting tissue to hold together its often impressive set pieces and imaginative twists. At times it feels like 'being scary' was meant to be the glue – after all, horror movies don't need to make sense. But overall this is more fun than frightening, a spooky movie Wanda's (not real … or are they?) kids could safely watch.
Gomez does a great job but Chavez is basically a plot device. Strange just has a cool adventure, and everyone else gets to fight. At least there's some variety to the action, even if an early magic battle revolves almost entirely around shields and fireballs like a generic SF action flick.
At one stage Strange finds himself in a mystic duel where notes from sheet music are hurled like ninja stars: a few more ideas like that and this really would have been magic.
Doctor Strange in the Multiverse of Madness
USA 2022
Director: Sam Raimi
Writers: Michael Waldron
Starring: Benedict Cumberbatch, Elizabeth Olsen, Chiwetel Ejiofor, Benedict Wong, Xochitl Gomez, Rachel McAdams
Producers: Kevin Feige
A Marvel Studios production
Distributor: Walt Disney Studios Motion Pictures
Rated M, 126 minutes
In cinemas 5 May.