It's nearly time for the The 66th Eurovision Song Contest, which takes place in Turin, Italy, this week and will be shown in Australia on SBS from 11 to 15 May. Australia's entrant, 23-year-old singer-songwriter Sheldon Riley, is no stranger to performing competitively, having appeared previously on The Voice, The X Factor and America's Got Talent. So, no pressure performing the song he wrote to a worldwide audience of more than 180 million? Um, not much …
Hi Sheldon. What does it mean to you to be performing at Eurovision?
I still don't believe it. I woke up the other morning and I was like, 'I actually actually did it'. It's been in my five-year plan for literally five years. I'm so honoured.
Do you mean metaphorically, or was it actually part of your five-year plan?
It was literally in my five-year plan. When my manager and I started going to record labels and producers, they'd ask what I wanted to be and where I saw myself, and I'd list like 1,000 Eurovision people who I'm so inspired by. My manager was like, 'You've got five years for that, and then we'll need to stop because it's just not looking very possible anymore'. So it's something I've wanted forever, but I only really started planning for it after appearing on The X Factor in 2016.
And your song, Not The Same … Could you talk us through what it means to you and how you came to write it?

I wrote Not The Same when I was 15. I was diagnosed with autism at six, nine and 12 and, coming from a pretty religious and reserved family, that was something that weighed heavily on me for a very long time. It was seen as something that needed to be fixed or changed, like, 'you're never going to be able to socialise, find a partner, or carry yourself as a functioning "normal" human being'.
Read: TikTok + Unofficial Bridgerton Musical = Grammys win
At around 15, I came out as gay. I mean, the song is not really about my sexuality, but it played a part. I've got such a beautiful soft spot for religion in my heart. But as soon as I let go of expectation and what everyone else was saying, I realised I was completely fine the way I was. After that, I turned into a social butterfly – I had a boyfriend, I had close friends. And I was starting to not absolutely hate school. I don't know, I was just so proud of myself.
So, as dramatic as my little gay 15-year-old self was, I jumped on Facebook and wrote myself a message, basically a poem, to say, 'You're not the same, but it's completely fine'. In 2019, I logged into an old laptop and found that message and was like, 'Ah, this is kind of sad, but also super empowering'. The message was basically 'you're doing so great'. I mean, looking back, I really wasn't doing so great and I really hated who I was, but I think it was a bit of hope for the future and what I was hopefully going to end up becoming. So I decided to turn it into a song.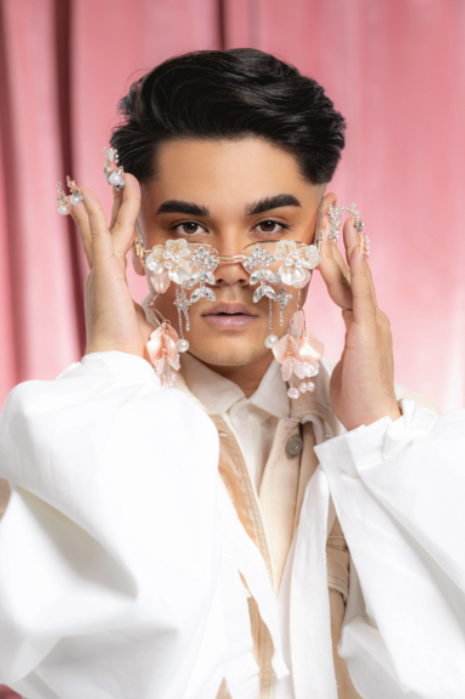 It was never supposed to be the Eurovision song. I had a fair few other songs. Because I've been in love with the contest for so long, I kind of manufactured songs for Eurovision, which was the biggest mistake because you want it to be more genuine and honest.
So SBS were like, 'Do you have anything else? Do you have anything else that's a bit more you?' And I was like, 'OK, what about this one?' And they loved it. So now my little note to myself on Facebook is the song representing the country. It's crazy.
Do you think your mind would have just exploded at 15 if you'd gone back in a time machine and said you'll be performing this to 180 million people one day?
I mean, I'm 23 now and I still don't believe it. I went over to the pre-parties in Israel and London and I was so excited to meet the other artists because I'm such a massive fan of the contest.
I fall in love with different artists every year. That's kind of what keeps me going every year – finding someone who stands out and just loving what they do. So it was the most mindboggling thing ever to go there and find people who were excited to tell me how much they loved what I did. I was like, 'Oh my god, this is the crazy thing ever'. So yeah, I think 15-year-old Sheldon would have died.
Read: Spicks and Specks' live-audience return is music to my ears
What is it about Eurovision? What makes it special for you as a fan?
Three reasons. First, because, as I said, I come from a very religious family and it wasn't so accessible to me. I'd go to my grandparents house to sneakily watch Eurovision and I think that that's a little bit of something that's always going to be close to my heart.
Second, it's just so freaking fun to watch.
Third, Eurovision has been a massive sign of hope for me. Every step I've taken, every time I didn't win a show, every time I was told by different networks that 'We have to watch what Sheldon's wearing because it might not be OK for the Australian public'. Or every time someone said, 'Oh, your music's too sad or your outfits are too crazy'.
Eurovision always gave me hope that there was an audience for me. So I was like, 'I need to get there one day'. I mean, I can play piano, I can play guitar, I can have sustainable work every night down the pub or doing gigs where I'm playing instruments and singing songs. I can do that. But every time I had that thought I was like, 'No, you want to do something so much bigger. And there are people who have done it successfully. So keep going.'
And you actually can't go too big for Eurovision, right?
I think there is room, especially in 2022, for really crazy performances. I mean, look what's being done, even just on Jimmy Fallon. There are artists on poles singing opera … There's so much room for immersive art and for performers to do things that are so much more than just standing at a mic stand.
What are the main things you've taken from appearing on shows like The X Factor and America's Got Talent?
I've learned how to compete but I've also learned about rejection as well. And I've learned that you can't always be in the limelight. But to be honest with you, reality TV and Eurovision are light years apart. I don't see many similarities other than the fact they're a competitions. Eurovision is my entire artist project.
Read: 'I hated it so much' – Byron Baes is upsettingly bad
When you do reality TV, someone chooses your song, you've got someone dressing you, you have a driver, a caterer, you've got hotels, you've got everything – you're living a superstar lifestyle without being a superstar.
Eurovision is more like, 'Come forward, bring your best artist project, show us what you've created'. It's so much more legitimate. These are real people, real artists with really strong ideas.
My partner's niece is a massive Eurovision fan … She wanted me to ask you who your favourite performer or country is this year.
Sweden. That's my number-one. I have fallen so deeply in love with Cornelia [Jakobs] and the song Hold Me Closer. I fell down the YouTube rabbit hole and came across that performance and it blew my mind – it's almost the the Barbara Pravi [Voilà] from France from last year. I'd be very happy to see Sweden win.
Or come a close second behind you – I guess that would be the ideal scenario?
Wouldn't that be crazy.


How do you go with stage nerves?
If I'm honest, I don't get nervous – I get really excited. I'm just so honoured to get up there and do what I do. But I think Eurovision is the first time … I haven't felt nervous since I was 16 because I don't ever feel like I have anything to lose but this is different. I think it's just because I want it so bad.
Read: Danny Cohen on debut Courtney Barnett doco: 'it was like creating visual poetry'
The expectation's really large because you're not just going into another reality TV show where you're representing yourself. You're representing an entire country in front of every other country. It really is the Olympics of music and I would be stupid to say that I'm not nervous but I should be OK. I'm very well-prepared. I'm working extremely hard. I think the only thing I need is some more sleep but I'll get that after.
What would be a good scenario for you coming off the back of Eurovision?
I would love to be living and working full-time in Europe. That'd be amazing. Covid pending, we've got some really cool plans. I want to tour, I want to release merchandise, I want to start showing people a little bit more of myself. I've also got a full album coming, which I'm really excited about because I've been working on it for a very long time. And it's basically a whole album constructed for a live show.
That's good to hear, Sheldon. Wishing you all the best for Eurovision.
I'm very happy to chat. Thank you for taking the time.
Eurovision 2022 runs from 11 May to 15 May on SBS and SBS On Demand – visit the SBS site for full details.