Sewing up a nightmare. In Fabric, courtesy of MIFF.
British-born horror director Peter Strickland was featured at the 2019 Melbourne International Film Festival (MIFF), bringing his full complement of films, including four features of his own and a number of works by other directors who inspired him. Having more or less grown up with his films, I was delighted to meet him. Polite and easy-going, it's hard to imagine this is the man responsible for a number of intensely dark horror films. Still, it's easy to see why audiences are drawn to his filmography: each film is unique, layered with thoughtful images and haunting sound design.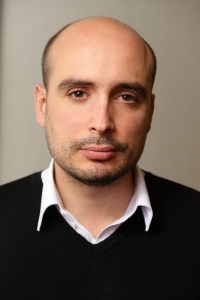 Strickland's three retrospective features collectively contribute to painting a picture of who he is. Though certainly inspired by Italian giallo aesthetics, his films resemble something more particular to his own personal style. His debut feature, Katalin Varga (2009), and perhaps his least-known work, blew audiences away at its debut for its combination of stunning scenery in the Carpathian mountains and shocking brutality. The only clue that the events of the film take place in the twenty-first century is the inclusion of mobile phones, as the mountains and folk living there seem to remain largely unchanged by the passage of time. As a debut it's an impressive film, one well received by MIFF audiences this year.
Strickland's second feature, Berberian Sound Studio (2012), is another beast entirely. It is from here that audiences began to associate Strickland with giallo, a genre to which this film pays overt homage. Set in 1970s Italy, the film follows English sound engineer Gilderoy (Toby Jones) as he commences foley work on the (fictional) film The Equestrian Vortex, a horse-themed horror. By layering the sound of brutal murder with the imagery of chopped vegetables, Strickland creates an association between fictional and real violence, and questions how closely the two may interact. Though different to his original feature, there are similarities in off-beat style and ironic humour. We find ourselves lost in a mind-altering narrative that seems to lose all track of time.
Start at
The Duke of Burgundy (2014) is perhaps Strickland's most sexy film to date. (It happens to be a personal favourite of Screenhub's Rochelle Siemienowicz, who reviewed it for SBS.) It centres on the daily lives of two lovers, played by Sidse Babett Knudsen and Chiara D'Anna (the latter now a Strickland regular). A film entirely without men, The Duke of Burgundy toys with power dynamics and sado-masochism, breaking through patterns of domestic roleplay in search of human connection. This became one of Strickland's best-known films and was well received, both at the time of release, and now in the retrospective. It's a perfect entry point into Strickland's work, being less violent but no less masterful.
Strickland's brand-new feature, In Fabric (2018) feels like the perfect summary of his other works. It features beautiful set design as did Katalin Varga, is giallo-esque like Berberian Sound Studio and with elements of eroticism as in The Duke of Burgundy. This is the film that generated the most excitement among MIFF audiences as it makes its Melburnian debut.
Set in England, In Fabric tells two stories of victims who fall prey to a killer red dress. That's right folks, an evil and possibly possessed dress. The empathetic Sheila (Marianne Jean-Baptiste) is persuaded by a mysterious saleswoman (Fatma Mohamed, another Strickland regular) to purchase the murderous garment, which then becomes symbolic of her alienation from her own sexuality. Then, her story is replaced by that of Reg Speaks, a simple repairman who is forced into the dress at his stag-do by his chauvinistic friends. Most notable is the bizarre department store, something Strickland talked about in his MIFF Q&A. He said he wanted to employ a child's perspective of shopping, including being dwarfed by mannequins and fascinated by dumb waiters. In Fabric is notable for its otherworldly imagery of beckoning saleswomen and suicidal washing machines, and strange, ambient sound design. Strickland himself explained that they 'blurred the boundaries between music and sound, such as in the scene with the fire alarm. It sounds like an alarm, but it's actually a composition.'
In this year of 2019, there have been pointed discussions about who deserves to tell certain stories. Strickland's films often draw attention to the plight of women, but he himself doesn't want his films to be simplified as such. 'I sometimes write about myself or other men through a female character. But yes, most of the time, I'm attempting to see the world of a given film through female eyes,' he said. Strickland talks of being inspired by other directors who make films about the opposite sex, like Pedro Almodovar and Kathryn Bigelow, and believes that context is important. Often female-fronted and always oddball, his filmography is compact but significant, and played an important part of this year's film festival.
Peter Strickland: Director in Focus played at MIFF 2019. To delve deeper, visit the MIFF Blog where Strickland writes about his influences and inspirations.