The Australian box office is locked absolutely solid, with no more than the tiniest of changes in the pecking order. Exhibitors must be losing any sense of time.
Spider-Man rules, Sing 2 warbles along, Scream 5 lost 27%, which is more than most, Ghostbusters lumbers around, Gucci holds the older crowd, and The King's Man is rewarded for doing not very much…
Nightmare Alley, which is 140 minutes of vintage del Toro, dropped from number 7 to 10, with 43% less punters in week two. Probably a minority taste anyway, and seen as a disappointment by some in that fearless tribe. 
Clifford the Big Red Dog moved up one to fill the hole, followed by King Richard. Spencer turned out to be frail in week two as well, losing 47%, to be overtaken by The Addams Family. Maybe Spencer should have been a twisted comic animation as well.
Let's do a perverse list of films currently in release, seen in terms of its average number of viewers per week. This is the top fifteen.
This helps to tell us how films which have been out for different periods compare, though the averages will drop moderately the longer a title is available. I am assuming that the average ticket price is $15, which is pretty rough but takes into account the huge humber of tickets sold on membership cards.
Here we go: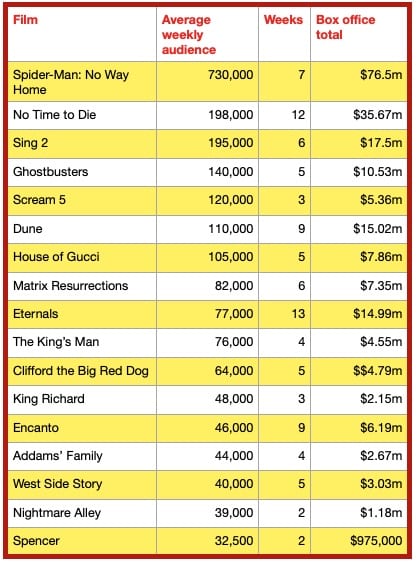 International box office
The English language market is completely static, with no major films released. So we see Spider-Man still topping the charts with $15.6m last weekend in the US, followed by Scream with $10.6m, Sing 2 with $6.8m and then a new title. Redeeming Love is an American Christian romance film with has made $9.2m in ten days but is dropping quickly. My guess is that the godly prefer Spider-man.
In three weeks, Spider-man has taken $170m in the United Kingdom.
According to Variety, China had a sleepy weekend, only managing a total of $30.3m, which is amazingly low given that the country at least 75,000 screens as of 2020. As Frater said, 'China's cinema box office trod water in the weekend ahead of the Chinese New Year holidays and an imminent surge of new release titles. These mean that the next few days could add up to the biggest week in Chinese movie history.'
Chinese figures are extremely up to date as almost all tickets are bought from the same interface and the data is public. I looked at the figures for last Sunday, 31 Jan, and made up a chart for the top ten, based on the screen averages.
Here are the results:
There are three US films. Paw Patrol is doing a small amount of business at number 5, Encanto is pretty well down after 25 days and Matrix Resurrections never really stood a chance.
The odd fact from this: The average weekly audience for Spider-Man in Australia is 730,000. The top Sunday audience in China was 90,000 for one day. In a manoever which will make statisticians grind their teeth, we can multiply that by seven to get 630,000. China is in vigorous lockdown, but only in a few cities, so it is unlikely to make much difference. Surely the top film in Australia can't be doing better than the top film in China?
Probably not, in absolute terms, but the difference between 1.42 billion and 26 million means that any statistical chicanery by me has no more than a miniscule effect. All I can say is 'Strewth!'.
Even in Mandarin, Fireflies in the Sun has a creepy trailer. It is based on John Q, directed by Nick Cassavetes in 2002, and also known as Sheep Without a Shepherd 2.
Australian TV ratings
Meanwhile, the conventional television ratings reveal that there is absolutely no prime time first release drama on offer. The repeats, tagged off on the side-channels, cover CSV and Father Brown, with the ABC plunging bravely into repeats of Midsomer Murders. On the last week before the tennis, the ABC scored all of 318,000 people for that. Of course the streamed offerings are extraordinary, inclining more and more to fantasy and welcoming Korea with open arms.