In 1986, when screenwriter and producer Michael Lucas was eight years old, his dad got picked up from the local oval by the Ten Eyewitness News helicopter. 'It was the most exciting thing that had ever happened to me,' Lucas says, laughing on the phone to Screenhub.
'My father was an infectious diseases doctor and AIDS specialist,' he explains, 'and because of that – much like in this past year when medical professionals and epidemiologists have appeared in the media a lot – he went on news shows. I have these really vivid memories of the helicopter taking him away, and I've still got the videotape of him being interviewed by David Johnson and Jo Pearson.'
1986 was also the year NASA's Space Shuttle 'Challenger' exploded just moments after launch. Lucas remembers seeing it on TV. 'My mum was crying, and that made a big impression on me, as it does when you're little and you see mum crying which doesn't happen very often.'
READ: Review: The Newsreader on ABC TV is sophisticated and enjoyable
These experiences helped inspire the creation and writing of The Newsreader, the ABC drama set in the high-stakes world of an 80s nightly newsroom. Created and produced by Lucas and Joanna Werner, with all six episodes directed by Emma Freeman, the series has lots of big hair and some giant shoulder pads (costume designer Marion Boyce has a ball). It's fun period drama, in all the ways that period dramas are fun ('look at the racism! Look at the sexism! Those cars…), while speaking to contemporary Australian cultural debates, and presenting a complex but very recognisable species of romantically charged work friendship.
Anna Torv stars as the ambitious female newsreader, battling sexism (particularly that of her boss, a magnificently monstrous William McInnes) and her own internal panic attacks. Sam Reid plays her junior co-worker, a sensitive but diligent young journalist who's still unsure of his voice. As they work together covering the events of an intense three-month period, including the AIDS crisis and Lindy Chamberlin's release, they form a unique bond.
Writing relationship dramas and rom-coms is Lucas's specialty. Nominated four times for the AWGIE for Best TV Screenplay, his credits include being a core writer and script editor on the hit series Offspring (2010 – 2014), Wentworth, Rosehaven, producing on Party Tricks and creating contemporary relationship drama Five Bedrooms, which sold to the UK and is now in production on its third season. (Season 2 begins on new streamer Paramount+ on August 11.) Lucas was also the writer of the 2012 unconventional romantic comedy feature film Not Suitable for Children, directed by Peter Templeman and starring Sarah Snook and Ryan Kwanten.
Lucas says that, when he started work on it in 2015, the kernel of the idea for The Newsreader actually had nothing to do with the politics of the newsroom, and everything to do with a particular kind of relationship dynamic.
'I was writing a relationship drama between the characters of Dale and Helen, and it was set in the 80s. I wanted to look at a male character that was sort of struggling to be the masculine ideal that the world wanted him to be. And conversely, I wanted a female character who had those sort of alpha traits and she was punished for it. About a year and a half later I set it in the newsroom.'
As difficult as COVID was, there was this massive silver lining to all these remarkable people being home in Australia and there was not much other production happening. So, in normal circumstances, Anna Torv would have been in LA and Sam Reid would have been in London and we still would have offered it to them, but God knows what we might have been competing with. But they were back in their family homes.

Michael Lucas
'I thought, well, if he wants to be this masculine ideal, what does he want to be? A politician? A sportsman? And then once I thought of a newsreader, it lit up for me.'
It should be noted too, that Lucas is a self-confessed news junkie. He finds looking through news archives 'exhilarating', and also loves any kind of film or TV show set in a newsroom. 'From Broadcast News, to Press Gang, Frontline, Tootsie and Network, I love them all,' he says. 'But particularly Broadcast News, and there are some very specific moments of homage to that movie in our series.'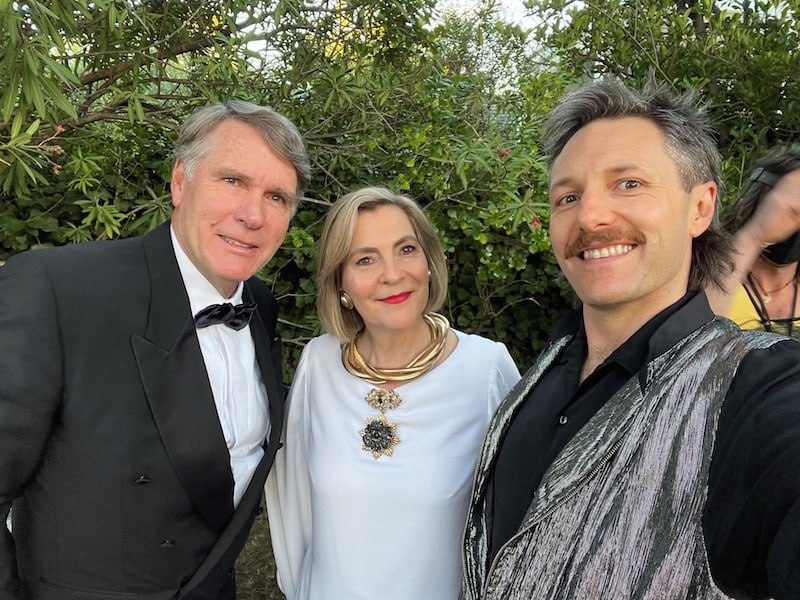 Screenhub: What kind of research did you do to write this script?
Michael Lucas: I spoke to a lot of people. I was so lucky that people were incredibly generous, but also, a lot of the people that were working in news in the 80s are just on retirement age at the moment and It felt like I was hitting them up at a good time. They were ready to unload about what the workplace culture was like back then.
I built up a big Bible and I spoke to people that were on camera, off-camera, producers, people in as many different roles as I could to build up a portrait. I very quickly found that even though I was speaking to people from different networks, some commercial, and some ABC, there were definite hallmarks of those kinds of workplaces no matter who you were speaking to.
The newsroom you present here is quite diverse, with actors like Michelle Lim Davidson, Chai Hansen and Chum Ehelepola given key roles. Was it really like that?
I think undoubtedly newsrooms at that time were very male-dominated and very white. And so that was a real conversation in terms of casting it in 2021. There are so many different approaches you can take. There's Bridgerton, which is almost set in a in a different version of history, and then there are shows where you're colourblind or colour conscious. We spoke about it endlessly.
And I would say that with a mix of particular characters, they were conceived to really tell a story of what it would be like to be sort of a first-generation immigrant coming into a workplace. That was really something that was happening in Australian culture in the 80s.
In other cases, there would be a spectacular performer that really was perfect for that character and so we cast them. Our newsroom is a little bit more diverse than it would have been, but that's where we landed.
In the first two episodes I've watched, there's a lovely ambiguity and subtlety between the two leads. Nothing is over-explained.
I have to give a huge amount of credit for that to both the director Emma Freeman and the actors, Anna Torv and Sam Reid, who, if they could act it with subtlety, didn't want to state it [in words]. They had such beautiful instincts. And I feel like I should say that, because they may have protected me from myself a few times! They've really made me look good.
The show also really captures some of that ambiguity around homosexuality that we had in the 80s, where there was a lot of very camp pop culture, but to be gay in real life was still very difficult and secret.
It was such contradiction, wasn't it? You turn on TV, and you'll get Culture Club. But then in the wider world, there's this intense homophobia and repression. It was really strange even now to go back to that and try and get your head around what was the real attitude?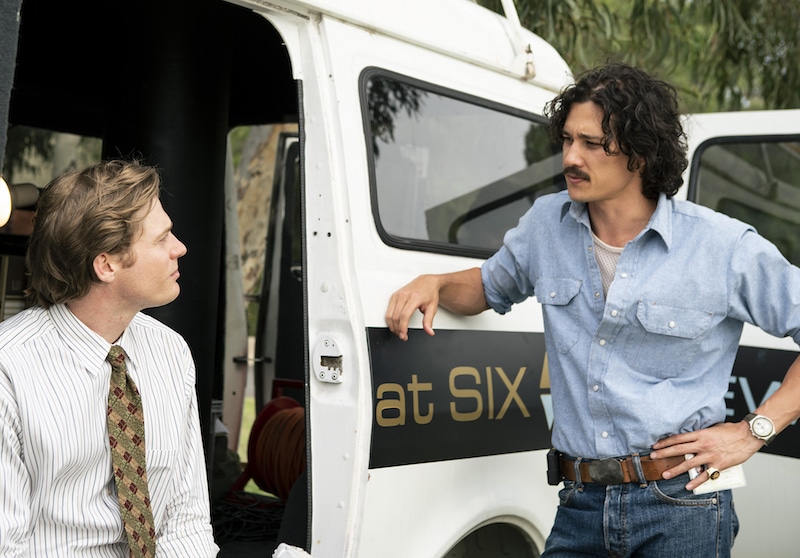 Was it difficult to get the rights to all the archival footage you've used?
It was maddeningly complex! There's a very good reason the ABC was the perfect place to make this story, because they have those expansive news archives and the ABC News owns so much footage, which was fantastic. But it was more complex than I could have imagined, depending on which show the footage came from.
Like, if it was on an ABC news bulletin, then they could give us the right to that and we could use it. But if it was on Four Corners, that's a different rights situation. We had to be a little bit crafty, for example, in the opening episode, the footage of the Challenger explosion had to be purchased from the US.
Literally every frame has a different rights situation. I don't know if we'll get a season two, but if we do I want to change the process and start with all the material we have access to first.
When did you go into production and how did COVID affect you?
We started shooting in Melbourne in November 2020. We were lucky to sort of land in a relatively calm time although we still had massive curveballs, things like sending the cast home for Christmas and then the Northern Beaches outbreak happens and then we have to say to some of them, 'I'm sorry. You're not going to have a family Christmas. You're packing up your car. You coming to Victoria right now.' Those sort of things happened.
We also had plans to shoot in different parts of the country at various points, but it all had to be Victorian-based.
As difficult as COVID was, there was this massive silver lining to all these remarkable people being home in Australia and there was not much other production happening. So, in normal circumstances, Anna Torv would have been in LA and Sam Reid would have been in London and we still would have offered it to them, but God knows what we might have been competing with. But they were back in their family homes.
Not just the actors, but amazing heads of department like production designer Melinda Doring, who doesn't usually do recurring series, she usually does feature films. We were one of the first productions to go back into shooting and I feel like we got some amazing coups in casting crew that that were probably the product of 2020 being such a weird year.
What can you tell us about the excellent cringe 80s costuming?
Costume Designer Marion Boyce [The Dressmaker, Miss Fisher's Murder Mysteries] is amazing, and that was another thing that came out of Melbourne's lockdown. She was online the whole time going to deceased estates that were auctioning off 80s clothes, and a lot of the things that Anna Torv in particular wears are real vintage outfits from the 80s. On a normal production, there's no way the designer would have months and months to sit there online going to auctions because of a pandemic.
When did Emma Freeman come on as director and did you always envisage her doing all six episodes?
Basically, as soon as I got together with Jo [Werner], we discussed Emma. We had to wait until the date firmed up before it could become a formal offer, But I've worked with her for so long and so has Jo, and we kept dropping it into conversation to get her interest. I thought we were in with a real shot because I knew she would love to do something in the 80s, knowing what she loves. She's done the 70s and Puberty Blues but she hadn't ever really gone into the 80s. She's so respected and has so many offers from overseas, we were lucky to get her
In terms of Emma directing at all, that was partially because we had to shoot it all as one sort of block. We didn't shoot in discrete episodes, we shot all six episodes all at once. So there were practical elements, but also we had a really particular tone we were trying to hit. And I just knew that Emma intuitively understood it.
When she directs my stuff, I always feel like she is in contact with both the comedy and also the sort of darker underlying or more dramatic elements. She manages to bring both of them out so skillfully. I wanted her to be able to be a core storyteller and really put her stamp on it.
Do you have advice for emerging screenwriters?
I know a lot of people always say this, but write. Write an awful lot. I just wrote and wrote and wrote. I'd been writing for 10 years before anything of mine was professionally produced. I wrote a lot of things that are tucked in a bottom drawer for a very good reason. And I think you have to go through that. I certainly come in contact with a lot of aspiring screenwriters, who really want to get into it, but haven't really spent that time.
The other thing is if you can try and balance that with real experience of film or TV productions. I was an assistant for Bazmark, [Baz Luhrmann's company], and I was a script assistant for John Edwards, and Imogen Banks and, and that was really essential to witness the process of scripts being made, how production works and how to how to interpret notes and all those sorts of things.
Try to write as much as you can and seek out opportunities, whether it be doing placements, or whether even just starting as a runner. I was a runner in my very early days. It's all really valuable.
The Newsreader premieres on Sunday 15 August at 8.30pm on ABC TV and ABC iview.
Production Credit: The Newsreader is a Werner Films Production for the ABC. Major production investment from Screen Australia and the ABC and financed with support from Film Victoria. Worldwide distribution is managed by Entertainment One (eOne). Created by Michael Lucas. Directed by Emma Freeman. Produced by Lucas and Joanna Werner. Executive Producers Werner and Stuart Menzies. ABC Executive Producers Brett Sleigh and Sally Riley.