As cinemas slowly begin to reopen around the country, many are relying on old faves to bring back a (socially distanced) audience. On the Gold Coast, Home of the Arts (HOTA) will reopen their cinemas with 12 screenings a day from 6 June, and while they haven't announced a program at the time of writing, CEO Criena Gehrke says that it cater to a range of audiences, and will 'touch on some of our favourite films, through to award-winning masterpieces, as well as family movies.'
Drive-ins are coming back into favour as the ideal socially-distanced communal cinema experience, and Cinema Nova is also looking at making its return with old favourites, announcing that their opening weekend would feature screenings of The Room and Cats. 
Read More: The Return of the Humble Drive-In
As cinema workers develop programs in response to delayed releases, smaller audiences, and films going straight to stream, the box office report reflects the weirdness of the era. No film in the top 20 charts showed on more than four screens, and the 2001 animated favourite of meme makers and families alike, Shrek, is one of the most popular films out, bringing in $13,125 all up, for a screen average of $3,280. Dirty Dancing and The Princess Bride also make appearances in the top spots, showing on just one screen each over the weekend, and bringing in $8,680 and $5,775, respectively.
The (admittedly small scale) success of nostalgic film programming indicates that to most cinemagoers, cinemas are so much more than empty rooms through which movies pass; they have a cultural and social significance that transcends the excitement of a new screening. This is affirmed by the overwhelmingly positive response to a recent survey carried out by Events Cinemas. As well as getting feedback on health and safety measures that would make a post-coronavirus cinema feel comfortable and welcoming, the survey queried audience interest and motivation. Of the 20,000 cinemagoers surveyed, 98% reported looking forward to returning to the cinema, and 83% indicating their intent to return within the first 12 weeks of reopening.
Luke Mackey, Director of Entertainment Australia for Event Cinemas said of the results: 'the cultural importance of cinema has never been greater. Like our customers, we are eager to reopen soon, so we can continue providing an opportunity to escape in entertainment and have a positive impact on the wellbeing of our communities, which is needed now more than ever.'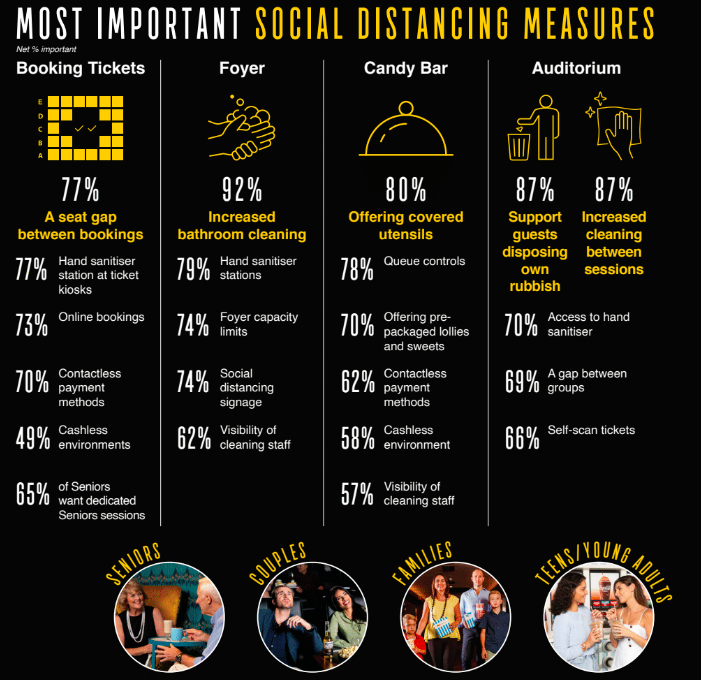 20,000 survey respondents envisage what a COVID-compliant cinema might look like. Image supplied by Event Cinemas. 
Next week will also see a milestone for the Australian box office: the first new release since March, when COVID-19 saw cinemas close, and productions grind to a halt. Chhalaang, a Hindi-language black comedy from MindBlowing Films, was originally slated for 13 March 2020, and will now premiere on 12 June. While travel restrictions still keep many from their friends and family, this will be welcome viewing – and for people still keen on the comfort of nostalgia, there's always Shrek.