Few others in the Australian film and television industry understand comedy as intimately as the team over at Working Dog Productions. Nearly 30 years on, reading the local production company's credits is like a glimpse into the hall of fame of Australia's screen comedy. Frontline, The Castle, All Aussie Adventures, and Thank God You're Here headline a long list of cult classics known for infinitely quotable moments and introducing new talent to our screens. Now, they've got a little show called The Cheap Seats.
In recent years Working Dog has had continued success with the comedic quiz show Have You Been Paying Attention? (HYBPA) on Network Ten, and the fictional-but-all-too-real look at government bureaucracy with Utopia on the ABC. With HYBPA now a staple of Ten's programming, well into its ninth season, Working Dog has added a companion show to its lineup, The Cheap Seats – all in the midst of a global pandemic.
Executive producer across both HYBPA (which he also hosts) and The Cheap Seats, Tom Gleisner revealed what led to Working Dog's latest show and how the team has sustained success over the years – including making a quiz show when people can't meet in person.
News as seen from The Cheap Seats
Billed as a companion piece to HYBPA, The Cheap Seats takes a light-hearted look at the news each week, only it does away with the popular quiz format in favour of delivering scripted setups and punchlines at an impressively quick pace. Another notable difference is its significantly younger cast of talent. New Zealand comedian Melanie Bracewell co-hosts alongside Tim McDonald – originally a digital producer at Working Dog and 'someone to fix the photocopier' until he got his start on HYBPA. They're supported by guest reporters in the form of Nova presenter Mel Tracina and sports satirist Titus O'Reily, both of whom contribute their own brands of humour.
Gleisner explained that there were two main factors responsible for getting The Cheap Seats off the ground: the first being the talent involved. Between himself and fellow Working Dog veterans Rob Sitch and Santo Cilauro, recognising they're all approaching 60, they thought it would be refreshing to try a new show with a deliberate focus on young on-screen talent.
'We stumbled across these two precociously talented people in the form of Tim McDonald and Melanie Bracewell – both regulars on HYBPA,' Gleisner said. 'Gosh, there was something intoxicating about handing the keys to a few people who were a little short of the age of 30, and just seeing a different sensibility and different vibe.'
'We're really excited that [McDonald and Bracwell] were able to do it – [Bracewell] obviously had to sneak into the country in between lockdowns, but she's stuck here now and we're away.'
The other major force behind The Cheap Seats was the desire to explore and deliver jokes about news and culture in more depth than the HYBPA format allowed for. The writing and research team – consisting of about half a dozen members on each show – continually found news clips they felt made for great comedy and were interesting but ran too long to use on the quiz show, which typically only airs 'five or six seconds' of any given footage linked to a question. After finding the right hosts to carry the more tightly scripted nature of The Cheap Seats, the long process of creating the show began.
'[The idea of The Cheap Seats has] been bubbling away in the back of our minds for quite some time,' Gleisner said. 'We tend to sit on things for a while and revisit them, and say to ourselves "if it still interests us in six months or a year down the track, then maybe it does have some merit."'
One aspect of the new show immediately apparent for anyone who tunes in is the frenetic pace and massive volume of jokes squeezed into the hour timeslot. As ScreenHub's Anthony Morris noted in his review, The Cheap Seats packs in a lot of jokes, with many of them landing strongly. As Gleisner explained, this approach to television is a deliberate approach informed by modern viewing habits, in addition to the popularity of short-form social media apps like TikTok, where popular videos usually wrap up in under 20 seconds.
'I think these days people who are sampling free-to-air TV are a little bit more demanding – [audiences want you to] get to the point," Gleisner elaborated. 'In past days you might have been able to be a bit more discursive and rambling but I think now, if you're gonna tune into a show, don't muck around, just get on with it – I think that The Cheap Seats reflects the way we consume materials these days.'
Like every Working Dog production, The Cheap Seats underwent an internal piloting process to assess the concept's worthiness. The team first produced a single segment prior to filming two full pilot shows, mainly to gain the confidence they could sustain an hour of material each week.
Since The Cheap Seats launched in July, airing on Tuesday nights at 9pm in the shadow of Channel Seven's Olympics coverage, the show has grown to capture the difficult-to-capture 16–39 age demographic Network Ten executives would likely be pleased with. While a decent effort for a new venture, Gleisner pointed out Working Dog as a company doesn't necessarily set ratings KPIs, adding that 'if we stay on air, we'll be excited!'
'I think it's exciting to find a show on free-to-air that does appeal to a younger audience,' Gleisner said. 'I think no matter how we spin it we realise that more and more young people are abandoning free-to-air TV.'
'In some ways we're swimming against the tide, but that's kind of exciting, the challenge of making a show that might just reach out to a slightly younger demographic.'
Have You Been Paying Attention: Pandemic Edition
Various arts-based industries have faced all sorts of challenges since the pandemic hit Australia in 2020, particularly with the restrictions on gatherings and travel. Although fortunate enough to continue production, Working Dog's mainstay in HYBPA faced its own difficulties. To continue going to air among Victoria's lockdowns, the show transitioned to a virtual format: Gleisner continued hosting from the Melbourne studio while each episode's five contestants participated remotely via video conferencing. At first, Working Dog attempted to gather everyone via Zoom, only to encounter myriad issues which Gleisner described as 'one of those bad sorts of office meetings,' totally unconducive to creating television hinging on comedic timing. Even more so when you consider HYBPA's appeal derives from its on-screen talent riffing on one another more than actually answering the questions.
'We made it work, but only just,' Gleisner said. 'The technical limitations of buffering, dropouts, a two-second delay – gee, it was challenging.'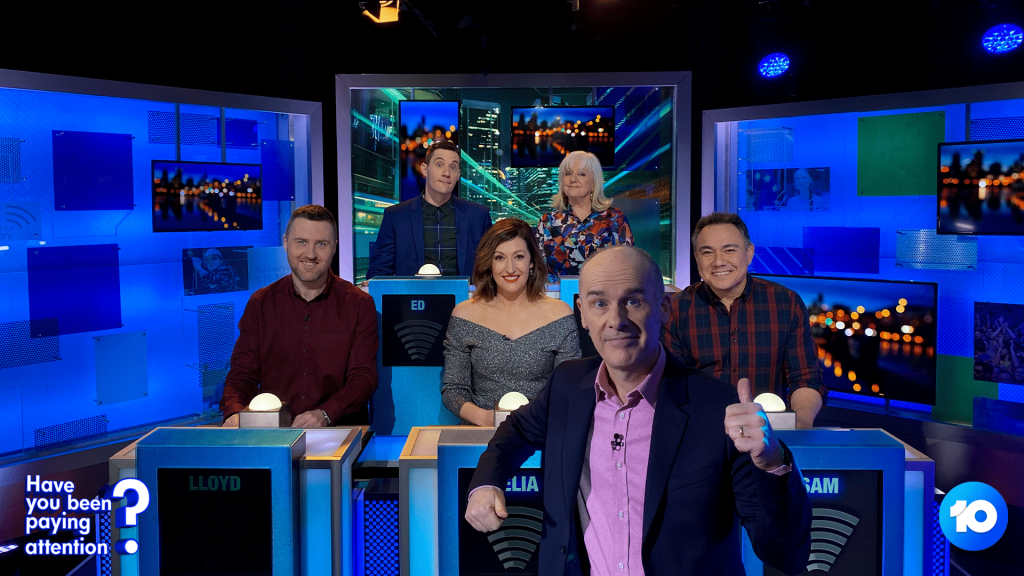 In order to deal with the ever-changing situation and keep the season afloat, Gleisner and co. made two core decisions. First, the episodes recorded during lockdowns would feature HYBPA regulars who deeply understood the show's rhythm. While this limited opportunities to expose new talent – like how Bracewell and McDonald's Australian profile grew in recent years – it helped for a smoother filming process, featuring those who knew what to expect. Second, Working Dog gathered contestants in the same building as the studio, albeit in separate rooms in order to comply with government regulations. Here, everyone was directly connected to the same network, resulting in a reduced delay, easier production, and better overall filming quality.
Another ongoing challenge to contend with has been the absence of a live studio audience. Any performer will tell you about the unique energy a raucous crowd brings to the room, especially for an unpredictable show like HYBPA. There's a massive waiting list to be among the roughly 70 audience members invited to sit in on any given episode recording – some people have waited up to four years for their chance to see the popular Working Dog production up close. Unfortunately, it will be some time until members of the general public will get to join in on the fun, but the cast and crew – of which there are 70 on HYPBA, and 60 for The Cheap Seats – have capably filled in as their own hype team.
'What we reminded ourselves to do last year – and we've kept doing it – is we say "this is our party,"' Gleisner said. 'If we're enjoying the show – then hopefully people at home are enjoying the show – then you're not totally reliant on the sound of a studio audience reacting.'
It's a far cry from HYBPA's early days in 2013, where the show initially struggled to find its identity and audience in the awkward early Sunday evening time slot, stifling the risque brand of humour it's now celebrated for. Gleisner mused that the team was 'baffled' at not finding an audience in the beginning due to their strong belief in the show's format. At that point, he wouldn't have been surprised if Network Ten 'quietly removed [HYBPA] from the airwaves' because of its initial poor ratings. A transition from a half-hour runtime to a full hour and a move to the Monday primetime spot helped refresh the program. More than a ratings winner, HYBPA has also taken home multiple Logie awards among the Best Entertainment and Most Popular Comedy categories – not to mention generating a platform from which to launch The Cheap Seats.
'I take deep personal satisfaction from the fact that we weren't an overnight success, but we eventually got there,' Gleisner said.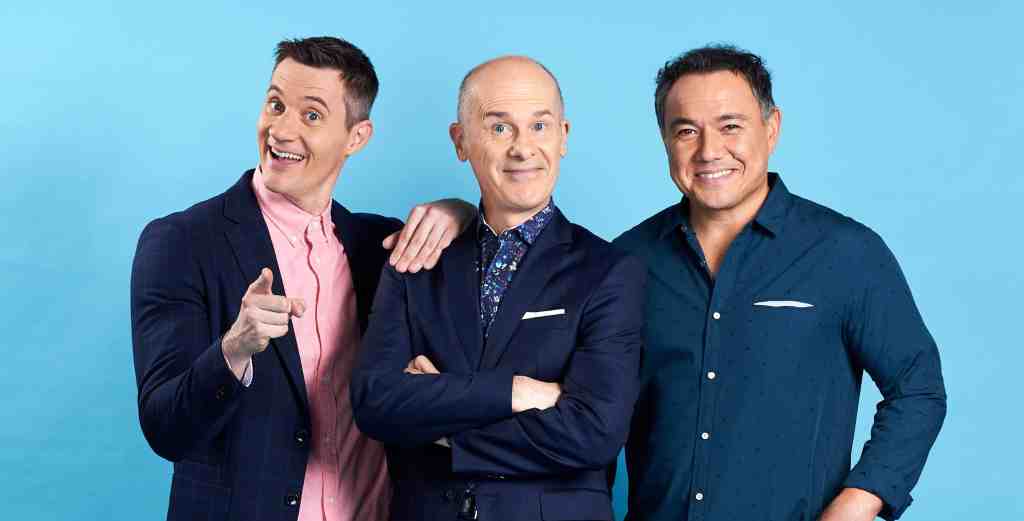 As for what has made for such a sustained period of success for Working Dog? Mateship, according to Gleisner. Whether it be with long-time colleagues Sitch, Cilauro, Ed Kavalee and Sam Pang, or the behind-the-scenes crew, so many of the people behind Australia's beloved comedies genuinely enjoy each other's company and working together – something he believes comes through in their work.
Between The Cheap Seats and HYBPA, Gleisner hopes to continue making entertaining productions with his mates for years to come.