About three years ago SBS approached Aquarius Films' producers Polly Staniford and Angie Fielder with a one-page idea for a fun female-led drama with Filipino-Australians at its core.
Fast forward through a COVID-cobbled shoot in Sydney's glamorous suburbs, and we come to the premiere last week of The Unusual Suspects, an authentic, refreshing and riotously entertaining four-part heist comedy.
'We really liked the idea of a heist show that celebrated female friendship but also unpacked the plight of the Filipino domestic workers,' remembers Staniford on the phone to Screenhub. 'That wasn't a story we'd seen before, and also, it wasn't too worthy. It was wrapped up in a really entertaining romp.'
Fielder adds, 'We related to this idea about a group of women coming together from all different walks of life and all different cultural backgrounds and working together as a team. They're all experiencing being taken advantage of, either by the system or by the men in their lives, and they rise up together against that challenge.'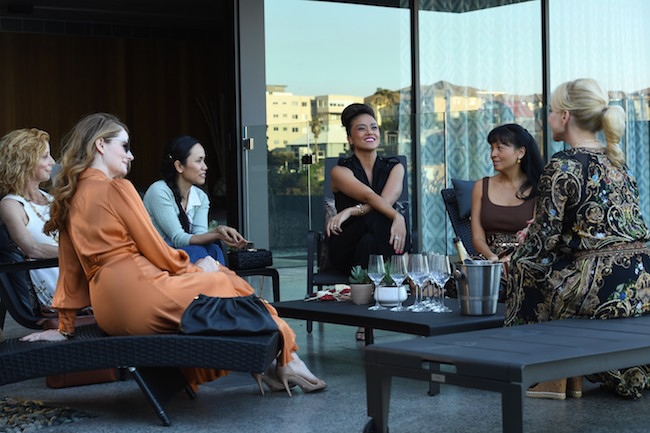 The cast of The Unusual Suspects: L-R Heather Mitchell, Miranda Otto, Aina Dumlao, Michelle Vergara Moore, Lena Cruz and Susie Porter. Photo by Tony Mott.
Read: TV Review: The Unusual Suspects is authentic and refreshing
It's not hard to see why Fielder and Staniford might be attracted to themes of female friendship and teamwork. The two women have worked closely together to build Aquarius into a significant Australian production company. In the past 14-odd years Aquarius has produced a diverse slate of projects including the multiple Oscar and BAFTA-nominated feature film Lion, as well as Wish You Were Here, Berlin Syndrome and Dirt Music. Four years ago they expanded into TV with two series of The Other Guy for Stan, YA thriller series The Unlisted for the ABC and Netflix, and upcoming ABC children's series Parent Up.
'Partner up early because producing is not really a one person job.'
Angie Fielder
Aiming to have three to five projects in production each year, Aquarius's upcoming projects in various stages of development include an adaptation of The Geography of Friendship with Rose Byrne's Doll House Pictures, Guy Pearce's directorial debut Poor Boy, the film adaptation of Hannah Kent's second novel The Good People, and a feature with documentary superstar director Jen Peedom.
If that sound like a lot for two producers you're not wrong, and in early 2020 they brought in new managing director Rachel Okine to help with growth, strategic direction, and partnerships that currently include Universal, Warner Bros. Australia and Anonymous Content, as well the previously mentioned streamers and broadcasters.
Two heads are better than one
A solid partnership has been essential to the whole enterprise. As Fielder says, 'our advice for emerging producers would be to partner up early because producing is not really a one person job.'
'I guess we'd be what you'd call a medium-sized Australian independent production company, but to manage our slate it definitely requires two producers. And the job requires such range. In any one day you've got to be so many things, wear so many hats, that it's much better to have two heads than one.'
Staniford adds: 'It's always good to when the chips are down to have someone to turn to and go, "yeah, this this sucks". And when one of us is having a bad day, the other one steps up, and there's a real team thing. We are also partnering up with other producers too, and I think there is a great magic that can result from that collaboration.'
Back in the days
A long time ago when Fielder and Staniford were at film school, neither of them dreamed of becoming producers, let alone building their own production company.
'Everyone back then wanted to be a writer and director,' says Staniford on the phone to Screenhub.'It wasn't like producing was a dirty word but I don't think we really knew much about it. But when I started working, I realised how creative and exciting it was, and how involved you are in the whole project when you're a creative producer.'
Read: Aquarius brings Rachel Okine home to form triumvirate
Fielder had a similar story. One of her first jobs out of film school was working for the British Film Institute and the London Film Festival. She found herself looking after visiting directors and producers, running them to screenings and panels and dinners. 'I loved the directors,' she remembers, 'but I really loved the producers. They seemed like the most fascinating people I'd ever met and they had the best stories. When they talked about their job, it all sounded so interesting and that's when I first considered it as a possibility.'
Fielder and Staniford first met many years ago when they were both working behind the scenes for the now defunct IF Awards. There they met David Michôd who was then editor at IF Magazine, and together they produced his career-starting short films Crossbow (which premiered at Venice) and Netherland Dwarf. They loved producing together and started Aquarius as a hobby on the side of other things they were doing – Staniford worked with Michael McMahon and Tony Ayres, while Fielder was working with other producers until their own company became the main deal. 
Playing with genre and working with SBS
The Unusual Suspects is the first project for Aquarius with SBS and they say the experience was great. Writer and creator Jess Redenbach was originally working in-house at SBS but left that role and came on board as lead writer, alongside a team that included Roger Monk and Filipino-Australian creative Vonne Patiag, who is also credited as associate producer.
Bringing in Filipino-Australian talent and expertise at every creative level of the production was essential, from lead actors Michelle Vergara Moore, Lena Cruz and the brilliant Aina Dumlao (who almost outshines the hilarious 'rich bitch with a heart of gold' Miranda Otto), to Filipino-Australian director Melvin J. Montalban, who directs along with Natalie Bailey.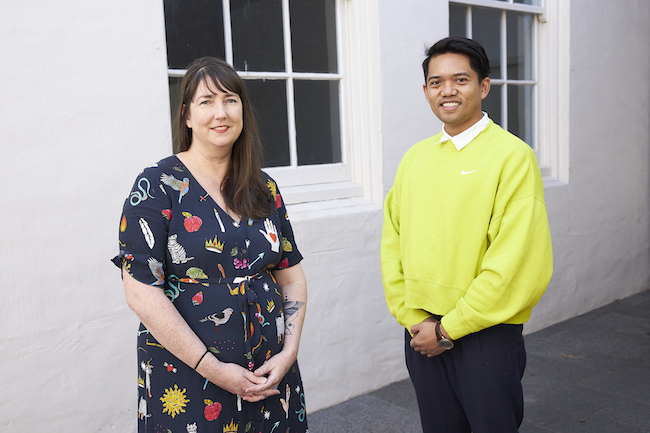 Creator-writer Jessica Redenbach and writer-associate producer Vonne Patiag on set of The Unusual Suspects. Photo: Joel Pratley.
'SBS champions such diverse storytelling,' says Staniford, 'and as a company, we've always wanted to push diverse stories, so it felt like a natural fit for us. It was exciting for us that they were willing to let us go with this show because it's pretty out there and different from what they've commissioned in the past. I think that there are definitely a broadcaster that's pushing the envelope with content and doing really unique things and kind of playing with genre.'
Fielder adds: 'The four-hour format is really nice too. It's it's kind of unique to SBS, and I think it works well as a storytelling format.'
They say they're naturally drawn to female stories, 'especially given they've been overlooked for so long,' but are also open to working with male filmmakers. 'We've got a number of projects in our slate working with really wonderful men, but they usually also have another specific layer that is about a distinctive and potentially marginalised kind of worldview. That's what we're drawn to,' says Fielder.'
The necessary skill-set of a producer right now?
'I think it depends on the project,' says Staniford. 'Every project has its own set of needs, but one of the most important things is being able to calm in the face of problems. Because producing is about putting out fires and constantly coming up with creative solutions to things. The ability to stay calm amongst the chaos is essential because it does get chaotic.'
Fielder adds: 'You need to try to have amazing people skills because you're working with so many personalities and egos, from actors to directors and HODs who want things the way they want them, and you have to be able to adapt to those personalities from project to project. You're like a psychologist, a lawyer, a best friend and a mum at times! It's definitely a role that encompasses lots of different skills.'
Producer Polly Staniford and writer Vonne Patiag on set of The Unusual Suspects. Photo: Joel Pratley.
The biggest issue facing companies like Aquarius right now?
Fielder says that the hot topic at the moment is the proliferation of foreign production coming into Australia to take advantage of our relative COVID safety, and the follow-on effect this is having on supply of available crew.
'We've got three things in production this year and we are managing to crew them, but it is more challenging than usual because everybody's spread so thin. It's probably a slightly shorter term problem than everybody was originally thinking that it was, but it is a real issue.'
Are there any particular areas that it's very difficult to crew up in? Staniford says experienced Line Producers are really hard to find. 'A lot of good line producers get snapped up by overseas or American companies coming here, and a lot of really good line producers are going up into being producers, so there's a sort of missing tier of them coming through. I think it's not a job that many people kind of desire to go into. So we find that when there's so much content being made, which there is right now, that's probably the key one that we find really hard to get people for.'
A lot of good line producers get snapped up by overseas of American companies coming here … there's a sort of missing tier…
Another major concern is the uncertainty around the increased TV Offset. 'We're all trying to figure out what it means and when exactly we're going to be able to reap the benefits for productions made this year,' says Staniford, adding, 'It's great that SPA managed to rally around maintaining the 40 per cent rebate for feature because that was a big concern for us with  features we're working on. Cinema is really struggling and we need it.'
Read: Aquarius acquires Clementine Ford's 'Fight Like a Girl' for TV series
As for finding the balance between TV and film, Fielder says, 'In general our slate is about half half film and half TV, but this year we are only having TV in production, which is probably a reflection of the state of the industry at the moment where film is a little bit uncertain, We have films we would like to put into production next year, but a lot of them involve foreign aspects and we have to wait, in some ways for the world to open before we can actually mount those.'
Final advice for producing success? 'Find people you love to work with and partner up,' says Fielder. 'Writers, directors, producers…Find those people and nurture those relationships.'