Production finished in Adelaide this week on the second series of the groundbreaking and internationally award-winning children's TV drama, First Day. The show follows the story of transgender high school student, Hannah, played by trans model and actor Evie Macdonald.
First Day was created, written, directed and co-produced by Julie Kalceff, who said on the phone to Screenhub that lockdowns had made it an incredibly challenging and exhausting 22-day shoot. For example, lead actor Evie Macdonald had come from two weeks of lockdown in Melbourne to two weeks of quarantine in Adelaide – a tough time for any 16-year-old. Then there were the problems with locations.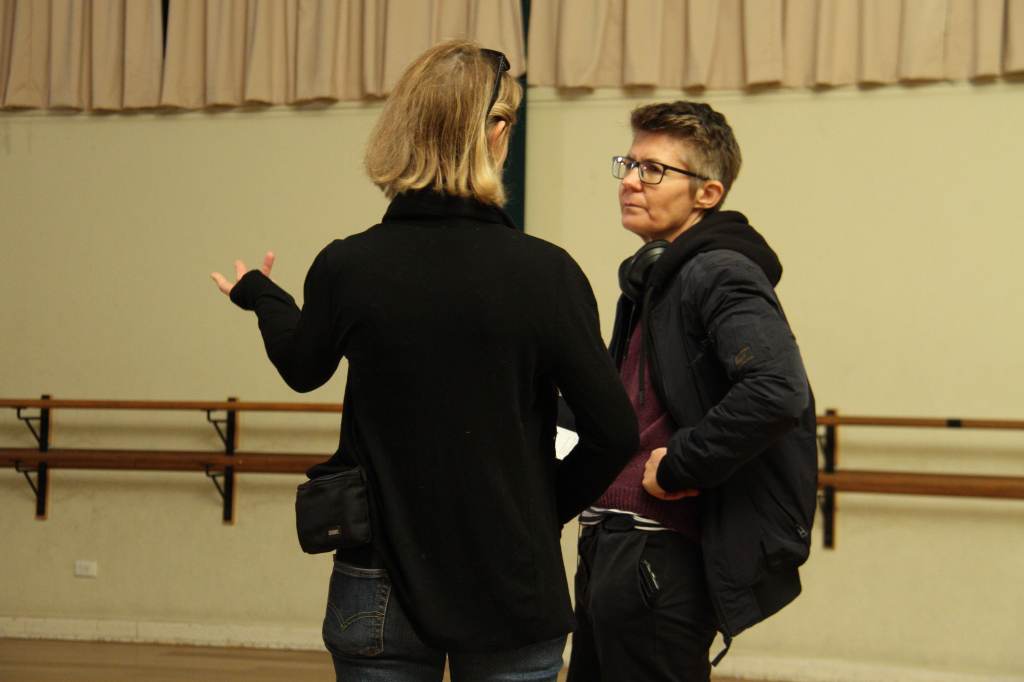 'We were only able to finish the shoot because of our fantastic producers Kirsty Stark and Kate Butler,' Kalceff said, 'and also the SAFC who were incredibly supportive. But even though we got exemptions to keep shooting during Adelaide's lockdowns, we lost all our locations, so we had to rethink them all and that pushed us out to extra days.'
Kalceff's first iteration of the show was a standalone 20-minute piece of television, made by the ABC in 2017 to commemorate the International Day of the Girl. It went on to win the MIPCOM Diversify TV Excellence Award for Kids Programming, and the Gender Equity Prize at the Prix Jeunesse International Children's Television Festival in 2018. This led to the first four-part series, screened on the ABC in 2020 and produced by South Australian wonder-producer Kirsty Stark (Stateless, Wastelander Panda) Stark and Kate Croser.
This second series (also 4×30 mins), which will premiere on ABC Me in 2022, is also produced by Stark of Epic Films, in association with Kate Butler of Kojo Studios. Kalceff co-produces, and it's well worth reading our interview with her from last year, about the origins of the show, the care taken with authenticity, and the controversy as well as the acclaim.
In the first series, the character was around 12 years old. Now she's 14 and facing a whole set of different dilemmas, which include dating and being a fully 'out' trans person.
'We really wanted to elevate this series and explore different subject areas and take bigger risks' said Kalceff. She also said she felt a lot of pressure to make it even better than the first series, with the great reception of that one raising expectations even more.
Read: Making Australia's first show starring a transgender kid: an interview with Julie Kalceff
THE HULU DEAL
The US premium streaming service Hulu (owned by Disney) bought the first series of First Day, and came on board as an investor in the second, along with Screen Australia, the South Australian Film Corporation and the ABC, and development assistance from the Australian Children's Television Foundation.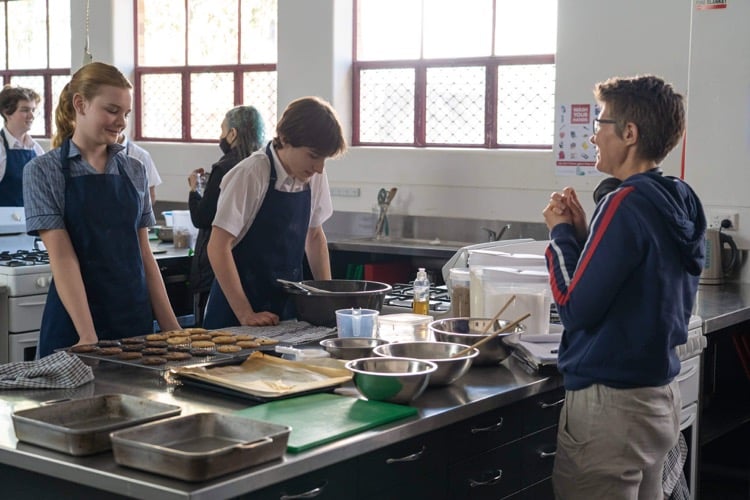 About the Hulu deal, Kalceff said it came about when they were wanting to make the second series and had a gap in their financing plan.
'Hulu had acquired the first series. In the meantime, we had been on a panel with Disney, who owns Hulu, and the execs got in touch with Hulu and said they were interested in doing more diverse content and they wanted us to be on a panel. Kirsty, Evie and I were on that panel, and so when it came to the second series we approached Hulu and asked if they'd be interested. They said "yes" so we sent them our story docs and they loved it, and asked how they could they help us get it over the line.'
'Hulu came on very early and were a principal partner with us from the start. It really helped to have that established relationship from before. Screen Australian and SAFC were on board from the start too, so we had that support, and also had the existing relationship with the ABC. Hulu were happy to carve out the rights for ABC in Australia.'
AN AUTHENTIC PRODUCTION PROCESS
Kalceff says that having trans and gender diverse people in cast and crew has always been important. In series two, trans writers Eloise Brook and Martine Delaney were part of the writer's room, and a gender-diverse attachment was part of the crew in the camera department and 'did very well there'.
Beth Neate, Head of Production and Development at the South Australian Film Corporation said in the press release that: 'First Day has not only been a trailblazer for diversity on screen but off-screen as well, and the SAFC is proud to be funding a paid attachment for a gender diverse screenmaker on series two.'
'…in season 1 we had to deal with the issue of our character not being able to go to the girls' toilets, and that issue already feels outdated, which is great!'

Julie Kalceff
According to Kalceff, although there is still a lot of prejudice and ignorance in the wider community, things have changed significantly in the conversation since the standalone episode in 2017.
'I think people are more aware now. We got a lot of really positive responses to the first season from people who maybe didn't know much about it, or who had a trans family member and were able to watch the show and then start a discussion. A lot of our cast said that with the first season their own family and friends didn't know much about what trans was, and it allowed them to talk and learn.'
'I feel that with more representation and exposure, people are becoming more aware of gender diversity, but Evie still gets a lot of comments personally, both positive and negative. There's still a long way to go.'
'I certainly think the conversation has changed in production around representation. I would hope that nobody these days would cast a cis-gender actor in a trans role. Also, in season 1 we had to deal with the issue of our character not being able to go to the girls' toilets, and that issue already feels outdated, which is great!'
GREAT EXPECTATIONS FROM THE FIRST SEASON
The initial season of First Day was released in 2020, and won its category at the prestigious 59th Rose d'Or Awards, voted on by over 80 international judges. It also picked up First Prize in the Chicago International Children's Film Festival Live Action Television Category, and most recently, a GLAAD Media Award (Children and Youth) which honour media for their fair, accurate and inclusive representations of the LGBTQIA+ community, as well as the Kidscreen Award for Best Live-Action Series.
As well as showing on the ABC in Australia and Hulu in the US, it was picked up in the UK (CBBC), Canada (CBBC), Japan (NHK), France (France Télévisions and Okoo), Finland (YLE), Norway (NRK), Sweden (SVT), Denmark, Israel (Hot TV), New Zealand (TVNV), Taiwan (MOMOKIDS), Ireland, South Africa and Brazil.
JULIE KALCEFF AND HERE OUT WEST
In other news, Kalceff is one of the five female directors on the diverse feature film Here Out West, which is one of the four finalist films up for the $100,000 prize at this month's CinefestOz in WA.
Read: CinefestOz announces full program and Nadia Tass heads jury
The other directors are Ana Kokkinos, Leah Purcell, Fadia Abboud and Lucy Gaffy. The writers, who are given an associate producer credit, are Nisrine Amine, Bina Bhattacharya, Matias Bolla, Claire Cao, Arka Das, Dee Dogan, Vonne Patiag and Tien Tran.
Producers are Annabel Davis, the CEO of Co-Curious, a company devoted to theatre and screen 'stories from another Australia' with a focus on collaborative storytelling, and Sheila Jayadev of Emerald Productions and Bree-Anne Sykes.
Comprised of eight overlapping segments, and shot in Western Sydney, Here Out West tells the story of a baby kidnapped from a hospital – 'an act that sets off a chain of events that bring together complete strangers over the course of one dramatic day.'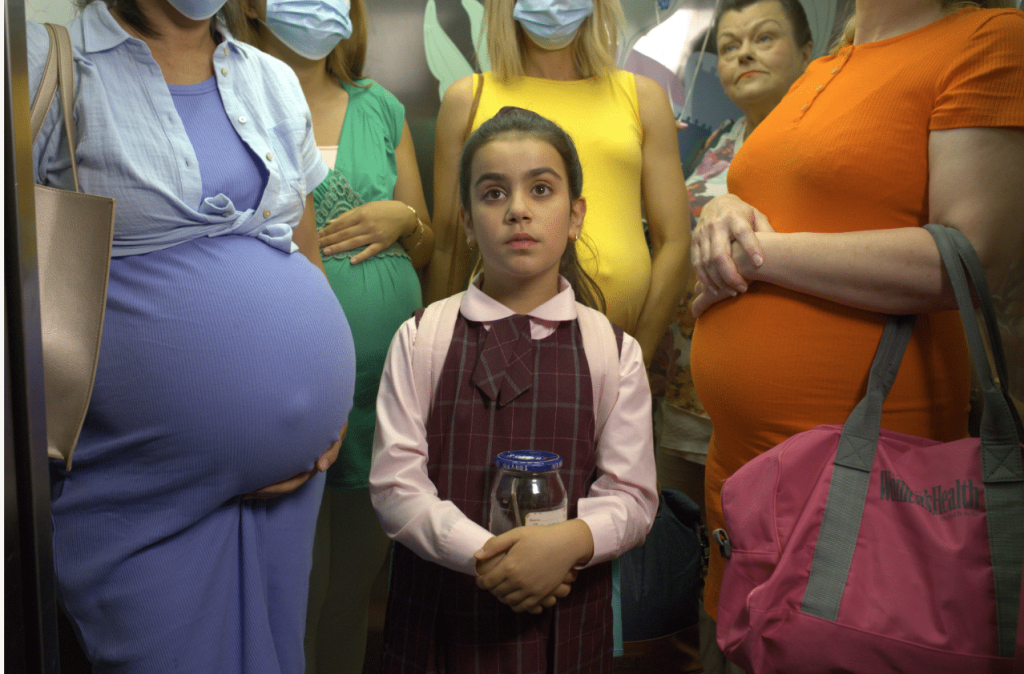 Kalceff said it had been an amazing experience to make the film 'and even just to be in pre(-production) with directors like Leah and Ana and seeing the way they worked.'
'It was just so good to be in a room with other directors and talk about how we would approach things. We had long conversations about how each story would have its own style and stand alone, but would be part of a whole. It was all shot by our amazing DP Tanya Lambert, and the same crew. And because we were all using the same locations, we'd often overlap and all be there working. Sometimes there'd be three of us. Unlike TV where it's a block you do in a series where the setup director has set up the style, this was a really overlapping experience and more collaborative.'
First Day Series 2 will screen on ABC ME in 2022. Here Out West will premiere at CinefestOz.