'Anybody's story is interesting. Everybody has a story, and everybody can relate to anybody in relation to whatever's going on in their lives,' Daniel King told ArtsHub.
King is a documentary filmmaker who, for over a decade, has been focused on capturing the First Nations experience. Part of it is about helping to 'peel back the layers of ignorance' in society and get Indigenous stories out there, but he also loves the challenge. 
Not the challenge of shaping a drama, but rather the challenge of finding the stories that already exist in every individual he meets – peeling back those layers of a person. In his own words: 'I'm just trying to work out why the hell we do what we all do'.
King is a resident at ACMI X, the coworking space for ACMI, Australia's national museum of screen culture, which houses a community of creatives. The residents of ACMI X coexist under a broad remit – the creative industries. They are videogame developers, music makers, working on children's television, or various kinds of arts projects. ACMI X is a wonderful collection of individuals focused on creative and cultural expression in a single, open-plan environment.
As an outsider, this clash of arts professionals in a busy environment seems almost counterintuitive to productivity. Being surrounded by people with vastly different skill sets that potentially have little or no relation to the projects you might be working on – is that actually helpful to the creative process?
'Yeah, it is,' King said. To him, the power of ACMI X is like a documentary, where 'everybody can relate to anybody.' By working and even simply existing among its diversity of residents, the stories you're told and the connections you can make can be life-changing.
'As a documentary filmmaker, you can basically work anywhere so long as you have a laptop. That being said, to be able to go somewhere and to actually "go to work" and have that routine is an absolutely amazing thing.' 
This is especially true for King after a turbulent year for the city of Melbourne, which was heavily impacted by two citywide COVID lockdowns in 2020. In an effort to promote COVID recovery, ACMI X is providing subsidised industry residencies until the end of 2021, more than halving the out-of-pocket costs for its industry residents to only $200 per month. 'It's all about being able to go somewhere and putting yourself in that mental space, as opposed to just being at home and getting sidetracked.' 
'But it's all about the chats, really,' he continued.
Filmmaker Daniel King. Image: Supplied

'There are some really talented people that work there within the digital and arts space… I just know that I can be speaking to someone who has knowledge of what I'm talking about or can empathise with what I'm going through, because they're more than likely to have been in the same boat.'
As with many arts professionals, King hasn't necessarily always had his sights set on his current discipline as a documentary filmmaker. He began his career in an Aboriginal art design course at RMIT University, where his interest in filmmaking was sparked by a lecturer, also a producer, who needed some volunteers for short films. But following that, he had a long stint as a drama technician, working in lighting, before deciding to become a filmmaker and instead shine a spotlight on Indigenous issues with the hope to push forward change in Australia.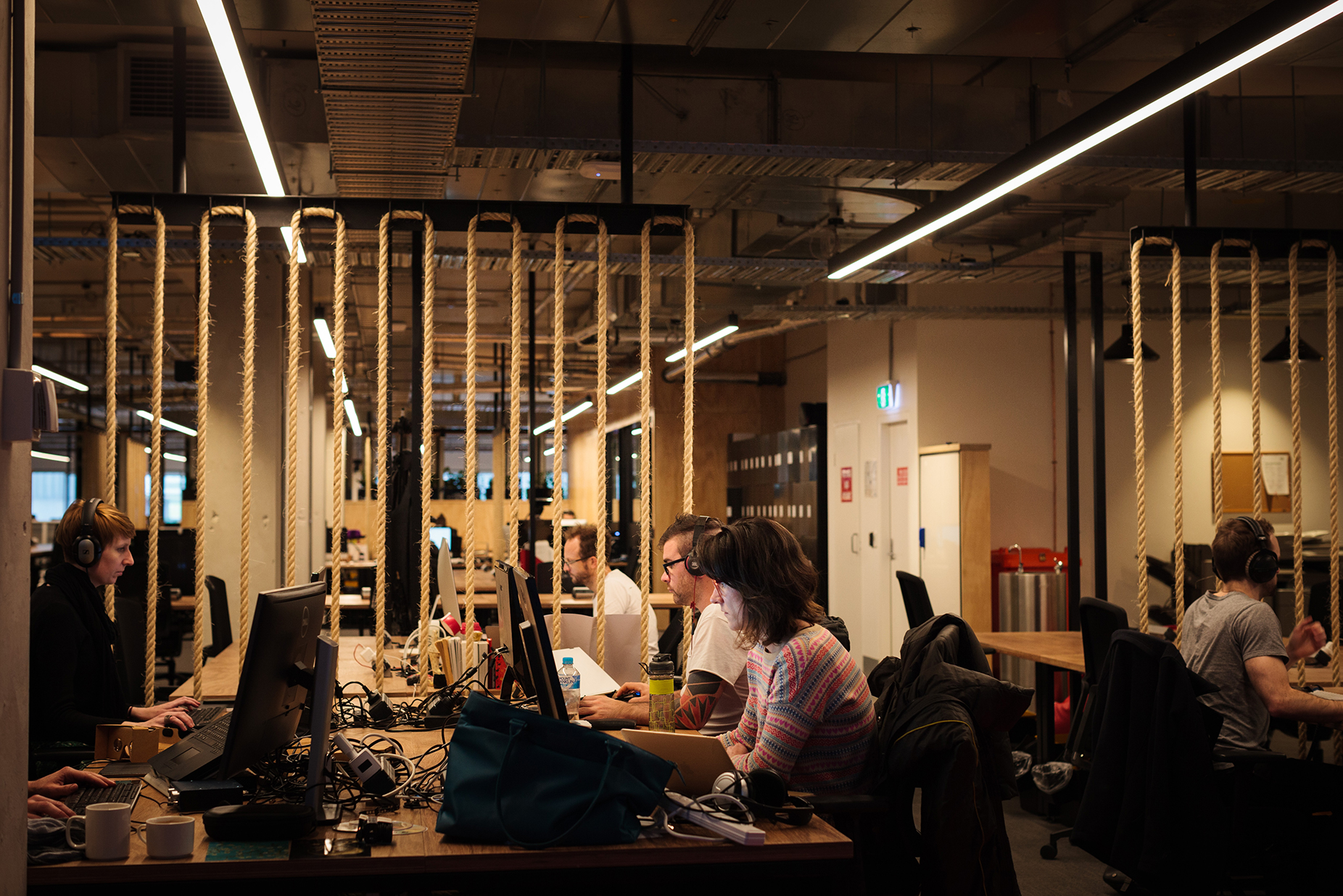 ACMI X working space. Photo: Andrew McColl
 There's plenty of life experience to be shared at ACMI X, with regular networking and mentoring opportunities, but more importantly, there are plenty of opportunities for collaborations as well, which King has started to tap into.  
As a creative who relies heavily on AV equipment, I ask King if ACMI X has any cool tech for him to leverage. 'Yeah', he laughed. 'Whiteboards – really cool tech.'
As it turns out, whiteboards are one of the most important tools for King's process – and definitely not something you'd find in the typical home office. ACMI X residents get access to a variety of office facilities, as well as special access to museum spaces. There are plenty of breakout and workshop rooms with whiteboards, big-screen TVs and video conferencing, which King frequently uses to knuckle down on planning, storyboarding, or budgeting. 'It's so good. It's so handy,' he reaffirmed. 'Oh, the internet is fast, too.'
One of King's proudest projects in recent memory was a documentary about Darebin, a North Melbourne council area that banded together to try and stop Australian citizenship ceremonies being held on January 26. Now, they are banding together for something bigger than themselves, running a wider impact campaign to encourage councils to introduce welcoming ceremonies from local First Nations people on the date instead.
ACMI X, in a way, is also a community that plays a part in something bigger. King explained that ACMI X, just by geography, is interconnected with Melbourne's arts scene. 'You're literally behind the Arts Center, close to the Australian Ballet, orchestras, ABC Radio, it's smack-bang in the middle of arts central…' It is in keeping with the spirit of creative cross-pollination that ACMI X inspires among its residents, that it lives at the heart of 'arts central'. 
ACMI X Industry Residencies are currently accepting expressions of interest.