From the opening scenes of jet fighters whooshing to Danger Zone, this is a film that draws on the original's reputation for high octane action and reconstructs its iconic moments.
Top Gun original director Tony Scott shot a movie drenched in colour, mastering light and silhouette while Top Gun: Maverick's director Joseph Kosinski (previously sequelling with Tron: Legacy) never really surpasses homage to that vision. Kosinski is so beholden to those iconic moments – leather jacket and motorbike are dusted off early – that nostalgia outweighs any forward momentum despite plenty of jet thrust. But this isn't a film made by a director. This is a Tom Cruise vehicle that was built around the original.
Captain Pete 'Maverick' Mitchell (Tom Cruise duh!) is in the last gasp of his career as a test pilot when he gets called back to the Top Gun dogfighting school where his best buddy Goose (Anthony Edwards) was killed in a fighter accident. Maverick is asked to take on a new generation of fighter pilots including Goose's gosling Rooster (Miles Teller) who has a beef with Maverick for holding him back. The new generation includes female pilot Phoenix (Monica Barbaro) and arrogant hotshot Bagman (Glen Powell) who are vying to be part of a mission to blow up a base in unnamed enemy territory.
There's a checklist of usual characters including an authoritarian new Top Gun boss Cyclone (Jon Hamm) for Maverick to buck against. And Val Kilmer returns as the wiser Iceman directing Maverick from afar. Then there is Penny Benjamin (Jennifer Connelly) who has a romantic history with Maverick that predictably re-ignites so Maverick can relive the motorbike-ride romance of the original. Penny is an Easter egg from the previous film too as she was the Admiral's daughter he got into strife with but the egg is unhatched as her romance with Maverick is little more than a jeans commercial.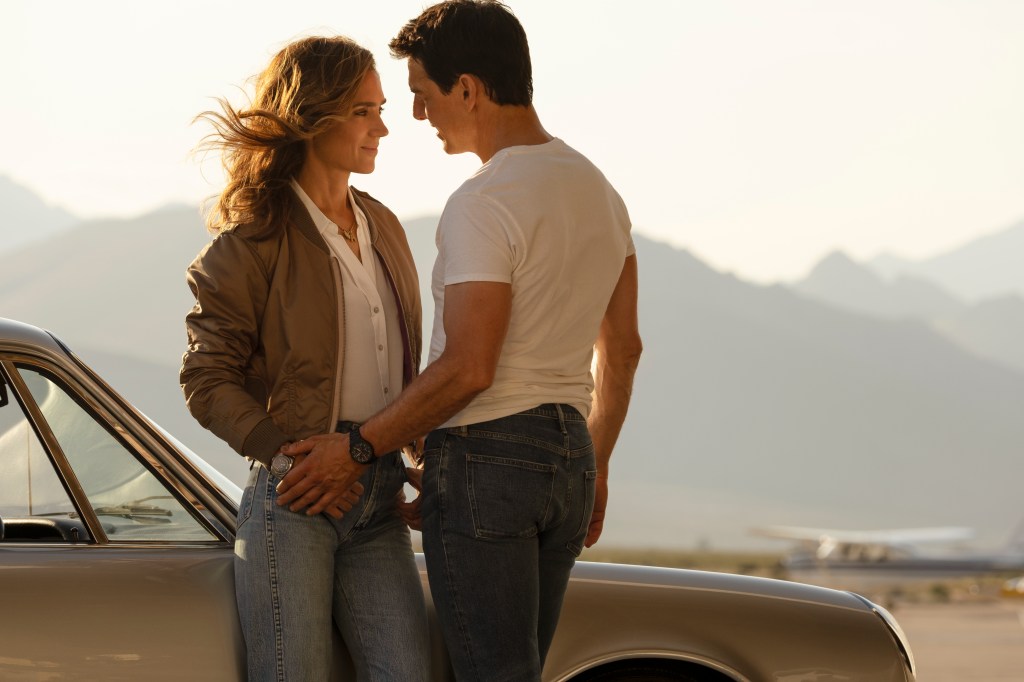 And the visuals are spectacular. Filmed in IMAX, there are plenty of jet skirmishes and sweeps across deserts to wow so audiences can switch their brains off to the script. The beachside football game (filling in for the classic volleyball of previous games) plays with sun and silhouette making the cast look like Greek gods. Cruise has hit the gym for this scene and looks good as though riding around helmetless on a motorbike is his miracle skin regime.
Cruise dominates this film which seems appropriate as Top Gun: Unknown Supporting Cast was not going to fill cinemas. But there seems little room to follow a story (Rooster flips his psychological barrier as easily as a jet manoeuvre) as Cruise chews up the screen time. We have pre-loved dialogue rehashed (Rooster inexplicably echoes his father's 'Do some of that pilot shit, Mav!' at a crucial moment).
The soundtrack – loaded with 80s songs and Great Balls of Fire with only two songs from this millennium which feel out of place in the history lesson – is another indicator of how much of this movie feels the need to honour the original. It's like the last 30-odd years have passed without incident – and Maverick and pals can just bomb away Trump and 911 with some fancy flying.
It is a joyous return rather than a new start. But the reunion of Cruise and Kilmer is a high point. If only Cruise had heeded the Yoda-like wisdom of Iceman: 'It's time to let go.'
Top Gun's top catchphrases
The original Top Gun zinged with one liners that became part of our dialect, so here's our pick of the original's dialogue:
You can be my wingman – it became the grudging respect between men that said you're not quite my equal but I trust. There's a nice callback to it in the second film between Kilmer and Cruise.
Crashed and burned – used for any disaster, whether it's Kelly McGillis telling you to hit the bricks or otherwise.
Slider … you stink – a putddown for the whole family that Cruise made more potent with that dramatic pause.
Talk to me, Goose – a call for advice or help in the middle of a dogfight though it became a little like 'Use the force': a call for calm in the heat of the moment with the advice of a friend. You'll hear it in the new film from both Maverick and Rooster.
I feel the need … the need for speed! – best accompanied by a high-five, this was a sign to pull out something extra to win.
Top Gun: Maverick
USA 2022
Director: Joseph Kosinski
Screenplay: Ehren Kruger and Eric Warren Singer and Christopher McQuarrie
Starring: Tom Cruise, Miles Teller, Jennifer Connelly, Jon Hamm, Glen Powell and Val Kilmer
Producers: Jerry Bruckheimer, Tom Cruise, Christopher McQuarrie and David Ellison
Paramount Pictures Production
Rated: M
In cinemas 26 May