Bronwyn Coate, RMIT University; Ben Eltham, Monash University, and Deb Verhoeven, University of Technology Sydney
Concerns about power imbalances and toxic working environments in the film and TV industries long pre-date the emergence of #metoo as a global rallying cry against sexual assault and harassment on set.
Well-intentioned policymakers have made many attempts to intervene over the past 50 years or so, focusing primarily on addressing gender imbalances using a "just add women and stir" approach.
In Australia this is exemplified by the Gender Matters policy suite from Screen Australia, which aims to improve the number of women working behind the scenes, and the number of productions telling women's stories.
Yet while gender inequality is important, it certainly is not all that matters if the ultimate goal is a safe, equitable and inclusive workplace. Instead, we need to take a detailed view of who works in the Australian film industry, and understand the specific challenges they face.
Read: Give female DoP's a go: Carolyn Constantine ACS
Building a camera department
Our recently published research finds inequitable power dynamics behind the camera on Australian film sets are pernicious and persistent.
Purely in terms of gender discrimination, this industry is a shocker.
Camera departments are highly skewed to male employment. The camera department is headed by a director of photography (DOP or cinematographer), and is made up of a variety of positions including camera operators, camera assistants, gaffers and grips.
An industry snapshot in 2021 reported a mere 4% of Australian films employed a woman as the DOP. The percentage of women working as cinematographers in the top 250 Hollywood movies only increased from 4% in 1998 to 6% in 2021.
Of cinematographers working in Europe between 2017 and 2021, 10% were women.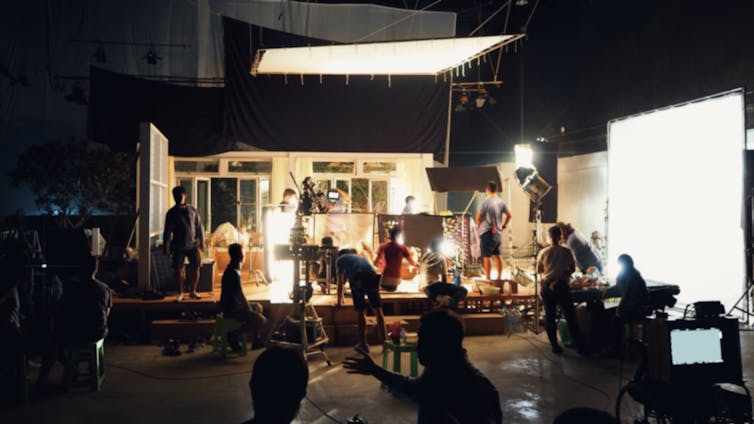 Our study draws on the survey data collected from 582 people included in the Wider Lens Report commissioned by the Australian Cinematographers Society.
Under 2% of respondents who had worked exclusively as the director of photography in the 12 months prior to COVID were women. This percentage lifts slightly to the 4% observed in other industry data when we account for women who worked across multiple camera department roles including director of photography. This discrepancy reveals how women DOPs are more likely than men to work across other (less prestigious) camera department roles.
Beyond focusing on the headline gender statistics, we also wanted to interrogate an intersectional view of discrimination inside camera crews, considering how factors such as racism, sexism, ageism, ableism and homophobia can also impact employment opportunity and experience.
What does a cinematographer look like?
Looking at the survey data, we identified four main cohorts in Australian camera departments.
Not surprisingly, the dominant and most successful in-group was Anglo-Celtic heterosexual men (37% of the total sample).
Another cohort, sharing some of the same features, is made up of heterosexual men from non-Anglo-Celtic ethnicities (34.5%).
There are also two clear, much smaller "out-groups" comprising of heterosexual women (11.5%) and a significant cohort of sexuality and gender minorities (13.5%) including lesbians, gay men, bisexuals, queer men and women, and gender non-binary people.
(A small percentage of people were not able to be assigned to any of these groupings because of missing information.)
Workplace power
Cis-heterosexual men are paid more and occupy higher status roles than women and other groups. Experiences of discrimination and harassment tend to be found in the two "out-groups" and, to a lesser extent, among men from underrepresented ethnicities.
We found 88% of heterosexual women reported experiencing sexism, and 39% of respondents from the sexuality and gender minorities group reported experiencing homophobia.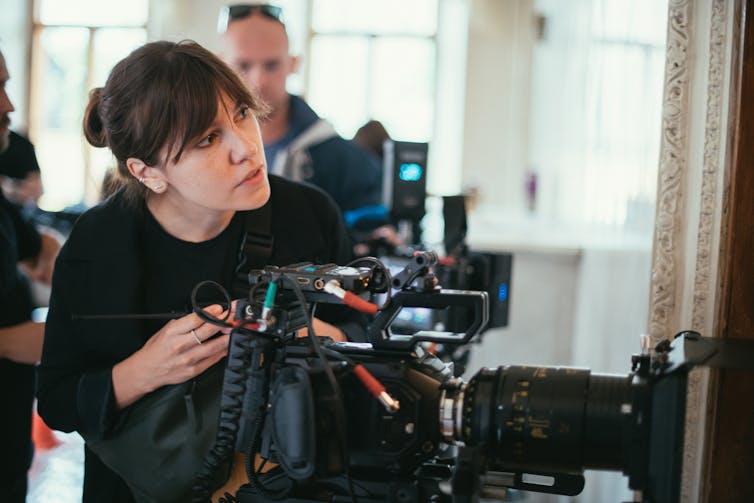 Interestingly, nearly 20% of heterosexual men also claimed to have experienced sexism. From looking at qualitative responses, we found these experiences were linked to respondents' perceptions that diversity, equity and inclusion initiatives generated disadvantage for straight men.
Experiences of ageism tended to be less concentrated in any one group, although there was one interesting distinction.
In the sexuality and gender minorities group, ageism was more likely to manifest around perceptions of being "too young" and "inexperienced". For the other groups, ageism was more likely to be linked to the perception of being "too old".
Experiences of ableism were highest for the sexuality and gender minorities group, with most reported discrimination related specifically to perceptions of mental illness.
Camera departments operate so that "who you know" and being able to "fit in" matter. Those who are not men, not White and not heteronormative often felt they were discriminated against.
Rethinking the industry
It doesn't have to be this way. In-group dominance does not require hostility and discrimination against out-group members.
Current piecemeal policy responses won't be enough to overhaul the entrenched systems and cultures that perpetuate toxic workplaces and social inequalities in the screen industries.
Typical policies focus on the idea that individuals from under-represented groups can succeed if they get more training or personal skills development.
Instead, we argue, strategies for change need to be targeted at multiple levels, and need to include wholesale reform.
This means rethinking how the agencies and guilds that endorse the industry define its values, how the business and operational layers of the film industry work to reinforce discrimination, and how such inequitable production teams are brought together.
A toxic system is supported by many individual ethical decisions. Some are acts of cowardice or fear. Some are actually bad actions that hurt people.
Some, in defiance of their context, are acts of grace and courage.
On the set and in the boardrooms where decisions are made, screen industry workplaces need to be regulated to ensure zero tolerance for toxic behaviours and structural discrimination. Where there are no real consequences for bad actions, bad actors prosper.
Anything less would be tinkering at the edges of a foundational problem.
Bronwyn Coate, Senior Lecturer in Economics, RMIT University; Ben Eltham, Lecturer, School of Media, Film and Journalism, Monash University, and Deb Verhoeven, Visiting Fellow, University of Technology Sydney
This article is republished from The Conversation under a Creative Commons license. Read the original article.