Shane Delia has a whirlwind career. Since 2015, he has expanded the Delia Group into five Melbourne restaurants on the classy end of Middle Eastern food, while fronting a string of cooking shows on TV. 
He came to prominence pretty early, as the youngest Executive Chef of a five-star property in Australia, through his work at Yarra Glen's Chateau Yering. Moving around the room, connecting with customers, he would soon have been noticed by journalists and television executives bending their expense accounts. He filled in on breakfast TV, moved to Ten later in the day and demonstrated his ability to look into a camera while his hands flicked food precisely around hot, sharp objects.
Now 41, and with the Delia group continuing to expand, he has come to roost at SBS, the best home for a proud Maltese boy from the western suburbs of Melbourne. He understands the financials as an owner and a consultant, and a brand ambassador for the swanky Mercedes Benz Australia and the gritty Western Bulldogs. Despite his broad, muscular build, he also helps Melbourne FC in its work to turn the lean, nimble European game into our own. 
'I'm still a carrot-chopping chef. I run restaurants, it's what I do. The TV stuff is a luxury for me – I get a chance to connect with people in a way that's really meaningful, in their home, and I get them to open their eyes to a world that I love.'
Shane Delia 
His latest series, A Middle East Feast, is a modest affair, smaller and more focused than his previous Spice Journeys in which he travelled the Mediterranean. He works in front of a small studio kitchen, with the occasional wider shot to allow him to dominate the atmosphere.
The rest of it is about food, glistening, smoking, bubbling, jumping and melting before our very eyes. If you don't long to reach into the image with a spoon, you have no soul. You won't need a tongue because he does all the talking. 
It is really worth watching how he connects with the food and how he talks. He is gentle, subtle and direct, adroit at the hard art of putting simple words to flavours. You can learn a lot about him from this photo of him with his Mum.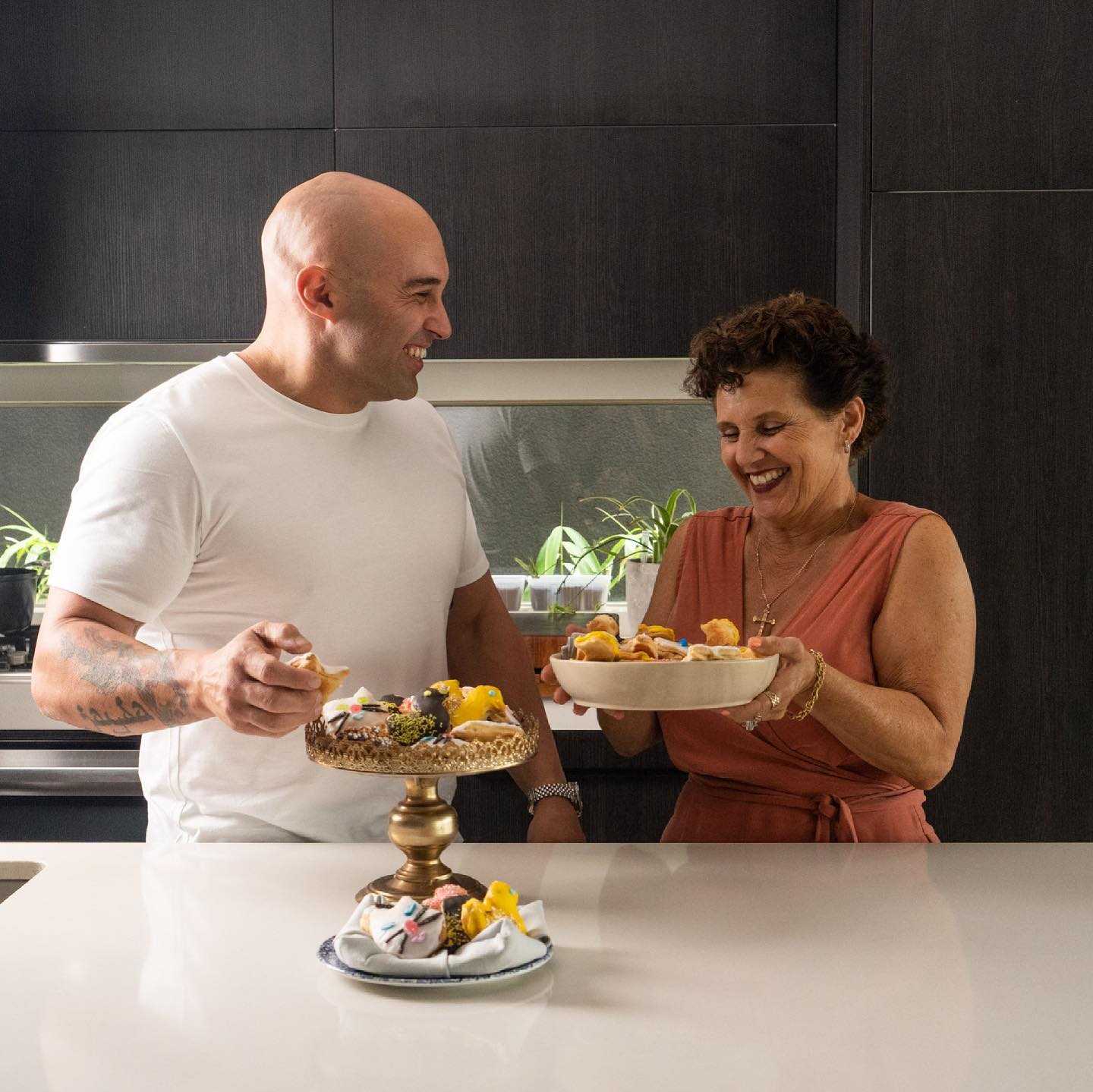 Image: Shane Delia | Facebook
Screenhub interviewed him in his rush to publicise the next series. I've cut out all the messy bits.  
SH: What made you make the transition from being a full on carrot-chopping chef to television personality?
Delia: Somebody thought, "You are a good looking bloke, maybe you should be on our network." I took a spot on Ready, Steady Cook for a few years. SBS put out a challenge to production companies saying, "Hey, we want to shoot a a travel show that shows the beauty and wonder of the Middle East." Three or four production companies came to me, and one specific company said, "If you were to do a show in the Middle East, where would you go and what would it be about?" I liked that approach, and so I signed up with Essential Media." [Now known as EQ Media Group]
In the background I'm still a carrot-chopping chef. I run restaurants, it's what I do. The TV stuff is a luxury for me – I get a chance to connect with people in a way that's really meaningful, in their home, and I get them to open their eyes to a world that I love. I feel very privileged to be given that opportunity but I'm also aware that there's some responsibility that comes with that as well. It's something I've fallen into but I love it now, and you know I'm really grateful to define my life.
SH: And that show turned into three series of Spice Journey, travelling through the culinary delights of the Mediterranean and the Middle East, which were sold to around 150 countries. You are a rare creature because you can look into a camera very happily without flinching. What is the secret to doing that?
Delia: I think being confident within yourself, being happy inside your own skin. Understanding your subject is really important. I can't get on stage and do a keynote about the fashion industry, I don't understand the topic so I can't be in front of a camera shooting down the barrel. What I have comes easily because I am passionate about it. I think it is really about being passionate, and having self esteem and having good people around me – having a really good film crew, a great producer that believes in me and knows how to work around my skills.
SH: In this latest program, you acknowledge what the audience wants to see which is actually not you – it's the food.
Delia: I'm just the presenter. I'm just there to help people connect through me. We want to show people food and flavour in ways that they can add a little bit of excitement to their culinary repertoire.
SH: You are really good at putting words to flavours. Not many people can do that.
Delia: I try to keep it pretty simple, but I'm a simple guy. I'm a boy from the western suburbs of Melbourne who left school at a young age to start an apprenticeship as a chef. I don't have to show off and use this amazing vocabulary. Vocabulary to explain things that people don't connect with. I think, keep it simple, explain why, and try to connect with an emotion. Don't say, "This should be opaque and this should be translucent". What does it taste like? It should taste like raw sugar, it should taste like caramelised sugar, it should have a burnt flavour, it should be really rustic.  Make people feel comfortable. Make people feel comfortable to get it wrong, because there is really no wrong. It's cooking at home – you're not going to lose a Michelin star. 
SH: Simplicity works. Recipes are handed down for generations. Grannies can get it right. When people say its not like my Mum's cooking it really means something. 
Delia: When you talk about Mum's cooking, it's not always about the flavour. There's so many emotions wrapped up in that – the smell of Mum, the thought of Mum, the way you felt back when you were a kid or a teenager. There is so much wrapped up in that it is hard to compete with.
SH: What made you decide to get an apprenticeship as a chef? Did you know what you were doing?
Delia: 100% I knew what I was doing. I've always thought that it was just common practice – you were born and you know what you want to do but the more I speak to people I discover that is not usually done. I've known from my earliest memories that I wanted to be a chef. It wasn't a career path that was sought after – it was full of cooks, beggars and bloody criminals. But there was something about the hierarchy of the kitchen. There was something about the the creativity, the freedom, but also the camaraderie and the friendship that just drew me in. When I started cooking, I went, "Wow, this is a world that I just belong to and I'll never get away from it."
SH: Did you come from a family of cooks?
Delia: No, no. My Dad working for a tyre company and my Mum was a kindergarten teacher and my grandfather was a sergeant of police. But my great-grandfather and all of his brothers and two or three generations back were bakers. But I come from a Mediterranean family. We're Maltese. We were first colonised by the Phoenicians and the bulk of our language is Arabic, but we have kind of lost our identity in the EU. But growing up in that environment I had a really big love for food, for what food means in our family.
SH: If someone gave you an opportunity to do bigger things, what would you do?
Delia:  I know what I don't want to do. I don't want to be a game show host. I don't want to be the the main judge on a reality TV food show. I like doing my little things with purpose. I like doing anything with purpose. I think I'd like to be involved in anything that broadens people's horizons, gives them an opportunity to dream bigger and connect in more meaningful ways. TV is an opportunity to connect with people through a new medium, but it's not my main driver. 
'I'm constantly seeking that dopamine. So, I need challenging environments.'
Shane Delia
SH: There is some management drive in you, to build companies and run things. There must be.
Delia: ADHD. I mean that's amazing. That's my secret weapon. I can't do things in first gear, I snap through first, second and third pretty quickly. And I need to run, walk and I want to do things that keep me motivated. I'm constantly seeking that dopamine. So, I need challenging environments.
SH: But you are in control of your rhythm. 
Delia: Control as much as possible, as much as anyone can be.  I think the core in business and life is controlling the controllable.  For the first time in my life I kind of feel that everything's coming together really well, and I'm pretty happy. Life's good. 
A Middle East Feast starts on SBS Food at 8pm on Thursday June 24. It is an  H Squared production for SBS.