Animation nerds of the world (and particularly Victoria) unite: a brand new animation studio is opening its doors in Melbourne this year. Victorian Creative Industries Minister Danny Pearson said he was 'proud to welcome Princess Bento Studio to our state and screen community, and the 150 new jobs it creates.'
Pearson reiterated the Victorian Government's support for this initiative, saying that, 'We look forward to seeing more Victorian-made animation projects hitting the screen.'
'We look forward to seeing more Victorian-made animation projects hitting the screen.'
Danny Pearson
Princess Bento Studio is the outcome of an international partnership between production houses. Emmy Award-winning US animation studio Bento Box Entertainment, founded by Scott Greenberg and Joel Kuwahara and responsible for iconic series including The Simpsons and Bob's Burgers, will join forces with Victoria's own Princess Pictures, founded by Summer Heights High producer Laura Waters in 2003. Also responsible for How to Stay Married, Wrong Kind of Black and Superwog, Princess Pictures recent animation products include Yolo: Crystal Fantasy and the AACTA-nominated short, Koala Man.
READ: Screenworks Announces Regional to Global Screen Forum Program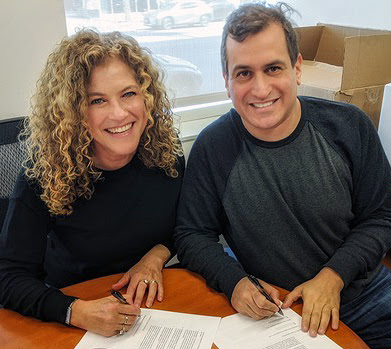 Princess Pictures Founder Laura Waters with Bento Box Co-Founder Scott Greenberg.
Image supplied. 

 Princess Bento Studio will create 150 full-time technical and creative jobs for Victoria's animation sector. As well as generating new ideas, the team will work on a pipeline of animation projects bound for local and international audiences. The new Melbourne-based studio will be owned by FOX Entertainment, with sister studios in LA and Atlanta. Melbourne is the studio's first international outpost.
'Melbourne is home to a vibrant creative community, one of the best in the world'
Scott Greenberg

The economic contribution of Victoria's screen industry is significant; in the financial year before COVID-19 shut down sets and operations around the country, Victoria's screen sector generated $2.2 billion, creating 17,000 full-time jobs. Following the success of Victoria's lockdowns, work on films, television series, commercials and more are back up and running under new COVID-safe guidelines, while many international productions are still at a standstill. 
Bento Box Productions co-founder Scott Greenberg said he was 'proud' to partner with Princess Pictures on this new endeavour: 'Melbourne is home to a vibrant creative community, one of the best in the world, and we are excited to start working with the many talented animators, production and support staff in the region on a slate of exciting animation projects.'