Two of the most iconic movie monsters are set to clash again in the sequel to Godzilla vs Kong, which, according to the Queensland government, begins filming on the Gold Coast and in Eastern Queensland this year.
The yet-to-be-titled sequel pits movie titans Godzilla and King Kong together for a rematch, for currently unknown reasons. In their last clash, the human leads (Millie Bobby Brown, Julian Dennison and Alexander Skarsgård) lured the giant ape into a placed called the Hollow Earth, to retrieve a power source for a secret weapon that would stop Godzilla's rampages.
The upcoming production was drawn to the Gold Coast by the Federal Government's Location Incentive Program, which has secured it with $16 million in funding. A government spokesperson said that the filming of the latest Monsterverse movie will both boost the Queensland economy and jobs market, with plans to employ some 500 Australians.
Read: Elvis film trailer: first reactions to Baz Luhrmann's biopic
Government promises hundreds of film jobs
'The sequel to Godzilla vs. Kong will boost local businesses in and around the Gold Coast and South East Queensland, provide valuable training opportunities for our up-and-coming industry talent, and showcase Australia's vibrant and versatile landscapes,' said Paul Fletcher, Minister for Communications, Urban Infrastructure, Cities and the Arts.
'This marks the 15th production drawn to Queensland under the Location Incentive, attracting more than $136 million in funding from the Federal Government and a generating a total expenditure of $1.02 billion. This investment has created more than 6,800 jobs for Aussie cast and crew, and provided support for 6,600 businesses throughout the sunshine state.'
Some of the most recent blockbusters filmed in Queensland include Baz Luhrmann's Elvis biopic, Escape from Spiderhead with Chris Hemsworth, Ron Howard's Thirteen Lives, and George Clooney/Julia Roberts vehicle Ticket to Paradise.
The Queensland Government has also contributed $6.3 million to the production under Screen Queensland's Production Attraction Strategy.
Read: Australian Directors' Guild launches Queensland initiative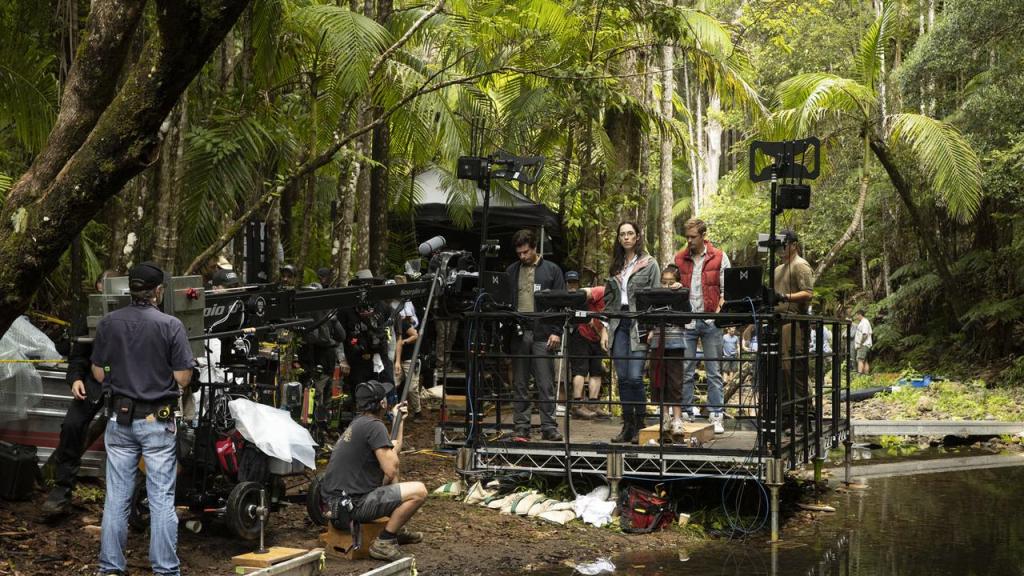 Film producer Eric McLeod said the team are excited to be returning to Australia for the third time in the Monsterverse franchise.
'The highly skilled crews, first-rate facilities, and unique locations make filming in Australia a great experience. The support from both the federal government as well as Queensland has always been critical to our success in achieving a high level of filmmaking and an unparalleled audience experience,' Mr McLeod said.
Are more Hollywood productions the answer to a thriving Australian screen industry?
ScreenHub spoke to Dr Lisa Bode, a senior lecturer in film and television studies at the University of Queensland. She said that the question of whether Hollywood productions have real value or benefit to Australians is 'a conversation that Australians have been having for several decades now. The argument is usually split between economic concerns and cultural concerns: Australian film industry, and Australian screen as a cultural form.
'Clearly below-the-line crew located in the Gold Coast will benefit from this in terms of income, industry experience, and networking. Local vendors, accommodation, and other service providers will benefit too. Not everyone is a winner, economically.
'There's no tangible benefit to the Australian screen acting community if no locals are cast,' Bode added. 'But if the Gold Coast wasn't chosen as the production location, would this translate into benefits for screen actors, or simply lost opportunities for below the line crew? It would depend on whether or not the Godzilla vs Kong sequel was competing with other projects (that did​ plan to cast locals) to shoot at the Gold Coast facilities and deploy these workers. I don't know if that's the case.'
'In terms of the cultural concern, back in the 1980s film critic Sandra Hall declared that the building of the Gold Coast studios would lead to Australians and Australian locations serving a "soulless internationalism" on screen (her words, not mine).
'But I think if we consider this alongside the current content boom in online streaming, the popularity of Australian horror, the popularity of shows like Bluey, that there is still room for Australian accents and stories, here and internationally. The blockbuster does not cancel that out – unless of course blockbuster production in Australia is snaffling up all the below-the-line talent, facilities, and locations, and making it more difficult for smaller productions to access these resources'.
The Godzilla vs Kong sequel will start filming in late 2022.