The Australian Bureau of Statistics is tracking jobs and wages pretty closely at the moment, and the latest figures reveal the full impact on the arts and recreation sector. 
Between March 15 and April 18, the sector lost 27% of its employee jobs, which are counted through the Single Touch payroll system. Sole traders are not included; if your superannuation is not taken out of your pay, then your role is not in these numbers. 29% of small employers don't use the system, so the real figures for people who lost jobs is significantly higher. 
The total loss of employment across Australia during that period is 650,000 and 700,000 people. 
Here is the full graph from the ABS.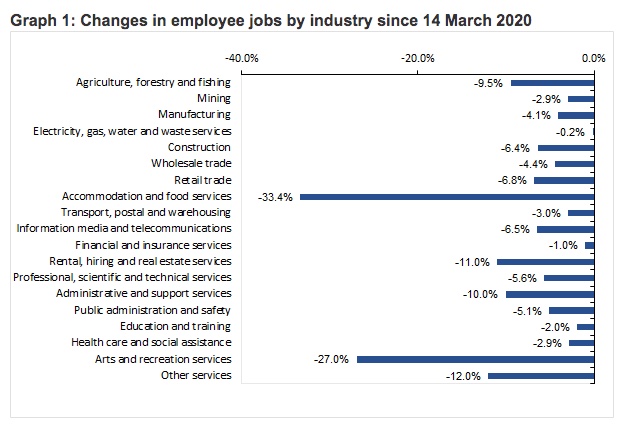 Graph via Australian Bureau of Statistics.
What about wages?
The total wages bill in Arts and Recreation went down by 17.3%, while the loss in Accommodation and Food Services dropped by 30.3% which is a breathtaking number. It's hard to work out what they mean because they combine cuts in paid wages with complete job losses. But we have to remember that these two sectors tend to be low income areas. 
People in the arts sector often have multiple jobs, which tend to be in both of those sectors. The cliche of waiters trying to be performers is pretty real. So the usual fall-back strategies for many people have also disappeared. 
And gender?
In general, 
Employee jobs: Those worked by females decreased by 8.1% and those worked by males decreased by 6.2%
Total wages: Payments to males decreased by 8.9% and payments to females decreased by 7.0%
Wages loss for men is larger too, because statistically they get paid more in the first place, or have higher status. 
And Union members?
The Media, Entertainment and Arts Alliance adds some more figures. 
 Chief executive Paul Murphy
'[MEAA CEO] Mr Murphy said a recent survey of more than 1000 MEAA members found 68.3% currently had no work because of COVID-19 restrictions, and 60.9% had no significant income.
Almost one-in-five (18.8%) were unable to access any government income support, while 16.2% were ineligible for JobKeeper but would receive JobSeeker. Another 41% were still waiting to find out about eligibility.'
And by State?
The wages are all over the place in general. Here is an ABS chart which looks at a week and then the month.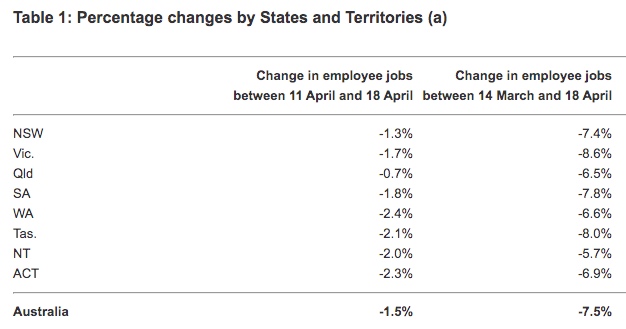 Graph via ABS