After this horror year, even the most jaded of us are hungry for red carpet pictures and the sight of genuine stars turning out to celebrate the achievements of the industry. Bring on the spectacle of last night's AACTA Awards Ceremony, held at the Sydney Opera House. Baz Luhrmann was there, Eric Bana was there (winning the audience award for Favourite Actor), Taika Waititi turned up, and Baker Boy performed.
There was some genuine Australian diva dress action, coming from the likes of Deborah Mailman in queenly royal blue, Sarah Snook in red, Susie Porter in hot pink, Rebel Wilson and Rachel Griffiths in gold. (She won Best Supporting Actress in TV for her turn as a wily politician in the ABC's Total Control.)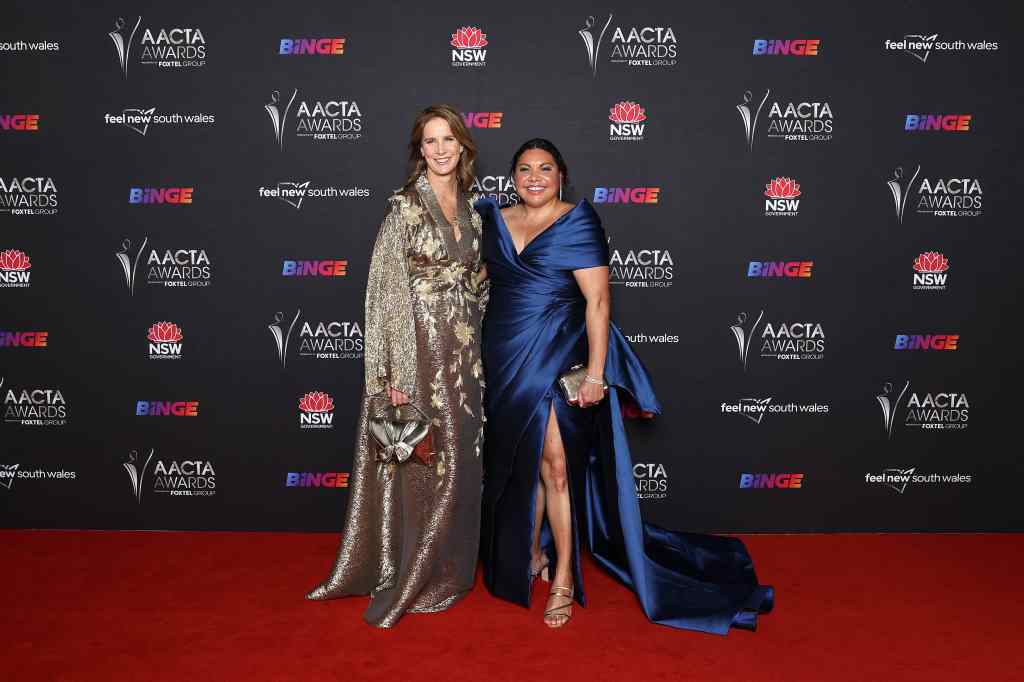 Yes, the whole awards process is flawed, and yes some of AACTA's ever-evolving categories seem arbitrary or even cynical, but on the whole, good productions were recognised, many of the awards remain judged by peers and even from a distance, last night's Ceremony (broadcast on Ten with highlights coming to Foxtel and AACTA TV) looked like something pretty special.
Read: AACTA Industry Awards Winners 2021: the first batch
Just a week after his death, and on the 50th anniversary of his unforgettable debut in Walkabout (1971), the late iconic actor and performer David Gulpilil Ridjimiraril Dalaithngu AM was awarded the Academy's highest honour, the Longford Lyell Award, in recognition of his outstanding contribution to the Australian screen Industry.
It seemed fitting that the documentary about the actor, My Name is Gulpilil (directed by Molly Reynolds and produced by Rolf de Heer, Peter Djigirr and David Gulpilil) won the AACTA for Best Documentary. The film also won Best Editing in Documentary for Tania Nehme.
AACTA President Russell Crowe was there, lending star power and presenting, and also paying homage to his close friend and The Sum of Us co-star Jack Thompson for his impressive 50-year career.
Nitram and The Newsreader dominated the awards, collecting 13 honours between them. The Newsreader led the pack for television with five AACTAs, including acting wins for Anna Torv and William McInnes, while Fires, also for the ABC, won Best Miniseries or Telefeature.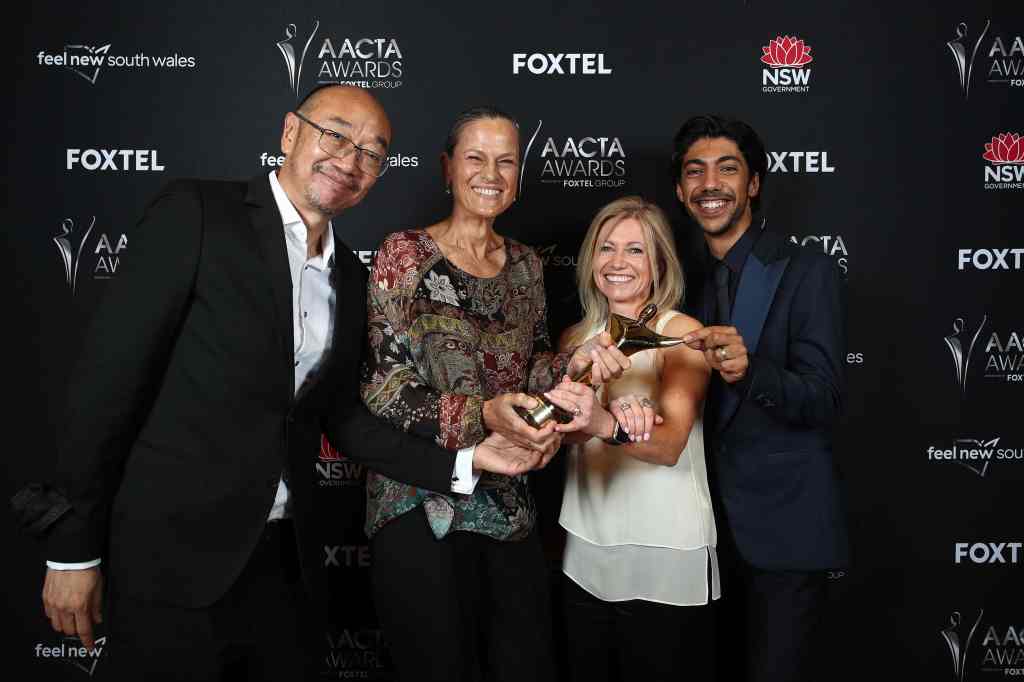 Nitram took out the major categories for film, including Best Director and Best Film and wins for all four of its lead cast of Caleb Landry Jones, Anthony LaPaglia, Judy Davis and Essie Davis.
Scott Ryan won two AACTA's for his TV series about an endearing hitman, Mr Inbetween: winning both Best Lead actor in TV, and Best Screenplay.
The no-frills all-laughs ABC series Fisk won for Best Narrative Comedy and its star and creator, Kitty Flanagan, was named as best comedy performer; while the ABC's Bluey continues its awards run with Best Children's Program.
The Award for Best Visual Effects or Animation was taken out by Animal Logic for Peter Rabbit 2, while Best Production Design in Film was won by Naaman Marshall for Mortal Combat. Mortal Combat also won Best Sound for the team of Robert McKenzie, James Ashton, Des Kenneally, Adrian Medhurst, Jed Dodge and Phil Heywood.
Up against some stiff competition, composer Christopher Gordon won Best Score for Film for his work on the smallish coming-of-old-age drama June Again, starring Noni Hazelhurst and Claudia Karvan.
Read the whole list below, some of which were announced previously at the AACTA Industry Awards earlier in the week.
Congratulations to all the winners. And here is a bit of red carpet footage if you're in the mood.
Full list of 2021 AACTA Awards Winners
TELEVISION
AACTA Award for Best Children's Program: Bluey – Charlie Aspinwall, Joe Brumm, Daley Pearson, Sam Moor – Ludo Studio (ABC)
AACTA Award for Best Cinematography in Television: Fires (Episode 2: Everything's Gone) – Bonnie Elliott
AACTA Award for Best Comedy Entertainment Program: Hard Quiz – Kevin Whyte, Chris Walker, Tom Gleeson, John Tabbagh – Thinkative Television & ABC (ABC)
AACTA Award for Best Comedy Performer: Kitty Flanagan – Fisk
AACTA Award for Best Costume Design in Television: New Gold Mountain (Episode 1: Propriety) – Cappi Ireland
AACTA Award for Best Direction in Drama or Comedy: The Newsreader (Episode 1: Three, Two, One…) – Emma Freeman
AACTA Award for Best Direction in Non-Fiction Television: Love on the Spectrum (Episode 4) – Cian O'Clery
AACTA Award for Best Documentary or Factual Program: Old People's Home For 4 Year Olds – Debbie Cuell, Bethan Arwel-Lewis – Endemol Shine Australia (ABC)
AACTA Award Best Drama Series: The Newsreader – Joanna Werner, Michael Lucas – Werner Film Productions (ABC)
AACTA Award for Best Editing in Television: Clickbait (Episode 1: Five Million Hits) – Rodrigo Balart
AACTA Award for Best Entertainment Program: Sydney Gay and Lesbian Mardi Gras 2021 – Paul Clarke, Stephanie Werrett, Josh Martin – Blink TV (SBS)
AACTA Award for Best Factual Entertainment Program: Love on the Spectrum – Jenni Wilks, Karina Holden, Cian O'Clery – Northern Pictures (ABC)
AACTA Award for Best Lead Actor in a Drama Presented by Foxtel: Scott Ryan – Mr Inbetween
AACTA Award for Best Lead Actress in a Drama Presented by Foxtel: Anna Torv – The Newsreader
AACTA Award for Best Lifestyle Program: Grand Designs Australia – Michael O'Neill, Brooke Bayvel – Fremantle (Foxtel)
AACTA Award for Best Miniseries or Telefeature: Fires – Tony Ayres, Andrea Denholm, Liz Watts, Belinda Chayko, Elisa Argenzio – Tony Ayres Production (ABC)
AACTA Award for Best Narrative Comedy Series: Fisk – Vincent Sheehan – Porchlight Films (ABC)
AACTA Award for Best Production Design in Television: The Newsreader (Episode 1: Three, Two, One…) – Melinda Doring
AACTA Award for Best Reality Program: MasterChef Australia – Marty Benson, Adam Fergusson, Eoin Maher – Endemol Shine Australia (Network Ten)
AACTA Award for Best Original Score in Television: New Gold Mountain (Episode 1: Propriety) – Caitlin Yeo
AACTA Award for Best Screenplay in Television: Mr Inbetween (Episode 6: Ray Who?) – Scott Ryan
AACTA Award for Best Sound in Television: Fires (Episode 2: Everything's Gone) – Emma Bortignon, Paul Pirola, Roger Van Wensveen, Brendan Croxon
AACTA Award for Best Stand-Up Special: Hannah Gadsby – Douglas – Hannah Gadsby, Kevin Whyte, Kathleen McCarthy, John Irwin – Irwin Entertainment & Token Events (Netflix)
AACTA Award for Best Supporting Actor in a Drama: William McInnes – The Newsreader
AACTA Award for Best Supporting Actress in a Drama: Rachel Griffiths – Total Control
FILM
AACTA Award for Best Adapted Screenplay in Film: The Dry – Rob Connolly, Harry Cripps
AACTA Award for Best Cinematography in Film: The Dry – Stefan Duscio
AACTA Award for Best Costume Design in Film: High Ground – Erin Roche
AACTA Award for Best Direction in Film: Nitram – Justin Kurzel
AACTA Award for Best Editing in Film: Nitram – Nick Fenton
AACTA Award for Best Film: Nitram – Nick Batzias, Virginia Whitwell, Justin Kurzel, Shaun Grant – GoodThing Productions
AACTA Award for Best Indie Film: Ellie and Abbie (& Ellie's Dead Aunt) – Monica Zanetti (Dir.), MahVeen Shahraki, Patrick James – Brazen Lot formerly Cobbstar Productions
AACTA Award for Best Lead Actor in Film: Caleb Landry Jones – Nitram
AACTA Award for Best Lead Actress in Film: Judy Davis – Nitram
AACTA Award for Best Original Screenplay in Film: Nitram – Shaun Grant
AACTA Award for Best Production Design in Film: Mortal Kombat – Naaman Marshall
AACTA Award for Best Original Score in Film: June Again – Christopher Gordon
AACTA Award for Best Sound in Film: Mortal Kombat – Robert McKenzie, James Ashton, Des Kenneally, Adrian Medhurst, Jed Dodge, Phil Heywood
AACTA Award for Best Supporting Actor in Film: Anthony LaPaglia – Nitram
AACTA Award for Best Supporting Actress in Film: Essie Davis – Nitram
SHORT FORM
AACTA Award for Best Short Form Comedy Presented by Facebook: All My Friends Are Racist – Enoch Mailangi, Kodie Bedford, Bjorn Stewart, Liliana Munoz –Maximo Entertainment & Hoodlum Entertainment
AACTA Award for Best Short Form Drama: The Tailings – Liz Doran, Richard Kelly, Stephen Thomas, Stevie Cruz-Martin, Caitlin Richardson – Good Lark Pty Ltd, The Two Jons & Roar Film
AACTA Award for Best Short Form Entertainment: Strong Women – Corinne Innes, Alexandra Gaulupeau, Ann Megalla, Patrick McCabe – Strong Women Documentary Pty. Ltd. & AM Media
DOCUMENTARY
AACTA Award for Best Cinematography in a Documentary: The Beach (Episode 1: Too Mad Too Shy) – Dylan River
AACTA Award for Best Documentary: My Name is Gulpilil – Molly Reynolds (Dir.), Rolf de Heer, Peter Djigirr, David Gulpilil – Vertigo Productions
AACTA Award for Best Editing in a Documentary: My Name is Gulpilil – Tania M. Nehme
AACTA Award for Best Original Score in a Documentary: Playing With Sharks – Caitlin Yeo
AACTA Award for Best Sound in a Documentary: Life in Colour with David Attenborough (Episode 1: Seeing in Colour) – Wayne Pashley
AUDIENCE CHOICE AWARDS
Favourite Actor: Eric Bana
Favourite Competition Reality Show: LEGO® Masters Australia
Favourite Digital Comedy Creator: Sooshi Mango
Favourite Entertainment Show: Gardening Australia
Favourite Film: The Dry
Favourite Television Drama: Wentworth
Favourite Televission Host: Costa Georgiadis – Gardening Australia – ABC
OTHER
AACTA Award for Best Casting Presented by Casting Networks: High Ground – Anousha Zarkesh
AACTA Award for Best Hair and Makeup presented by HASK: Australian Gangster – Sheldon Wade, Helen Magelaki, Mariel McClorey, Donna Kennedy
AACTA Award for Best Visual Effects or Animation: Peter Rabbit 2 – Will Reichelt, Simon Pickard, Simon Whiteley, Fiona Chilton, Jason Bath, Matt Middleton – Animal Logic