Netflix has announced a deal worth a cool half million to train emerging crew in the Northern Rivers region, while Byron Bay studios is increasing its roster of senior staff. The linking element between both these announcements is Screenworks, the industry and professional development organisation which focused first on Northern Rivers, then on Northern NSW, and is now claiming a national agenda as well.
For twenty years it has plugged away supporting local filmmakers and accumulated a lot of smarts along the way. Part of the payoff is a deal with Netflix, focused not on individual productions but on the long term infrastructure needs of its potential workforce.
Regional Crew Development Program
As the announcement says, 'Delivered by Screenworks, backed by an investment of $500,000 from Netflix, and supported by the NSW Government, the Regional Crew Development Program will also provide placements and work experience on real productions with the goal of creating new career pathways in the field for regional people.'
The very fact that Netflix is a) prepared to put a politically useful investment into a regional sector and b) is happy to run that through a not-for-profit, testifies to the twenty years of work that Screenworks has put into developing local capacity.
Read: Screenworks announces Regional to Global Screen Forum program
Screenworks CEO Ken Crouch and Netflix were involved together very early in the development of the program. It crystallised when Melissa McCarthy Netflix series God's Favourite Idiot was slated to shoot in Northern Rivers. As Ken Crouch told Screenhub, 'As one of our core roles we were trying to maximise the number of locals employed on that production and talked to them about the skill gaps, which are highlighted in the regions where training is really hard to come by.'
Why Netflix?
Netflix, as the current peak streaming company, is looking to set up long term relationships and needs to guarantee a stable population of skilled local crew. In a way it is challenging the assumption that mobility suits the US production sector; the best long term model in population terms is probably a single cluster of companies and people who really want to stay. Hence the value of Northern Rivers.
So Screenworks and Netflix, with the local studio facilities in the background, found a common purpose, and the streaming company committed $500,000, increased by various federal job schemes and employment-focused training.
Said Crouch, 'There's a lot of things we had to figure out so it would actually work. When you look at certification qualifications, and what the traineeship structure in Australia is, and how that actually works, and how can we actually shape it so that people go into productions, you are really faced with the nitty-gritty of it. That is why it took over six months to come up with this.'
At the moment, the program contains:
Regional Crew Development Traineeships – 12-month, fully paid and contracted entry-level trainee positions which will include Certificate III in Screen & Media qualifications and practical experience on local productions.
Regional Crew Development Targeted Skill Set Training – A short-form skill set training program delivered in partnership with the NSW Department of Training, which will address identified existing skills gaps in the local screen industry and opportunities linked to in-bound productions. The training will also facilitate transition into the screen industry for workers with transferable skills, and will be delivered to a minimum of 50 candidates.
Locations and Crew Referral Services – Funding of Screenworks' locations and crew referral services in order to increase the number of local practitioners being employed on productions taking place in the Northern New South Wales region as well as more widely across regional Australia.
State Minister for Skills and Tertiary Education Geoff Lee notes that 'the Program will offer fully-subsidised and tailored traineeships in a Certificate III in Screen & Media, hands-on workshops with industry and part- qualifications in specialised skillsets funded under NSW JobTrainer.'
The pilot program
He claims that this is a pilot program, for which Northern NSW is a test site which will 'capitalise on the jobs that will be created by the Byron Studios and proposed Pacific Bay Studios in Coffs Harbour.'
Screenhub understands that Netflix supports that agenda, and is interested in a variety of regional communities around Australia. If the pilot program works, other state governments will find them dancing with the local agency.
Crouch also sees this very much as a pilot project. 'We've never done this before, in terms of traineeships. So as a pilot project it is easier to do things face to face and work with locals. Once we have the structure here, we can look at scaling it up across other regions of Australia.'
While the NSW government is obviously most interested in the Northern Rivers, Screenworks has a published commitment to supporting regional production across Australia. Far North Queensland, the Northern Territory and Tasmania are part of its remit. Netflix is an amiable centerpiece, but Ken Crouch is determined to create opportunities for local filmmakers, television creators and internet communicators to produce work that depicts very different versions of Australia.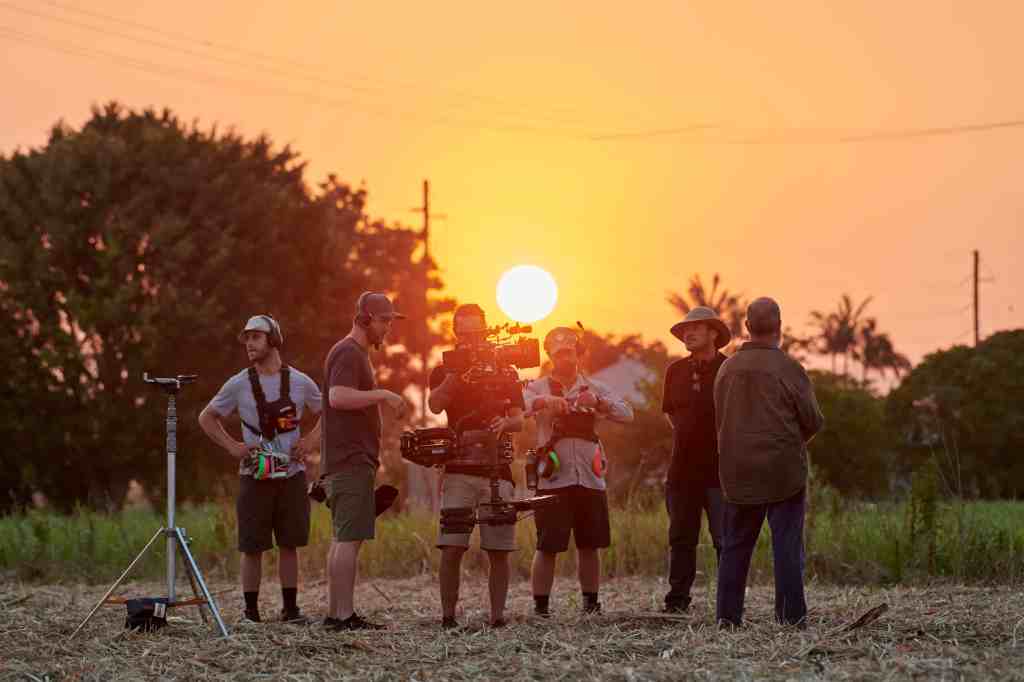 The studios
Which brings us to the more specific part of this arrangement. Minister Lee referred to Byron Bay and Coffs Harbour. Northern NSW (sort of) has not one but two studio complexes claiming attention. In Coffs Harbour, resort owner Peter Montgomery is still trying to turn a large lump of lawn into a one-stop studio with all the bells and whistles, cautiously backed by Russell Crowe, whose assistant now runs the bid.
Read: Russell Crowe and co hit Coffs Harbour in Studio Crusade
Two hundred and thirty kilometres north in Byron Bay, the local studio sees itself as a meta-organisation which 'currently offers four distinct studio facilities, catering to a range of production needs, budgets and locations around the Northern Rivers area of Alstonville and the Byron Bay industrial estate.' It too plans to form a central complex, but to outside eyes, it may be better off creating a less intrusive network. After all, trundling around Byron Bay is still easier than any city, even though it is now packed with new cashed-up residents.
New appointments
Byron Bay Studios has just appointed Paul Anderson as its new Chief Executive Officer. He climaxed his 17 years with Network Ten as the CEO and Executive Vice-president Viacom CBS Networks Australia and NZ. He is joining Charlotte Brigel, the new General Manager and National and International Marketing & Sales Executive. She arrives from Endeavour, which is part of the agency and production vehicle William Morris Endeavor Entertainment.
The Ballina Shire Council is committed to the Studios, encountered resistance from locals opposed to using the Alstonville Cultural Centre as a screen production centre, and has offered a permanent space in the Alstonville Quarry site. All of which solidifies the Byron Studios as a long term venture, which will suit Netflix just fine if the productions continue to arrive.
Signing up for a slot
Production companies and heads of departments interested in taking on trainee placements in 2022, can contact Screenworks via email trainees@screenworks.com.au. People in the Northern NSW region interested in the traineeships or skill set training should sign up for the Screenworks newsletter. Screenworks is also currently advertising for a Projects Assistant to work on the Program.