'I don't think I'm a particularly smart person,' says Christiaan Van Vuuren on the phone to ScreenHub.
Looking at his credits, you'd have to argue he's got some kind of special smarts. From creating and performing in viral Youtube sensations like The Bondi Hipsters and ABC2 comedy series Soulmates, to directing Squinters and Stan feature A Sunburnt Christmas, Van Vuuren has also written episodes of SeeSaw's The New Legends of Monkey for Netflix. With his wife, comedian Adele Vuko, he created and starred in the 2019 Cannesseries winning comic web series Over and Out, about parenting in the zombie apocalypse, which sounds like the kind of show all parents should be watching in 2021 and incidentally is being reworked for a longer format.
What all these projects have in common is a light-hearted comedic touch, with Christiaan frequently playing the dopey doofus, his soulful everyman gaze constantly undercut by slick satire. But his latest project as writer and presenter is 100 per cent sincere. He's playing himself, the dad of two young children, worrying about their future and asking questions about how politics and democracy work in Australia. Surely we're not as bad as America? he plaintively asks.
Directed by former Chaser regular Craig Reucassel and playing on the ABC, the two-part doco Big Deal produced by Jungle Entertainment, sees Van Vuuren investigating the ways Australian democracy is corrupted by some of the weakest federal political donation laws in the world. Yes, even worse than America's. A 'pay to play' system means that even fairly small sums of money can buy a seat at the table of political decision-makers. The gun lobby, the mining industry and other corporate interests buy immediate access, where regular communities take months to receive a letter.
Read: Review: Big Deal is a blunt call to action
Van Vuuren is visibly reduced to tears at one point in the film, moved by what he learns about the potential for community action. He says making Big Deal was personally terrifying. 'It caused me a fair bit of anxiety, because before, I've always had the comfort and safety of feeling one step removed from the work by being a character or making a silly song, or having a script and a narrative. I don't think I'm a particularly smart person but I had to talk to a lot of smart people here, and that was daunting. Luckily I was in very safe hands with Craig Reucassel who is just a totally political creature.'
The evolution of Big Deal
Big Deal came out of conversations he was having with production company Jungle (who Van Vuuren had directed Squinters and Sando for). They were interested in the subject of money and politics.
'We were looking for a project to do together and then this opportunity came up to enter something into the Shark Island Institute documentary development labs. We bought Jen Peedom along, who is one of the EPs of the film and has made Sherpa and Mountain, and Craig was a part of that as well.
'At that point, I wasn't going to be in the film, and Craig wasn't going to direct it, but at some point when we were down in Kangaroo Valley going through the slab, and everyone looked at me and said it should be me going through this. And then they said that Craig should direct it. Craig said he'd never really directed anything before, and Jen said to him, "directing is just doing this, this and this," and he said, "oh right, I have done that before with The Chaser". They'd just never called it directing.'
Having Reucassel's connections and political nous was essential for Big Deal 'He knew how to hook me up with the right people for interviews, and the funny thing is that there's a real camaraderie in politics. He's got a lot of clout and respect from people in Canberra and in the states, even though you would have thought they wouldn't touch him with a 20-foot barge pole. He opens a lot of doors and had a real good sense of what we should be focusing on.'
Van Vuuren says at first he was naively expecting the corruption to be 'dark and dodgy and underhanded' but it's actually something everyone is doing quite openly. 'It's a very nuanced dance of business that everyone is involved with, and it's a kind of arms race between the major parties so they can compete with each other.'
Fighting cynicism
Rather than feeding the cynicism about all politics and politicians being corrupt, the documentary's message is actually the opposite, showing the power of groups of people banding together and participating in the process, as well as a call for more transparency and better laws around donations, preferably outlawing them entirely.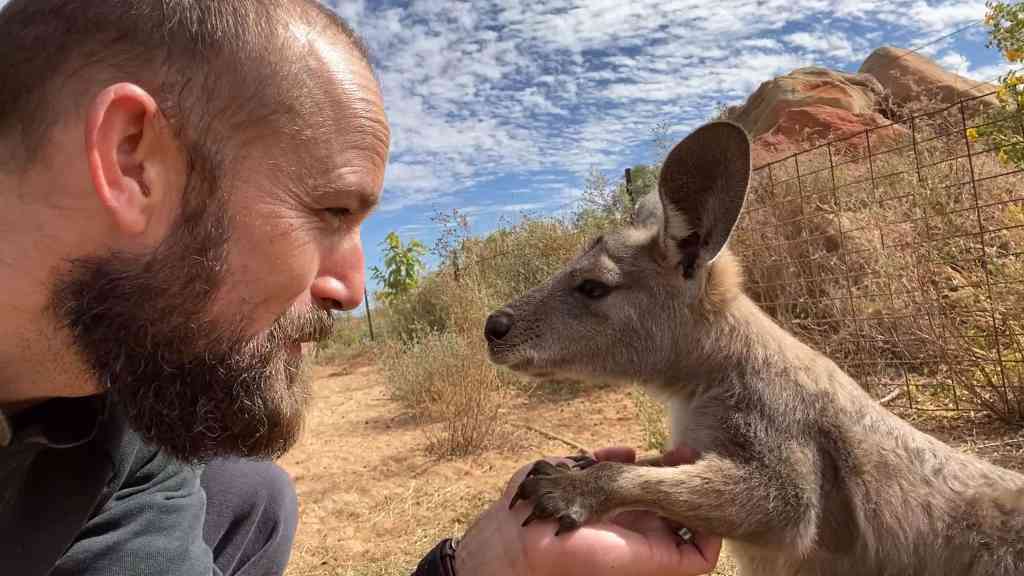 Who did he feel he was making Big Deal for? 'Kind of myself. Sometimes I try to watch documentaries and shows about politics to understand more, but I often find them too difficult. I feel like ordinary people get left behind in the conversation, or else they go online, doomscrolling to find out more information and end up in an echo chamber of people who share their views.
'I wanted to personally get a better sense of what was going on and try to help communicate that. Also, in 20 years' time my kids will be adults, potentially starting their own families, and I'd like to think that no matter what path we end up as a country, going to shitsville or whatever, my kids will see that as a person who makes films or TV I at least tried to do something about it.'
'I'd like to think that no matter what path we end up as a country, going to shitsville or whatever, my kids will see that as a person who makes films or TV I at least tried to do something about it.'
Speaking to the mature audience who watches ABC documentaries is one thing. Perhaps going back to YouTube would be a great way to change younger minds, I suggest. Van Vuuren considers this for a moment, and says it's not a bad idea, though the trajectory he and his collaborators (like Vuko and his brother Connor Van Vuuren), have been strategically pursuing in recent years is to work in longer-form content.
Living with uncertainty
In case you don't know the story, in 2009, during his 20s Van Vuuren was a Sydney advertising exec living large and having fancy lunches, until he contracted life-threatening, drug-resistant tuberculosis and spent 180 days in hospital quarantine. Battling isolation, he started making videos for his friends and instead became a viral youtube sensation (see The Fully Sick Rapper). It was a life and death time of reckoning, and afterwards, he decided to devote himself to a more actively creative life, along with all the financial risks that involved.
Does he ever regret the move away from a proper corporate job?
'Oh Yeah! I mean I sometimes fantasise about the stability of knowing how much money I'm gonna have at the end of the month. But I know I'd miss this life.
'When I was in hospital in 2010 and we were a few months into my treatment for multi-drug resistant TB, and there was this point where the doctors weren't certain and I was really worried… In my concern that I might lose my life, one thing I worried about was that I'd wasted all that time in a day just doing a job, or something I didn't enjoy, and that was gonna be my lifetime ending up in a hospital room.
'You dedicate 10 hours a day to doing this thing. And don't get me wrong, there is honour in that, even if you wear it as a cross and just do it to keep your family alive, but at that point I was a single man and I thought how much time I'd wasted when I could have been doing something I loved. As someone who was very materialistic at that time I came out of it thinking I would be happier with no money doing something I enjoyed. Of course now it's very scary, that uncertainty.'
An ideal day at work
What does a great day at work look like for Van Vuuren?
'Sitting with friends, and jamming through ideas when anything is possible. Like, you've got some film idea or TV show idea and it's all up in the air. You're able to sit there on your laptop in a park or in some little room you've hired, and you're throwing stuff at a whiteboard and laughing so much, and it's fun and funny and silly.
'Then, I love it when you get onto a shoot and all the excitement of cameras actually rolling. There's actors who are saying the words you've written. We wrote 'our cum' on a script and now there's an art director holding a jar labelled 'our cum' and saying where do want it? There's a couple of guys practising a sword fight saying "what do you think about this choreography?" You feel like a big kid and you just have to pinch yourself that this is your job.'
'Then in post-production, sitting around eating sandwiches and sushi and editing together things, I love that too.'
The big issue in the Australian screen industry right now?
Van Vuuren says he wishes we were more confident in our urban storytelling, and that we had more time for development. 'Most of us live in major capital cities and share very similar life experiences to most people in the United States or the UK or even South Korea. The markets that we watch the art of. But for some reason we make a whole lot of country backwater stories.
'I think often we don't have enough faith in ourselves. We look for things that are "uniquely Australian" as opposed to telling stories that are thematically broad and relevant to everyone, but just done in Australia. We think we need to have a desert and red earth, or whatever, to be an Australian film, but there's no reason we can't be making our own superhero movies and genre films and inner-city stories. I think we have to believe ourselves a little more, and that the decision-makers could have a bit more belief that we can compete on that global level.
Read: Raising children, fighting zombies. Sydney series wins at Cannes
'Another thing, and I'm only new in the industry, but when I hear about the development time that projects get in the United States or the UK versus the development time that we get for stuff here in Australia, there's probably a very good reason things don't travel as well as we might like them to. That's because of the basics: the time that's been spent on the script and been given to the writers in the writer's room. It's fractional here. Writers there will get weeks to crack a story, where we will get a day or two. Maybe when our stories don't work it has something to do with having one-eighth of the development time!
'They're the types of things I think about when I think about our industry. Our practitioners, our storytellers, our lighting, directors, actors, fucking tradespeople, everyone is as good as anyone internationally across the crafts. I just think we should back ourselves more to be entertaining for the sake of being entertaining.
'Anyway, that's just my 40-year-old bald white dude view of it.'
Two-part factual series Big Deal premieres on Tuesday 19 October at 8.30pm on ABC TV, with both episodes instantly available to binge on ABC iview.