On Monday 28 March, Cathy Payne delivered the Hector Crawford Memorial Lecture at the Screen Forever conference, currently underway on the Gold Coast.
Ms Payne, a NSW native, became CEO of Banijay Rights in 2020 after the Banijay acquisition of the Endemol Shine Group. She oversees all distribution activity for Banijay's catalogue, which includes Big Brother, MasterChef, Deal or No Deal, Home and Away, Peaky Blinders and Black Mirror.
She reflected on her career journey, from growing up in a large family, all having to crowd around one TV in a small flat, to witnessing some of the greatest changes in Australian TV distribution.
Read: Reconnecting the screen industry on the Gold Coast
Speaking of her time overseeing the Endemol Shine group become Banijay, a time which saw the release of Australian shows such as The Secret Life of Us, Offspring, and All Saints, Payne said: 'If we do not protect and fight for our local industry, who will?'
'As a financier and distributor, my goal is focused on delivering the producer's vision to their target audience, and beyond,' she said. 'The relationship between producer and distributor is key and choosing the right company to entrust your vision is essential'.
The following is an edited extract of the Hector Crawford Memorial Lecture, in which Payne lists eight essential rules of TV finance and distribution.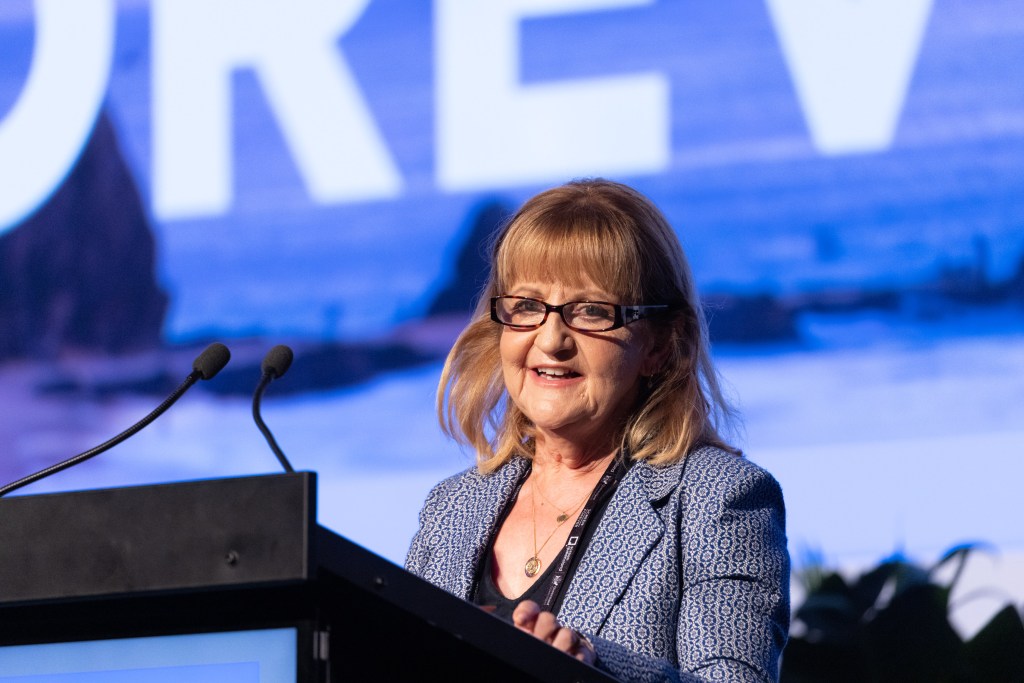 The rules of the game
No.1: A good story can truly come from anywhere, whether that be original IP [intellectual property] or adapted. No doubt the birth of streaming provided a broader audience for non-English storytelling, and we have all witnessed the success of its birth with groundbreaking adaptions of Israel's Prisoners of War which became Homeland, to the recently bingeable Squid Games. Whether in their original language or adapted, they compete side by side with English-language programming. So, rule number one – your competition is truly global.
No.2: Prepare! Just as important as your passion for the story you wish to tell, is your ability to sell it in. Our market is mature and sophisticated, and your underlying materials need to demonstrate that. Your materials need to portray your passion succinctly – i.e. 'how would you sell your title in one sentence'. That extraordinary talent who are commissioned from an idea or thought alone are just that – extraordinary and unique. It is unlikely to happen for you.
No.3: Understand the finance. Be able to talk to your finance plan and know it is feasible and achievable, not just for Season 1, but for the future too – it has to be sustainable. When developing for a channel/platform make sure your aspirations match the available budget that channel/platform has available to them. Information is power and helps you make informed decisions. Know tax breaks inside out – where, what and how. Be cautious of new sources of investment from outside the business – they have a track record of disappearing as fast as they emerged!
No.4: Don't pitch your entire slate – it's exhausting for you and your audience. If they say they are not seeking any Young Adult programming for example, don't pitch them a YA show, even if it was one of your key titles in your slate. You need to build up your credibility with your audience before you get to the stage of saying 'I know you are not in the market for XYZ but this is something you should take a look at'. If you do say that, make sure what you are asking them to look at is worth it.
No.5: Pick your partners well – your finance and distributor partnership is crucial. A strong relationship will see you through the highs and lows (hopefully not too many lows). Listen to your distributor, as their tentacles reach so many markets. If you are not happy with your potential distributor, don't do it – likewise as a distributor I would always say to a prospective client, if you are not sure you want to work with us, then please don't. A relationship cannot be built on doubt.
No.6: Know those you are pitching to and why/where your project would sit in their world. Use analytical data wisely – it is a tool to help your development – it doesn't drive it.
No.7: Work for long term success – choose where you feel your series can build and grow – that is not always where the biggest money lies. On those occasions where you have leverage from multiple offers, keep focusing on whom can deliver the best long-term results. You do not want to be a test project for a party exploring a new genre. The more that is paid for a series the greater pressure will be on that initial success and return on investment. Many of the most successful properties we are associated with were built over their career. It is extremely hard to regather the other way around.
No.8 Be a voice in local lobbying initiatives. While global platforms realise very well that local programming is a key component of their success, we collectively must work to protect our local industry and craft. We need to push for local spend as well as that local spend being with local independent companies. Incentives need to operate without too much red tape and the licence fees paid need to form a higher percentage of the budget. We all need to play a part in the content debate, and this extends to ensuring we create opportunities for the new generations. This is a huge focus for Banijay, who really strive to have each of their local businesses operate as just that, a local business. If we do not protect and fight for our local industry, who will?
Find out more about the 2022 Screen Forever conference.