How would you describe what you do to someone at a party?
I used to say 'Screen composer' until I realised that no one outside the industry really knows what that is! Now I simply say 'I write music for film and television' which seems to work, although the follow up question is almost always 'Have you written music for anything I've seen?'…
How did you get started in your career, and how did you end up in the role you are now?
I studied piano as a kid in country Victoria, but in my final year of high school it was gently suggested that I cease formal musical studies to concentrate on a more practical and realistic (and financially viable!) 'fallback' career. Being a dutiful lad I heeded this advice for a time, taking a lengthy detour past a PhD in Immunology of all things before finally coming to my senses to chase my music dream (hopefully minus the whole poverty and obscurity thing).
It wasn't until the year 2000, in what proved to be a significant break, that I won the annual Pete Carpenter Fellowship (BMI Foundation, NYC) and travelled to Los Angeles to work with legendary Emmy and Grammy award-winning television composer Mike Post where I composed music for Law and Order: SVU and generally couldn't believe my luck (there's a good story to go with this one). It was a life changing experience, and one that made me realise that with a little bit of good fortune I might be able to do this for a living.
Read: Scoring a role: How do you compose music for games?
What kinds of skills and aptitudes are necessary for your role?
While being a good screen composer certainly doesn't hurt, I think it's just as important for composers to be good with people and to be able to build relationships based on trust and respect. Likewise, having a good head for business is useful when negotiating and planning a commission, and practical skills such as time management, scheduling and efficiency are also important because, after all, you have to be able to deliver! Finally, having thick skin also helps because creativity is an extremely personal act, and so criticism can feel personal when it rarely is.
What formal training do screen composers usually do?
There is no single path into the industry which is what makes hiring a composer so exciting; we are all, in our own ways given our different backgrounds, quite unique! While some composers might enter the industry via formal film scoring programs, equally there are plenty of self-taught composers who have achieved great success. Certainly I've had no formal tertiary screen composition training but simply had a drive to write music and a love of film and television, and wanted to bring these two passions together.
Where in your career did you learn the most?
Certainly, my time in LA with Mike Post was a formative experience that changed my life. But honestly, since then every job has given me something new to take away and apply on the next one. But if I had to pick one occasion it would probably be my first major commission. On that project I worked with genuinely decent and supportive collaborators, and I signed my first ever contract that turned out to be very fair and reasonable given the fee. I learned both what could be reasonably expected of me and what I could reasonably expect of my collaborators, and it has been my barometer ever since.
What is an average week like for you?
When I was starting out I could easily work 12 or 14 hour days, 6 or 7 days a week. However, as I've become more experienced I've managed to maintain a healthier work/life balance. I think creativity suffers if people are stretched too thinly, and life and family are too important.
What's the most common misconception about your job?
Probably that composition and music production is a quick and easy process. However, there are a myriad of different ways to score a scene, and while experience is important this still requires time, patience and a degree of experimentation. And then, once the music cue is written or sketched out, composers still have to musically realise this vision (and I find production always takes a lot longer than writing). Technology is important to be sure, but there are no shortcuts to great writing and producing, and inspiration is still a necessary ingredient!
What kinds of changes are happening in your profession today?
Certainly the entry of streaming services into the market has accelerated changes and practises that were already trickling in to Australia from places like the US. For example, rights are now being more aggressively pursued, budgets are tighter and schedules have become more demanding. But these challenges are not uniquely faced by screen composers. Many filmmakers, creatives and industry professionals are facing the same demands from networks, broadcasters and SVODs and are finding it harder to do more with less.
However, I'm noticing the various industry bodies and guilds coming together more often to lobby and advocate for our industry which is encouraging. My hope is that our politicians will unite to legislate to protect our screen industry, which not only is so important culturally but is also a huge potential export market to a world that has historically been eager to support our talent and content.
How has your job changed since you started it?
In many ways, the process of composition itself hasn't really changed at all, but the tools we use have certainly evolved as technology has improved. However, probably the biggest change, as mentioned earlier, is that schedules are becoming so tight that delivering scores at the highest possible standard becomes challenging. To combat this I've recently teamed up with fellow composers Burkhard Dallwitz (The Truman Show, Underbelly, The Secret River) and Dmitri Golovko (Red Hill, The Hitman's Bodyguard) to form Zeitgeist Music. Working with a team of composers is becoming more common as post production environments become more demanding. This benefits the production because composers can collaborate and pool experience and expertise so that they can continue to deliver the highest quality scores possible.
What would you look for in a person if you were hiring your successor?
I guess I'd want it all! I'd want them to be talented and creative certainly, and one who can write sympathetically to picture and collaborate with others. But the wish list would also include them being adept at the business side of composition, and being a decent human being. Too much?
Tell us about the last great film, TV show, or game you've seen or played.
The best film I've seen in years has to be Debra Granik's Leave no Trace. It's a stunning yet understated piece of filmmaking, with an extraordinary sense of humanity and wonderful performances by Ben Foster and Thomasin McKenzie. Everyone should check it out.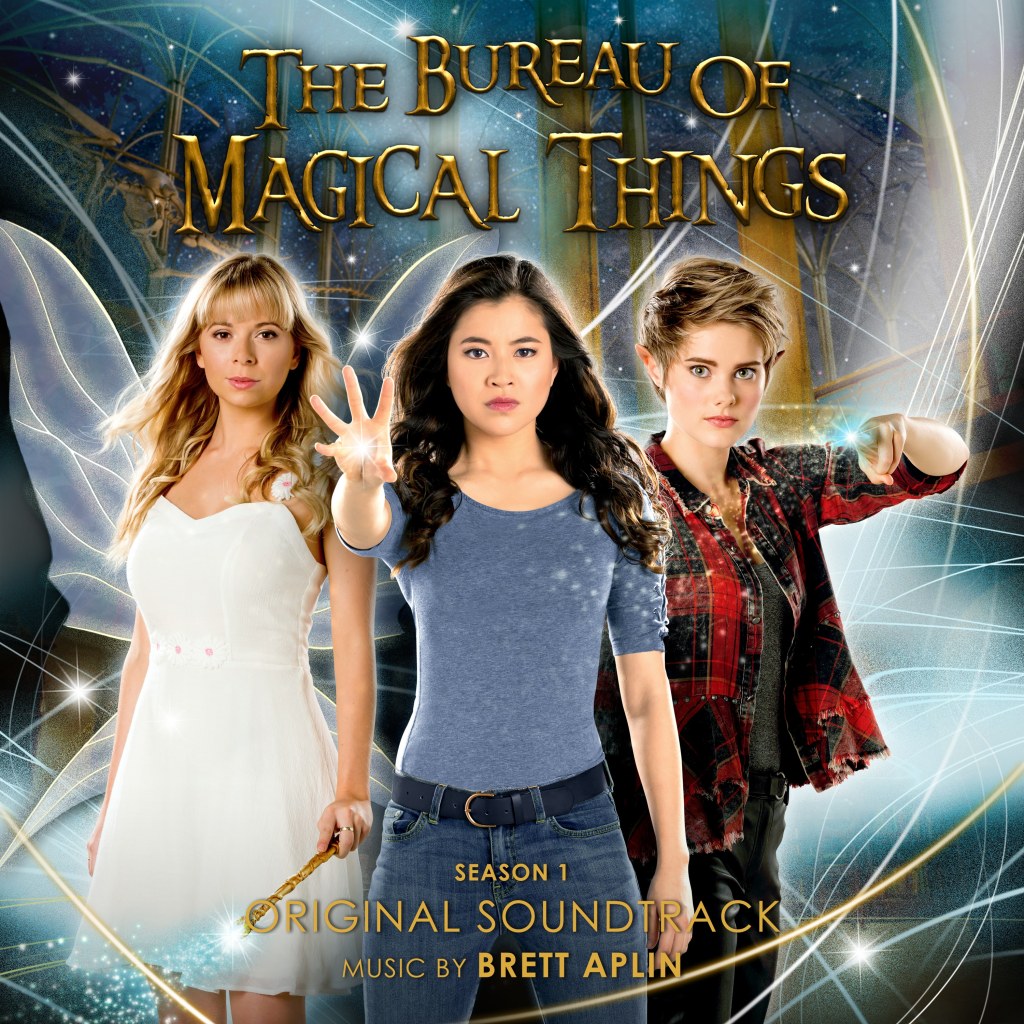 Brett Aplin's soundtrack to the AACTA award-winning hit Netflix children's television series The Bureau of Magical Things is released on 1 December on all major streaming services. You can read more about Brett at his website and at Zeitgeist Music.