'Darker and edgier' is a trope that reboot culture never seems to exhaust. No nostalgic children's entertainment or beloved cosy storyworld seems spared a visit from the grim squad, to the point where it's become a joke.
Enter Bel-Air, a dramatic reimagining of the 1990s Will Smith fish-out-of-water sitcom The Fresh Prince of Bel-Air. It began as a 2019 fan film by Morgan Cooper, also called Bel-Air, in which the playful comedy got flipped-turned upside down into a gritty but uplifting drama about second chances, of the sort Ryan Coogler might have directed.
Will Smith loved it, and now he's joined Cooper as executive producer of a TV version starring the likeable Jabari Banks as Will, the talented teenage basketballer from West Philadelphia who inadvertently crosses a local gangster and, for his own safety, is packed off to stay with his mom Viola's (April Parker Jones) sister Vivian (Cassandra Freeman) and her wealthy lawyer husband Philip Banks (Adrian Holmes) in Los Angeles.
Read: 'I hated it so much' – Byron Baes is upsettingly bad
There, Will struggles to fit into the privileged milieu of his Banks cousins: glamorous eldest daughter Hilary (Coco Jones); loveable youngest daughter Ashley (Akira Akbar) and preppy middle child Carlton (Olly Sholotan), who's the same age as Will and immediately sees him as a social and familial rival.
While the original show did have some famously emotional moments (see below), they stood out because the rest of the show was so goofy and affectionate. Bel-Air, by contrast, is disconcertingly both glossy and dour, and sometimes it really seems to hit the limits of a four-minute idea. It's keen to distance itself from its antecedent, yet also awkwardly cites it: lines of dialogue like 'West Philly?' and 'born and raised' are tossed off in a way that teeters close to parody.
Take, for example, the inciting incident for Will's move. Will and his best friend Tray (Stevonte Hart) humiliate Rashad (Eazy the Block Captain) and his thug pals by beating them at basketball, then as Rashad's crew start furiously punching and kicking a prostrate Tray, Will fires Tray's gun into the air. Will's arrested, and only Uncle Phil's string-pulling makes the weapons charge go away.
The scene does hit differently in a post-Black Lives Matter context, when there's less irony in the line 'I got in one little fight and my mom got scared'. The jeopardy of facing the police – not to mention Rashad – is self-evident.
Indeed, Tray, who isn't lucky enough to have rich relatives on the other side of the country, does find himself targeted by Rashad. Later, Will struggles to join the basketball team at his new school, Bel-Air Academy, because he's suffering from traumatic flashbacks every time he plays. And his blossoming friendship with Lisa (Simone Joy Jones) is almost scuppered when he learns Lisa's dad (Joe Holt) is a cop.
Nor is Uncle Phil the cuddly figure from the original show. Here, he's muscular, authoritarian, and in the middle of a fierce election campaign to be district attorney. And Geoffrey Thompson (Jimmy Akingbola) isn't the Bankses' butler but their 'house manager'. He's from Jamaica via London – and he's also a scary fixer for Uncle Phil.
Poor relation
Even as it celebrates the Banks family's Black excellence, Bel-Air makes explicit that their wealth has eroded their racial solidarity. But the show's treatment of privilege and guilt lacks bite, as the show often resolves its tensions through temporary, feelgood gestures – mostly courtesy of Will, its manic Philly cheesesteak boy.
As the Bankses' poor relation, Will is simultaneously a liability and an opportunity: his gregarious 'hood' manners embarrass them, but also unlock doors their privilege had closed. For instance, Will's charm enables him to effectively canvass voters for his uncle. And Phil's fraternity brothers snub him at a reunion until Will goads him into showing he still knows his fraternity's step routine.
Read: TV Review: More Than This is sleek and sunny
Hilary, meanwhile, is a dilettante food influencer who's presented as fun and sparky – a potential love interest for Will's friend, Jazz (Jordan L Jones stepping in for DJ Jazzy Jeff). But her life is a fluffy fantasy full of consequence-free moral posturing, like something from The Bold Type.
When Aunt Viv hooks her up with a job interview at a prestigious food magazine, Hilary rejects the job because she will have to dial down her Blackness. Bel-Air plays it as triumphant and empowering that Hilary calls out the racist magazine to her online followers; but she doesn't face any consequences for incinerating her mother's connections.
Carlton
We've seen so many versions of Will's story before, and because Bel-Air sketches him in so broadly, Carlton emerges as the show's most interesting character. I began to imagine a different Fresh Prince reboot called Carlton, following an anxious, overachieving teenager who's confronted by his complicity with white supremacy when his easygoing, streetwise Philly cousin comes to stay.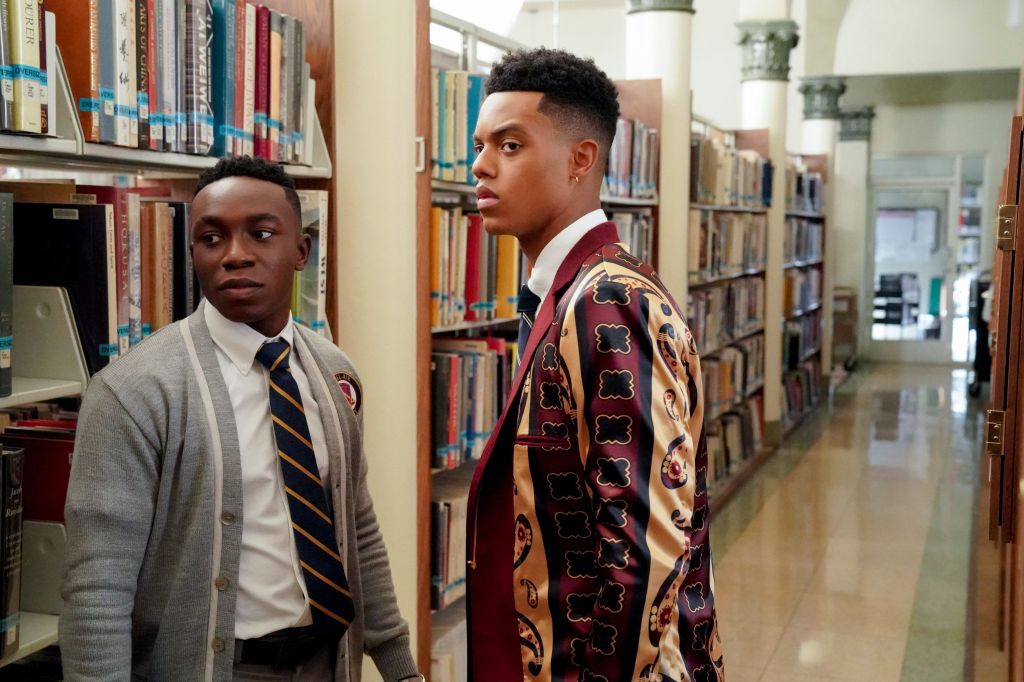 Sholotan plays Carlton in a relentless high key that sometimes edges into bathos, but he juggles complex ideas of pride and shame, aggression and vulnerability. I found myself fascinated by the glittering hatred in Carlton's eyes as he watches his dad shoot baskets with Will. Or his dismay to find the whole school is at Will's basketball match, not Carlton's lacrosse match. Or the way Carlton spirals when he sees Will making Carlton's ex-girlfriend Lisa laugh …
At one point Will jokingly calls Carlton 'The Sunken Place'; and that throwaway line carries a sharper social critique than anything else the series had so far attempted. There's something hollow beneath Bel-Air that the show itself glosses, and that really only Carlton sees.
Bel-Air
Creators: Morgan Cooper, T.J. Brady, Malcolm Spellman
Based on a format by: Andy Borowitz, Susan Borowitz, Benny Medina, Jeff Pollack
Producers: T.J. Brady, Rasheed Newson
Executive Producers: Morgan Cooper, Will Smith, Andy Borowitz, Susan Borowitz, Terence Carter, Quincy Jones, Benny Medina, Miguel Melendez, Malcolm Spellman, Dale Stern, T.J. Brady, Rasheed Newson, Chris Collins, James Lassiter
Writers: Morgan Cooper, T.J. Brady, Malcolm Spellman, Rasheed Newson, Henry 'Hank' Jones, Ephraim Salaam, Nicole Delaney, Paul Eriksen, Janeika James, JaSheika Ashel James , Yolonda Lawrence, Chris Collins
Directors: Dale Stern, Morgan Cooper, Nick Copus, Aurora Guerrero, Carl Seaton, Tasha Smith
Bel-Air is currently streaming on Stan with new episodes weekly.