Unless you've been brought up by wolves, or raised in a basement like Bad Boy Bubby, you're guaranteed to have some kind of emotional relationship with a Disney character. Depending on your age, this could be Mickey Mouse, The Little Mermaid, or Elsa from Frozen. Perhaps, like me, you had a crush on Snow White's wicked stepmother.
This emotional pull is one of the reasons why Katrina Sedgwick, Director and CEO of ACMI, is almost certain she's got a hit on her hands with the Melbourne Winter Masterpiece exhibition Disney: The Magic of Animation.
'Because of the longevity of the Disney studio and its success, every single person who is coming to this exhibition will have engaged with and grown up with Disney imagery,' says Sedgwick on the phone to Screenhub.
'I can say every person because of the way that Disney and its characters – Mickey, for example, who starred in his first talkie, Steamboat Willie in 1928 – have been so dominant in popular culture across so many countries and cultures. Audiences are really going to love this exhibition, and engage with it as they learn about the history and magic of animation.'
Opening at ACMI today, the show celebrates nearly 100 years of the iconic studio's creations, with 500 carefully selected pieces that include sketches, drawings, paintings, maquettes and concept art. These range from the humblest lead pencil doodles (sure to inspire budding young artists) to the most recent and sophisticated digital animation in films including Wreck it Like Ralph and this year's hit, Raya and the Last Dragon.
At the heart of that exhibition are those simple line drawings on pieces of yellowed paper, a few marks that somehow convey profound and recognisable human emotion, character and movement – even if they're defying the laws of gravity and the tendency of animals not to sing show-tunes.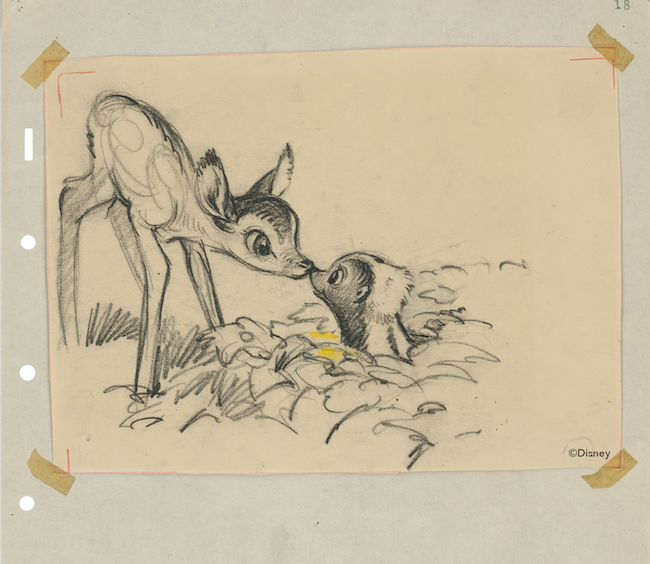 Bambi, 1942, Disney Studio Story Artist Sketch. copyright Disney. Supplied by ACMI.
The pieces in the exhibition have been curated from the 65 million original artworks held by the Walt Disney Animation Research Library in Los Angeles. Primarily used as a private resource and source of inspiration for Disney's artists and animators, the library has been the source of various versions of this show, seen in places including Paris, Tokyo, Seoul and Singapore.
'It feels quite remarkable that we can bring a show like this from the States to Australia, given what's happening around the globe.' 
Katrina Sedgwick, ACMI CEO
Sedgwick, who has been leading ACMI since 2015, says discussions about bringing the exhibition to Australia (its first Southern Hemisphere outing) began about two years ago. 'We'd been following it in other locations and had seen it at the Art Science Museum in Singapore and it was just stunning. We'd had discussions before COVID hit, and luckily we're now able to mount it as our first major exhibition since reopening after ACMI's $40 million redevelopment.'
'It feels quite remarkable that we can bring a show like this from the States to Australia, given what's happening around the globe,' admits Sedgwick. 'We are one of only a handful of museums opening an exhibition of this scale, anywhere.'
Read: Discover the photographer behind Australia's most iconic moments 
The complexities of COVID also made things slightly more difficult behind the scenes, especially for Kristen McCormack, who is the Art Exhibitions and Conservation manager at the Disney Animation Research Library. She came to Melbourne to oversee the setup. 'Kristen had to be quarantined in Sydney for two weeks and will have to do quarantine when she gets back, so that's a big ask for somebody,' says Sedgwick. 'But she's incredibly knowledgeable about the works she's put together, and she was able to come out early enough to meet the crates as they arrived in the country, supervise the unloading, and then be here working with our team over the last few weeks on the install, so we're incredibly grateful.'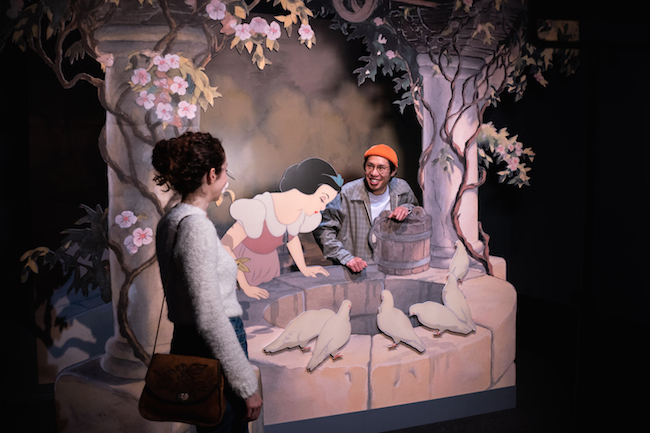 Get in the frame with Snow White at Disney: The Magic of Animation at ACMI. Photo: Phoebe Powell.
This is not ACMI's first mammoth exhibition devoted to animation, with previous shows covering Pixar and Dreamworks Studios. But from a historical perspective, and in terms of developing and innovating with the art of animating, Disney is the big player, with arguably the most beloved characters.
'With this exhibition we really chart the journey of the artistry that goes into creating those characters and creating those worlds, especially in the analogue sense with those beautiful hand-made drawings and material and object-based things through to this really cutting edge digital technology. ACMI is very interested in this continual conversation that happens between the past and the present. That constant referencing and engaging back and forth through time.'
As for her own personal engagement with Disney films and characters, Sedgwick said two films most affected her were from Disney's early oeuvre. 'I loved Snow White and the Seven Dwarves. I loved the dwarves. I was terrified and adored the wicked queen and her magical transformation into the old woman with an apple, I just found all of that absolutely fascinating.'
'And then I loved Fantasia. The way that this music was interpreted by all of these different animators, the kind of breadth of imagination on show.
'But then I've had kids of my own, and it's been wonderful. We got given a whole lot of videos from friends whose children had already grown up. So we were watching VHS tapes of things like Robin Hood, 101 Dalmatians and Alice in Wonderland. So I really reengaged with a lot of those Disney films only in the last kind of 10 to 20 years. And then of course, as those films have been coming out, my kids have been watching them, things like Big Hero Six (a very different kind of storytelling, which we absolutely loved), WreckIt Ralph and of course, of course, Frozen.'
Image: Frozen 2, 2019. Lisa Keene, Concept art, digital painting. Courtesy ACMI.
Walking through the exhibition, it's impossible not to want to go re-visit some of those classics, and then to realise you're going to need Disney+ to do it. (Unless of course, you're still using those old DVDs.). Disney+ is not an official sponsor, but they're going to be happy with this one.
Leading the Museum, working with year round churn
Sedgwick's previous high profile roles have included co-founding the Sydney Fringe Festival, being founding director and CEO of the Adelaide Film Festival (along with its hugely successful investment fund), and serving as Head of TV Arts at the ABC.  But she says the ACMI role has involved 'incredible learning curves and been absolutely thrilling.'
'My background is art festivals, film festivals, and broadcasting. And before that, you know, I was a performer. So to be in a in a museum that's open 364 days a year with all those different layers – cinemas, education programs, exhibitions and a co-working space building connections with industry, as well as having arrived as the new government came in with a really strong agenda for creativity and culture with $40 million renewal – I've learnt a huge amount about working with a large, very talented staff cohort.'
'I've learnt a huge amount about working with a large, very talented staff cohort.'
'There's that kind of multifaceted churn, if you like. It's not about a critical mass moment that you get in a festival, but about something that happens all year round. It's been a fantastic opportunity and I'm very grateful.'
'I don't think it's any accident that ACMI is the most visited museum of its kind in the world. I think it's because of its unique content and its incredibly talented team know how to do things so well.'
Winter Masterpieces for locals or tourists?
Supported by Visit Victoria, the Melbourne Winter Masterpieces have traditionally been blockbuster exhibitions aimed at bringing tourism into the state. This is tricky now when nobody can really travel, and Sedgwick says ACMI is really feeling that lack of visitors at the moment. 
'Before COVID, about half of our audience was interstate and international tourists. So we've lost a very big chunk of our visitation. And during the week when locals are at work or in school, mainly, that's where we're really feeling that lack of tourism and it can be quite quiet, but on the weekends and during school holidays we've had more visitation to our free exhibition than we had before we closed. So we were essentially getting double the number of locals coming along. I think that really shows that there's a huge pent-up demand, that Melburnians are just ready to get out there and rediscover the kind of cultural life of Melbourne.'
In a sense, ACMI has always done well out of blockbuster exhibitions in winter months.
'We started bringing winter masterpieces into ACMI way back in 2007. And they've been a really important part of the maturing, of our museum, and the expansion of our reach and impact.'
Sedgwick cites previous ACMI exhibitions like David Bowie IS, Pixar and Game Masters as part of that strategy, which mix buy-in exhibitions with ACMI's created exhibitions. 
It is the exhibitions that ACMI has created that Sedgwick is most proud of. 'Those exhibitions have gone on to have absolutely wonderful touring lives internationally. We've had hundreds of thousands of people engage with those exhibitions that are ACMI-made exhibitions in partnership with peers. In fact, in 2019, we showed the DreamWorks Animation exhibition in Brazil on two different sites, one in Rio and one in Belo Horizonte in these fantastic exhibition spaces that are free for patrons and not ticketed. And those exhibitions were the two most visited exhibitions anywhere in the world that year, so we've had real success with not just bringing in Australian exclusives, but also creating our own Australian exclusives, which then go on to travel the world and expand you know, and have a long tail.'
The creation of a new ACMI-made exhibition is in the works now, to be unveiled next year. But of course she can't talk about that yet. 
In the meantime, Sedgwick is hoping the visitors from interstate and New Zealand can return as soon as possible. 'We're so unique in the landscape. We're the only Museum of screen culture in the country. And my goodness, that couldn't be more relevant to us now, having lived through our screens so much of the last 18 months. And the Disney show is just so magical. I think it's going to be going to be really popular.'
Disney: The Magic of Animation is on at ACMI until 17 October.