Four Australian films have been selected for the prestigious Toronto International Film Festival (TIFF), as well as a new feature from director Philip Noyce. The range is notable: legendary director Jane Campion's The Power of the Dog will feature in Special Presentation, where Nash Edgerton and Madeleine Gottleib both have short films in the Short Cuts program. Lakewood, a US-Canadian production directed by Australian Noyce and starring Naomi Watts, will feature in the Gala Presentation. Finally, in documentary, TIFF will see the world premiere of Eva Orner's stunning look at the 2019 Black Summer Fires, Burning.
Screen Australia Chief Executive Officer Graeme Mason praised the films for their acceptance into such a prestigious program: "TIFF is one of the world's most respected film festivals and I congratulate each of the filmmaking teams on their achievement.'
The 46th edition of TIFF will be a hybrid of in-person and digital events and screenings that will run 9 – 18 September 2021.
Let's take a closer look at the selected films:
Jane Campion's The Power of the Dog
Jane Campion's The Power of the Dog will screen in Special Presentation at TIFF. The Australian-New Zealand co-production is Campion's adaptation of Thomas Savage's 1967 novel of the same name. Set in 1925, the film stars Benedict Cumberbatch as Phil Burbank, a cruel man who tends a ranch in Montana with his brother. The narrative traces his complex, cruel relationship with widowed proprietress Rose (Kirsten Dunst) and her impressionable son Peter (Kodi Smit-Mcphee). When Phil's brother George (Jesse Plemons) proposes to Rose, the taut, menacing power dynamics between the four of them continue to shift and change.
Scheduled for release on Netflix, The Power of the Dog was filmed in New Zealand, and features Australian and New Zealand talent throughout; Australian actors Genevieve Lemon and Sean Keenan also feature. Behind the camera, Australian cinematographer Ari Wegner, editor Peter Sciberras and assistant director Phil Jones also worked on the film. After TIFF, it's slated to screen as part of the 59th New York Film Festival's (NYFF) Centerpiece selection.
Eva Orner's Burning
Eva Orner's devastating reflection on the 2019 Black Summer Fires, the Amazon Prime Original Burning, will make its world premiere as part of TIFF's documentary showcase. Executive produced and directed by Orner, the film was driven by her horror at the climate change-fuelled fires that ripped through New South Wales and Victoria. 'Fires are certainly not new in Australia, but the magnitude, impact and ferocity was shocking and unprecedented, she said, 'I was determined to make a film about our Black Summer and climate change. What we knew and what we urgently must do moving forward.'
READ: Amazon Prime Video greenlights seven new Australian productions
Screen Australia CEO Graeme Mason praised the film's potent message, saying: 'Eva Orner shines a light on the devastating effects of the 2019 Black Summer bushfires across Australia and is sure to inspire conversation around the world with Burning.'
Nash Edgerton's Shark
Australian filmmaker and stuntman Nash Edgerton's short film Shark will make its world premiere as part of TIFF Short Cuts. A follow on from Spider and Bear, Shark continues to follow the adventures of prankster Jack, who may have finally met his match in his latest relationship.
As well as directed, Edgerton also co-wrote the film with David Michôd. He also stars as Jack alongside fellow Australian and Physical star, Rose Byrne. Michele Bennett produces, with cinematographer Aaron McLisky and editor David Whittaker.
Madeleine Gottlieb's You and Me, Before and After
Madeleine Gottlieb's You and Me, Before and After will make its international premiere in TIFF Short Cuts, following its world premiere this month at Melbourne International Film Festival. It's currently available to view as part of MIFF Play until 22 August.
READ: 'You and Me, Before and After' selected for Toronto International Film Festival
Produced by Liam Heyen and Cyna Strachan, the film stars Yael Stone (Orange Is the New Black) and Emily Barclay (Please Like Me). They play as 'sparring sisters who decide to get their first tattoos together. As they get inked, and unable to leave until it's done, Hannah (Stone) and Rachel (Barclay) bond in conversation over still fresh wounds they share.'
Philip Noyce's Lakewood
Limelight's latest thriller, Lakewood, is directed by Australian Philip Noyce, who previously produced Rabbit Proof Fence, and most recently directed thriller series What/If for Netflix US. The feature is set to screen as part of TIFF's Gala Presentation.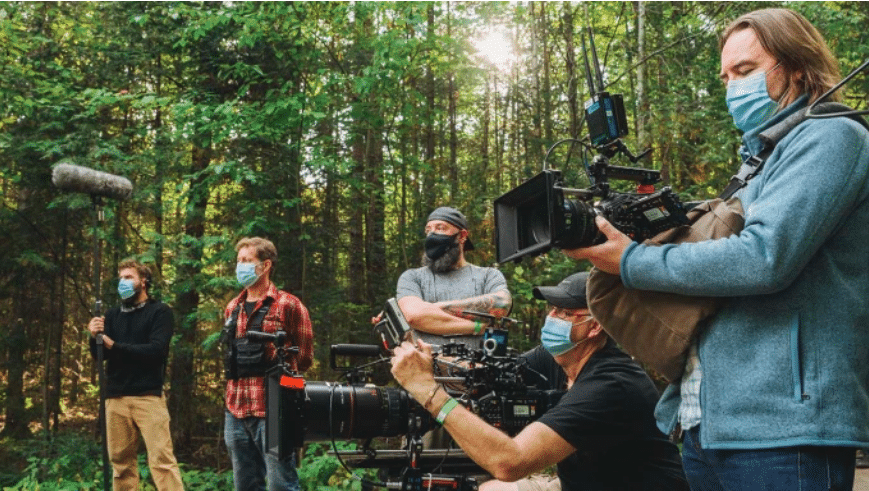 Lakewood has been filming in Ontario, Canada since September 2020, following strict COVID-19 protocols. The narrative also mirrors the anxieties of the covid era: the feature follows a desperate mother (played by Watts) as she races against time to save her child, as authorities place her small town on lockdown.
Watts is also on board as a producer, alongside Zack Schiller and David Boies, Limelight's Dylan Sellers and Chris Parker, Andrew Corkin, and Alex Lalonde. Limelight's Alex Dong is an executive producer.