When we first spoke to Christian White in November 2019, he wasn't allowed to talk about Clickbait, the eight-part Netflix Originals series he co-created, co-wrote and coproduced with showrunner Tony Ayres. We hadn't even had a chance to see Relic (released in 2020), the stunning psychological horror film starring Robyn Nevin that he co-wrote with director Natalie Erika James. White was best known as an author, for his page-turning thrillers. There were the novels The Nowhere Child (which won the Premier's Literary Award for Best Unpublished Manuscript in 2017 and set off a publisher's bidding war and four-book deal with Affirm Press) and The Wife and the Widow.
Two years later, his latest novel, The Wild Place, is out. It's about Satanic Panic in a small Australian community in the dying days of the 80s. White is also closing off a year where Clickbait hit number one on Netflix's global charts when it was released in August. A propulsive 'whodunnit' with each episode told from a different perspective, and social media frenzy playing a crucial part in the narrative, the series is set in the US but was shot in Melbourne, with production interrupted by Covid. But when it finally hit home screens around the world, audiences glommed it up, glued to the unfolding mystery where every character has something to hide.
Read: TV Review: Clickbait is polished pulp storytelling

Screenhub: How did it feel watching Clickbait when it first showed up on Netflix?
Christian White: I was pretty nervous and apprehensive. I think that any time you put something out into the world you are terrified that it will be received poorly, or that it won't be received at all. Maybe no-one will notice it. All these normal fears go on with every project, but with this one, because it was a global audience and it was going out to the world, not just my own country, I was really quite terrified.

The season dropped on a Wednesday. And on the Monday night before, we had a little virtual premiere where we all watched the first episode, just in our loungerooms because it was a lockdown in Melbourne. And I watched it and I thought, 'Okay, it's, it's a pretty good show. I think I like it. I like it.' And my wife sees it and she says, 'It's amazing!'.
But those those two days days before it actually was released, this knot of anxiety grew. My writing philosophy is always to write stuff that I would watch, or if it's books, things I would read. So I knew I liked it, and I was proud of it, and proud of what we achieved especially since we got stopped halfway because of COVID. But then, within a few days, it was Number One here and in New Zealand and America, Canada, England, and then it went Number One globally, which is too large a concept to understand. So I was very very relieved. Putting anything out there into the world is wonderful and awful at the same time.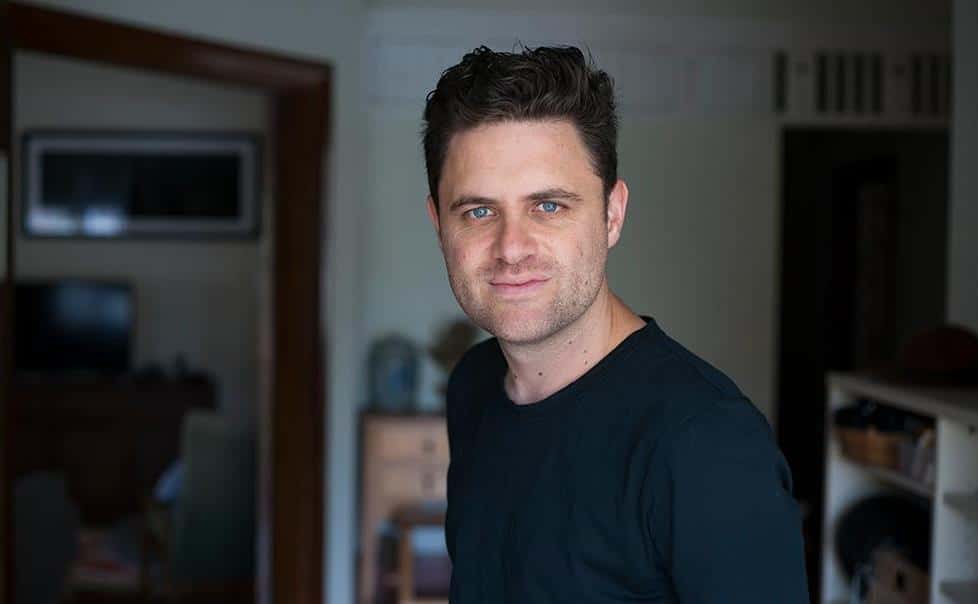 What was the time period between finishing work on the show and seeing it drop?
We shot the first six episodes. And then in March of 2020 we we got shutdown for about six months. I was spending a lot of time on set before, but post-COVID I didn't go in at all, there was all these rules. And anyone that wasn't essential just didn't go in. So it was even longer for me. So it was close to a year. I was watching cuts and things like that, but I wasn't really that deeply involved after that, so a lot of time passed, and I've got a terrible memory so I actually forgot a lot about the characters and the story!
Read: Just Hit Send: Christian White's top tips for writers


I was able to watch it fresh, but it is funny, because of that time gap – I don't know how many people can actually see it – but you can see these differences between episodes one through six, and then the last two episodes that were shot later. I didn't notice this one, but Tony Ayres was telling me that there's a scene where there's a character, a teenager, Kai, and apparently, he starts off a certain height, he walks upstairs and you lose a few inches. And then walks back and is tall again.
Other things I noticed was that was all of a sudden, there's a lot more exterior shots in the last two episodes that there were in the first episodes. One of the things we did to prep for COVID was to go through and cut down crowd scenes and set anything that could be done outside, outside. I was really proud of it. I knew we had a good story and a great cast and an amazing team, but it has exceeded my expectations.
How has the reality of being a successful writer compared with the fantasy?

It's difficult to say. I mean, it's everything you expect. But it's also been a weird time to gauge it, because we've spent the last two years in our houses, which is actually not much different to my normal life as a writer.
But it's really amazing in the most basic way, which is that suddenly you get to do this thing that you spent years and years doing as a hobby, suddenly, you're doing it for your job, you're doing it every single day, and if you really, really love the craft, then it's just the best job in the world. I spent so long doing it on the side, and getting home after a day job and writing or doing it on the weekends. So being in a position where it's my job is amazing. When I first went full time as a writer, it was amazing, but there was also the sense of having to say yes to everything; that it's all temporary, they're gonna realise you're a fraud at any moment, and it's going to get taken away.

And now to have a few successful projects under my belt, I have a bit more confidence and a bit more stability, where it sort of seems like, 'Okay, this is what I'm going to do now' and I can relax and ease into it.
Has your process changed?

Not dramatically. Well, actually, it probably has. I think, technically on the page, it has a lot. I get better and better at killing my darlings and being more brutal on the page. So, on Clickbait, every single word, not even in the dialogue, every single word on the page in the big print, has to earn its place so it makes for a really great propulsive read. I think I'm writing less to say more, which I think is always the goal.
Technically, I learnt a huge amount working on Clickbait, but the day-to-day process is not that different. I work a bunch in the morning, and sort of faff about for the afternoon, unless I have a looming deadline, and then I'm working around the clock. But at the end of the day, you're at your little house with your little family and your dog.
When you were starting out, were you obsessed with the rituals and writing schedules of other writers?

Absolutely. And I went and looked online, how many words per day do other writers do? What are their routines? There's some really great stuff out there. You know, Haruki Murakami, when he's writing a novel, he'll get up at something like 4am and he'll swim all these laps at the pool and then work, and I was comparing myself to all these people. Early on, when this became my proper job, I said to myself that I had to take it seriously and sit in front of my computer from nine to five. But what I learned really quickly is that I've got a point where I think you can only do so much in front of the computer and then you've got to get up and leave, and some of my friends don't believe this, but when you when you're hanging out and walking the dog and at the supermarket, you are still partially working through problems and things like that.
It's all about leaning into your strengths and getting to know yourself as a writer. If you know you only get a few really good hours a day, just really lean into that and use those hours, but then don't feel guilty when you spend an hour watching paranormal videos on YouTube.
What I discovered very quickly was that I would have two or three really great hours in the morning. And then two hours would go by, and I'd just be staring and suddenly realise I'd written only a page in the last two hours. I think it's all about leaning into your strengths and getting to know yourself as a writer. If you know you only get a few really good hours a day, just really lean into that and use those hours, but then don't feel guilty when you spend an hour watching paranormal videos on YouTube. Clearly, I'm clearly I'm talking to myself saying I shouldn't feel guilty when I probably should!
Do you take holidays where you don't work at all?
I would love to but I I haven't yet. In early 2020, we went to America, but it was for Sundance, so sort of working. The one before that, we we went to Europe, but it was for a crime festival. I mean, I remember on my honeymoon, I was doing edits on my first book. And then we had a beautiful place in France at one stage and I was working on my second book, The Wife and the Widow. My wife laughs because I'm continuously saying, 'I'm not going to bring my computer this time. I'm just going to have a holiday.' But I definitely will one day! For me, writing is like an itch, and I love having a couple of days off, but then I get the itch and I want to keep writing.

What were the big things that you learned from the process of being on Clickbait.

As a writer, it taught me much more economical, seeing what is necessary, so that made me a much stronger writer in that sense. And it was also my first was my first TV show, but also my first time spending any serious amount of time on a set. I did visit the set of Relic once, but this time I wasn't just visiting, I was going to work on a set as a writer.
Read: Tony Ayres talks 'Fires' and talent-spotting
We were set up at Docklands studios, and we had a little writer's office. And so I'd go in and work with people and talk to people and talk to actors and producers. For me it was amazing just seeing how everything works and how everything feeds back in to the writing process. Working with actors you realise that good actors know that character better than anyone, better than you who came up with a character and wrote the character. They know it better because it's their job, and so you can talk to them and ask them questions about the character. I learned about how it's a huge collaboration. And if you've got a good team, it's a just a pleasure.

In our earlier interview you said how you struggled to show people your writing. Is that still a problem?

It's still a problem every single time I hit the send button. There's a very familiar pang of horror, just sheer terror. But I'm getting better at it just through sheer practice. I'm opening up. Showing people my work was bad enough, but showing people a first draft would be… I'd write three drafts and pretend it was my first one. But then co-writing with Tony Ayres on Clickbait and Natalie James with Relic, and with my wife Summer on the Audible original story we've written, you just have to show people your work at an earlier stage. But every single time, it's always it's always scary.
I don't think that imposter syndrome is going anywhere, but you can choose to look at it as an asset, because if you get too complacent and confident you might stop challenging yourself of holding yourself to a high standard. It can make you do a better job and fight more to make good work.